Herramientas
7 herramientas SEO gratuitas para saber si tu web está bien optimizada para buscadores - emenia.es. Si eres una PYME o simplemente eres un particular y tienes un blog o una web, tal y como están hoy en día las cosas, posiblemente no tengas presupuesto para contratar a alguien profesional que haga una auditoría Seo en profundidad de tu sitio o se encargue de optimizarlo para el posicionamiento en buscadores.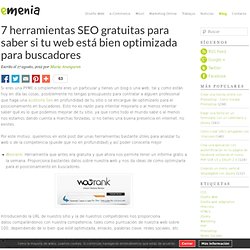 Esto no es razón para intentar mejorarlo o al menos intentar saber qué es lo que podemos mejorar de tu sitio, ya que como todo el mundo sabe o al menos nos estamos dando cuenta a marchas forzadas, si no tienes una buena presencia en internet, no existes. Por este motivo, queremos en este post dar unas herramientas bastante útiles para analizar tu web o de la competencia (puede que no en profundidad) y así poder conocerla mejor. Descargas - Infodasis - Gestión Empresarial. ERP/CRM Dolibarr - ERP CRM gratuito open source.
Software Contabilidad | Software Gestión Empresa. CK-ERP. Eines - l'Anella | El portal de la competitivitat. Información de empresas | Informes de empresas | Datos de empresas y registros empresas - eInforma. Who Unfollowed Me on Twitter :: Twitter Unfollowers. Instalando MonoDroid - aplicaciones Android con .NET - Jorge Serrano - MVP Visual Developer - Visual Basic. Introducción Empezaremos por definir en primer lugar qué es MonoDroid.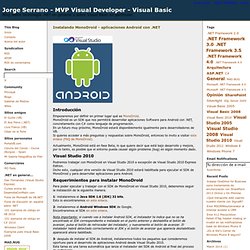 MonoDroid es un SDK que nos permitirá desarrollar aplicaciones Software para Android con .NET, concretamente con C# como lenguaje de programación. Start. Apache and Mono Guide for setting up mod_mono to run on Apache.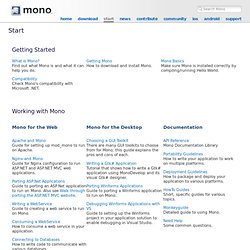 Nginx and Mono Guide for Nginx configuration to run ASP.NET and ASP.NET MVC web applications. Porting ASP.Net Applications Guide to porting an ASP.Net application to run on Mono. Browse Vectors. Apr 15th5853022 Apr 14th450 Apr 11th171 Apr 9th160 Apr 8th241.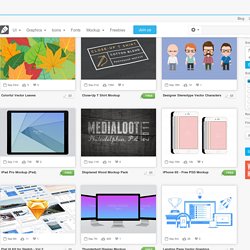 Infographics Toolbox : plantillas de Google Docs. Icon Archive - Search 345,654 free icons, desktop icons, download icons, social icons, xp icons, vista icons. Piktochart- Your Infographic Tool for Customized Design. Planner/Downloads. TweetStork - Find Targeted Twitter Followers. GanttProject Home. XMind - Mind Mapping and Storming. Xmarks | Bookmark Sync and Search.
---