Administration
Get flash to fully experience Pearltrees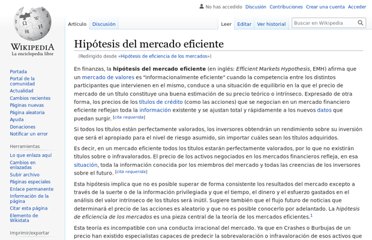 En finanzas la hipótesis de eficiencia de los mercados afirma que un mercado de valores es "informacionalmente eficiente" cuando la competencia entre los distintos participantes que intervienen en el mismo, conduce a una situación de equilibrio en la que el precio de mercado de un título constituye una buena estimación de su precio teórico o intrínseco. Expresado de otra forma, los precios de los títulos de crédito (como las acciones) que se negocian en un mercado financiero eficiente reflejan toda la información existente y se ajustan total y rápidamente a los nuevos datos que puedan surgir. Si todos los títulos están perfectamente valorados, los inversores obtendrán un rendimiento sobre su inversión que será el apropiado para el nivel de riesgo asumido, sin importar cuáles sean los títulos adquiridos. Es decir, en un mercado eficiente todos los títulos estarán perfectamente valorados, por lo que no existirán títulos sobre o infravalorados.
People spend a lot of time talking about "company culture" in Silicon Valley. What does it take to create the right kind of culture? How can you maintain that culture? Do you need a mission statement? Should you have a mascot?
When a once-growing business stumbles, the cause is sometimes an overlooked culprit: the company culture. Many good businesses with solid ideas, a great market and talented people start to lose their grip on growth after failing to win victories that seemed within grasp. Slowly, the "win or die trying" mentality gives way to deciding how best to fail. This saps energy from the business as people stop believing they can be successful.
En el campo de los negocios, el concepto de los mapas estratégicos fue desarrollado por Robert Kaplan y David P. Norton, y plasmado en el libro de ambos Strategic Maps . El concepto fue introducido previamente por ellos mismos en el libro Balanced Scorecard (conocido en castellano como Cuadro de mando integral o CMI ).
El Análisis DAFO , también conocido como Matriz o Análisis DOFA o FODA , es una metodología de estudio de la situación de una empresa o un proyecto, analizando sus características internas ( D ebilidades y F ortalezas) y su situación externa ( A menazas y O portunidades) en una matriz cuadrada. Proviene de las siglas en inglés SWOT ( S trengths , W eaknesses , O pportunities y T hreats ). [ cita requerida ] Es una herramienta para conocer la situación real en que se encuentra una organización, empresa o proyecto, y planificar una estrategia de futuro. [ 1 ]
De Wikipedia, la enciclopedia libre Se denomina en teoría de juegos a una estrategia dominante o también dominancia cuando la estrategia de uno de los jugadores es provechosa para él, independiente de la estrategia del jugador oponente. Las estrategias dominantes dan como resultado final el equilibrio de las estrategias dominantes en el juego. En un juego en el que cada uno de los jugadores tenta una estrategia dominante el resultado final es predecible. Lo contrario de la situación de estrategia dominante se denomina intransitividad y se caracteriza porque una estrategia puede ser mejor o peor que la del jugador oponente dependiendo de las opciones e información que posea.
Edward de Bono es reconocido por muchos como una de las máximas autoridades en el campo del Pensamiento Creativo , la innovación y la enseñanza directa del pensamiento como una aptitud. También es ampliamente conocido por el desarrollo de la técnica de los "Seis Sombreros para Pensar" y las herramientas para la "Dirección de la Atención" (DATT) . Es quién originó el concepto de Pensamiento Lateral (Estr@tegia Magazine – Edición 20) el cual es ahora parte del lenguaje usual. Edward de Bono nació en Malta en 1933.
Posted by core jr | 4 Aug 2010 | Comments (3) See no evil, hear no evil, speak no evil. Photo: orvalrochefort . In his recent book, Outliers , Malcolm Gladwell introduced me to the idea of Mitigated Speech a linguistic term describing deferential or indirect speech inherent in communication between individuals with a perceived High Power Distance.