Detroit, Michigan USA
Detroit 187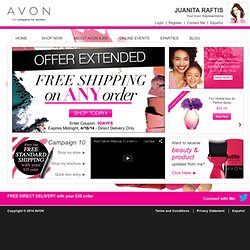 Shop Avon
Mega Mix 'N Go Palette Create endless looks with over 35 luxurious shades for eyes, lips & cheeks. Palette includes - 24 Eyeshadows - 9 Lip Glosses - 2 Blushes - 2 Highlighters - Eye, lip & cheek applicators Plus it's like having 2 customizable palettes in 1! There's a two-tiered palette for home and a mini case for on the go! You can arrange the makeup trays any way you like, creating your personal combo for on-the-go. The portable mini case has a mirror in the lid and slides out from the main palette.
Juanita C.'s Reviews | Allen Park | Yelp
MGM Grand Detroit
History[edit] The area known today as Greektown was first settled in the 1830s by German immigrants, who created a primarily residential neighborhood in the area.[3] However, in the earliest years of the 20th century, most of the German residents began moving from the neighborhood into areas further from downtown.[3] As the Germans left the area, new Greek immigrants moved in, spurred by Theodore Gerasimos, the first documented Greek immigrant in Detroit.[3] The newly arrived Greeks established businesses in the neighborhood. By the 1920s, the area was becoming primarily commercial rather than residential, and the Greek residents began moving out; however, the restaurants, stores, and coffeehouses they established remained.[3] The next thirty years brought a melange of immigrants to the few residential spaces left in the neighborhood.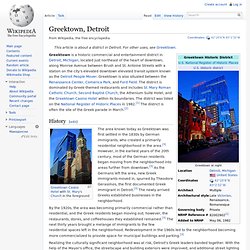 Greektown Historic District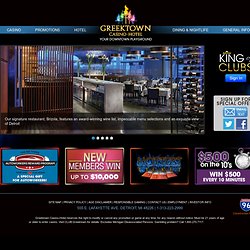 New CLUB Members Win - Guaranteed! Click here for more details. Our signature restaurant, Brizola, features an award-winning wine list, impeccable menu selections and an exquisite view of Detroit Greektown Casino is home to nearly 3,000 of Detroit's hottest slots!!!
Greektown Casino Hotel | Detroit Casinos, Hotels | Michigan Casinos
Detroit Metro Times
If you're in town for the North American International Auto Show, welcome to Detroit! You'll probably need a drink or two. Here's a list of some of our favorite drinking establishments, from total dives to more upscale. Whiskey in the Jar 2741 Yemans St., Hamtramck; 313-873-4154 Looking for that postage stamp-sized dive that crowds in the characters, who are both the patrons and the entertainment?
The Detroit metropolitan area, often referred to as Metro Detroit, is a major metropolitan area located in Southeast Michigan, constituted of the city of Detroit and its surrounding area. There are several definitions of the area, including the official statistical areas designated by the Office of Management and Budget, a federal agency of the United States. Metro Detroit is known for its automotive heritage, arts, entertainment, popular music, and sports. The area includes a variety of natural landscapes, parks, and beaches, with a recreational coastline linking the Great Lakes. Definitions[edit]
Metro Detroit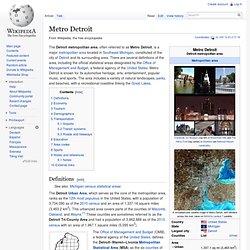 DOWNTOWN royal oak
Detroit Zoo
Café Muse
Café Muse Teams with Zingerman's Bakery We're always trying to find ways to improve our customer's experience at Café Muse. We do this by searching for some of the best local suppliers and farms to add to our family. We think we've done just that with our newest bread maker.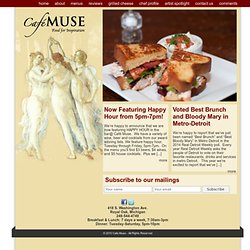 Café Muse's Grilled Cheese Sandwich
City of Grosse Pointe Woods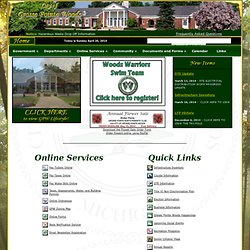 Supersize Your Recycling The new 64-gallon recycling container is wheeled and lidded. These bins are provided to residents at no charge by Rizzo, the city's waste disposal contractor. They are an optional addition to the small bins currently in use throughout the Woods.
City of Dearborn
Fairlane Town Center: Fairlane Town Center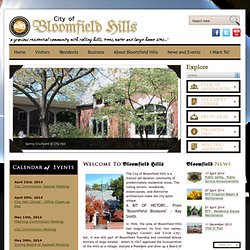 Welcome to the City of Bloomfield Hills, Michigan (MI)
The City of Bloomfield Hills is a mature yet dynamic community of predominately residential areas. The rolling terrain, woodlands, watercourses, and distinctive architecture make the city quite unique. In 1926, the area of Bloomfield Hills had outgrown its first two names, "Bagley's Corners" and "Circle City", but, it was still part of Bloomfield Township and consisted almost entirely of large estates. Voters in 1927 approved the incorporation of the Hills as a village, elected a President and drew up a Board of Commissioners. In order to keep from being incorporated into the then-forming City of Birmingham Bloomfield Hills electors voted for cityhood in 1932...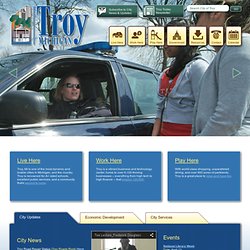 A PREMIER COMMUNITY: Troy is a place where families and businesses thrive. A community recognized for its excellent quality of life, this "safest city in Michigan" has an A+ rated school system, unsurpassed City services, and one of the lowest tax rates in Oakland County. Troy is home to 6,000 flourishing businesses that employ 125,000 people, including some of the most advanced technology companies in the world.
Welcome to the City of Troy, MI
Home Page | The Somerset Collection
freep.com | Detroit Free Press | Detroit news, community, entertainment, yellow pages and classifieds. Serving Detroit, MI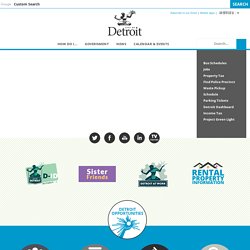 City of Detroit | Official City of Detroit Web site | www.detroitmi.gov
Mayor Mike Duggan takes the oath of office from Judge Damon Keith at a ceremony at the Coleman A. Young Municipal Center Jan. 6. City Council members, City Clerk and Police Commissioners also were sworn in during the ceremony. 2004-2014© City of Detroit ITS/Communications and Creative Services Division
Detroit Lions | Ford Field
© COPYRIGHT Detroit Entertainment, L.L.C., 1999-2014. ALL RIGHTS RESERVED. All games and promotions described on MotorCity Casino Hotel's website are subject to the approval of the Michigan Gaming Control Board and may be changed, modified or cancelled at any time in MotorCity Casino Hotel's sole discretion. If you bet more than you can afford to lose, you've got a problem. Call 1-800-270-7117 for free, confidential help.
MotorCity Casino Hotel
Comerica Park | tigers.com: Ballpark
Olympia Entertainment
Welcome to the Detroit Public Library
Staff Picks Edgar Degas Violinist and Young Woman, c. 1871 "The figures are meticulously rendered but the canvas is unfinished at the lower edge. Degas often returned to paintings — sometimes after decades — but not this one. Perhaps he considered it "finished" after all."
Detroit Institute of Arts Museum
Webexhibits
1. Winter Wonderland Weekend - Head to the Edsel and Eleanor Ford House and enjoy outdoor fun with holiday music and lights, storytellers, carols, hot chocolate and holiday treats! Also, check out the Candlelight Stroll. December 20—22.
- Detroit Moxie
Spirit of Detroit Statue - Profile of Spirit of Detroit Statue
big three
Belle Isle Park