Conservation reference
Disaster planning. Historic Preservation. Objects Cons. Paintings Cons. IPM. NPS-MMP Conserve O Grams. Click here to view the current selection of Conserve O Grams.
Who will benefit by reading Conserve O Grams? Both experienced and inexperienced museum staff responsible for the care and use of museum collections. Interested individuals who have collections of fine arts, furniture, ceramics and glass, leather work, books and papers. Connecting to Collections: A Call to Action. The IMLS Connecting to Collections Bookshelf, informative, practical resources to help the nation's museums and libraries sustain our heritage.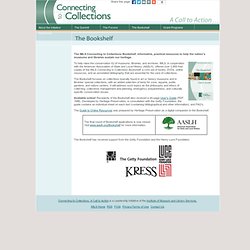 To help raise the conservation IQ of museums, libraries, and archives, IMLS, in cooperation with the American Association of State and Local History (AASLH), offered over 2,800 free copies of the IMLS Connecting to Collections Bookshelf, a core set of books, DVDs, online resources, and an annotated bibliography that are essential for the care of collections. The Bookshelf focuses on collections typically found in art or history museums and in libraries' special collections, with an added selection of texts for zoos, aquaria, public gardens, and nature centers. It will address such topics as the philosophy and ethics of collecting, collections management and planning, emergency preparedness, and culturally specific conservation issues. Available online! Recipients of the Bookshelf also received a 44-page User's Guide (PDF, 1MB).
Museum storage
Scientific Research. GCI Newsletters. Conservation. After a major restoration, the 18th-century French period room is ready to receive visitors again Re-enter the dragon MFA Boston's blockbuster Edo-period painting goes back on show after 20 years Published online: 27 March 2014 Bulgari 'adopts' Rome's Spanish Steps.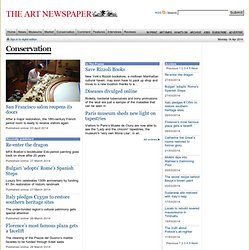 Art Conservation Daily. E-conservation magazine - HOME. JAIC online. AATA Online (Conservation at the Getty) BCIN. Conservation OnLine.
---