Jeux
Utilisation de Wiimote Controller - Tab'Infos
Dans ce tutoriel je vais vous expliquer comment faire pour installer et configurer Wiimote Controller Installation de Wiimote Controller : D'abord chercher Wiimote Controller sur le Google Play Store, cette appli devrait s'afficher :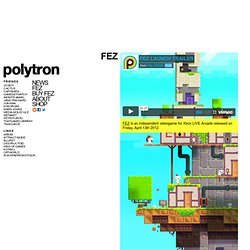 Polytron Corporation » Fez
FEZ is an independent videogame for Xbox LIVE Arcade released on Friday, April 13th 2012. It has been in development at POLYTRON since 2007. In it, you play as Gomez, a 2D creature living in what he believes is a 2D world. Until a strange and powerful sentient artifact reveals to him the existence of a mysterious third dimension! FEZ is a 2D platformer set in a 3D world.
unnamed pearl
Way - Coco & Co
Gamerside
Sites Internet pour enfants