Jeux
Construction Lego en ligne
Free to play. Jeux HTLM5. Play on-demand video games over the internet - OnLive.com. Utilisation de Wiimote Controller - Tab'Infos. Nintendo. Polytron Corporation » Fez. FEZ is an independent videogame for Xbox LIVE Arcade released on Friday, April 13th 2012.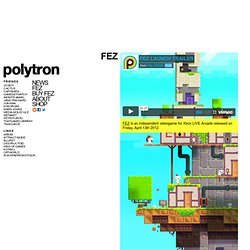 It has been in development at POLYTRON since 2007. In it, you play as Gomez, a 2D creature living in what he believes is a 2D world. Until a strange and powerful sentient artifact reveals to him the existence of a mysterious third dimension! FEZ is a 2D platformer set in a 3D world. Frozen Synapse: A Simultaneous Turn-Based Strategy Game / Turn-Based Tactical Game! Untitled. Dear Esther. Antichamber - A Mind-Bending Psychological Exploration Game. Botanicula. Spelunky World. Way - Coco & Co. Gamerside.
Sites Internet pour enfants. Jeux / Games.
---