New Media Publishing
Scott Steinberg is the CEO of high-tech consulting firm TechSavvy Global, and a frequent tech analyst for ABC, CBS and CNN. He's covered the field for 400+ outlets from NPR to Rolling Stone. His latest self-published venture is the online video series and magazine Game Theory.
HOW TO: Self-Publish Anything Online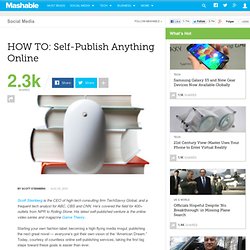 ABCtales | Come and write stories at abctales.com
Are you an art historian, archaeologist or conservator? Look at a Trello Board of most needed content and "claim" an essay to write! If something important is missing, let us know.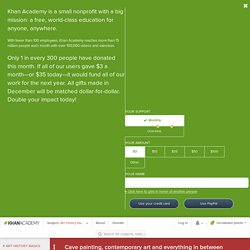 Siganto Foundation Artists' Books Fellowship The Australian Library of Art at the State Library of Queensland (in Brisbane, Australia) is offering two Fellowships for 2014. The Fellowships offer a stipend of AU$9,000 each, priority access to the collections, and research support from specialist librarians. One Fellowship is available to artists' books makers to create a new work based on SLQ collections. The other Fellowship is for researchers interested in generating new knowledge about artists' books from SLQ's extensive and nationally significant collection.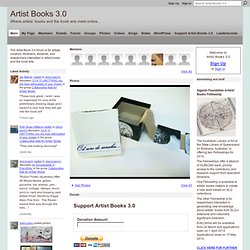 Artist Books 3.0 - Where artists' books and the book arts meet online...
Subscribe to our free email newsletter. We'll update you once or twice a week, and we'll never rent or sell your email address to anyone. Thanks. Today my new manifesto Stop Stealing Dreams goes 'on-sale'.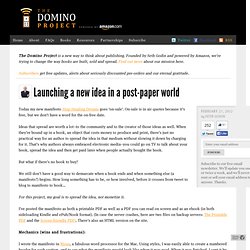 Launching a new idea in a post-paper world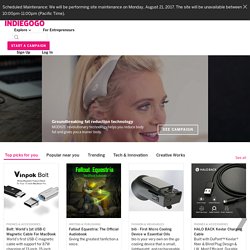 The world's funding platform. Fund what matters to you. Final Countdown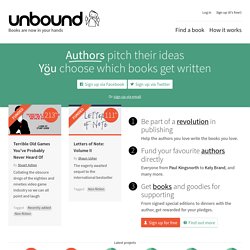 <div class="container"><div class="row"><div class="col-md-12"><span class="icon">&#x26A0;</span> This website requires JavaScript, and may not work correctly without it. <a href="https://support.google.com/adsense/answer/12654?hl=en-GB" class="link">Find out how to enable it.</a></div></div></div> At Unbound, authors pitch their ideas and you choose which books get written.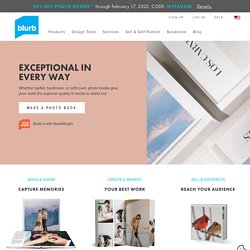 If that sounds a little "all over the place" when it comes to types of books you can make at Blurb, it is. By design. Because if you can think it, dream it, draw it, write it, or photograph it, we can help you turn whatever "it" is into a beautiful print and ebook. We'll never tell you what kind of book to make. Our job is to help you bring whatever book you choose to make into the world and then help you tell the world all about it. Just imagine: Amazing photo books, ebooks, and other print books, made by you, with Blurb.