New Media Publishing
HOW TO: Self-Publish Anything Online. Scott Steinberg is the CEO of high-tech consulting firm TechSavvy Global, and a frequent tech analyst for ABC, CBS and CNN.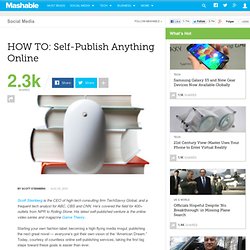 He's covered the field for 400+ outlets from NPR to Rolling Stone. His latest self-published venture is the online video series and magazine Game Theory. Jottify | A new space for writers to share, read and sell. ABCtales | Come and write stories at abctales.com. Smarthistory: a multimedia web-book about art and art history. Artist Books 3.0 - Where artists' books and the book arts meet online...
Cowbird · A witness to life. Launching a new idea in a post-paper world. Subscribe to our free email newsletter.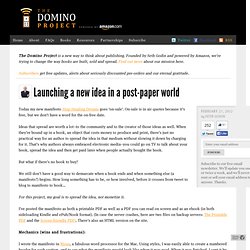 We'll update you once or twice a week, and we'll never rent or sell your email address to anyone. Thanks. Today my new manifesto Stop Stealing Dreams goes 'on-sale'. IndieGoGo. Kickstarter. Unbound | books are now in your hands. Make Your Own Book, Create a Book Online, Custom Books.
---