Jrose1129
Julia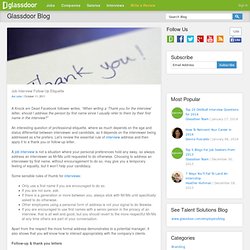 A Knock em Dead Facebook follower writes, "When writing a 'Thank you for the interview' letter, should I address the person by first name since I usually refer to them by their first name in the interview?" An interesting question of professional etiquette, where as much depends on the age and status differential between interviewer and candidate, as it depends on the interviewer being addressed as s/he prefers. Let's review the essential rule of interview address and then apply it to a thank you or follow-up letter. A job interview is not a situation where your personal preferences hold any sway, so always address an interviewer as Mr/Ms until requested to do otherwise.
Job Interview Follow-Up Etiquette
5 Ways to Get More LinkedIn Company Followers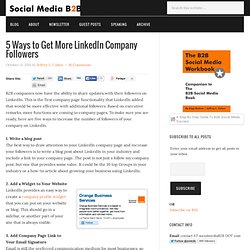 B2B companies now have the ability to share updates with their followers on LinkedIn. This is the first company page functionality that LinkedIn added that would be more effective with additional followers. Based on executive remarks, more functions are coming to company pages. To make sure you are ready, here are five ways to increase the number of followers of your company on LinkedIn. 1. Write a blog post The best way to draw attention to your LinkedIn company page and increase your followers is to write a blog post about LinkedIn in your industry and include a link to your company page.
If your company is in business to sell to other businesses, LinkedIn is arguably a much better platform than others for targeted advertising to individuals. Google AdWords, by contrast, is in the same ballpark, but its purpose is to capture specific keyword searches, while advertising on LinkedIn is all about catching the attention of business people. As a result, companies that need to know they're advertising to specific people have embraced campaigns on LinkedIn. Facebook, on the other hand, is great for targeting retail customers, while LinkedIn is more for the professional business-to-business set. If you want to advertise surfboards to twenty-somethings in California, Facebook is ideal, while selling a product to buyers at sports and leisure stores would be more of a move for LinkedIn. LinkedIn has differentiated itself over the years to be a no-nonsense, professional social network free of games and music, while Facebook is more of a personal space.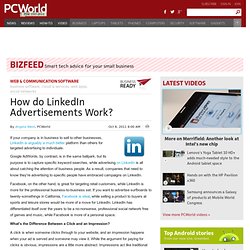 How do LinkedIn Advertisements Work?
newhousesm4
Book Review: Twitter for Good – Change the world one tweet at a time, an essential guide to Twitter for non profits - Krishna De: Social Media Marketing, LinkedIn Twitter And Facebook Training Ireland, Online PR, Digital Marketing , - Krishna De: Social M
5 tips for a more effective social media strategy
The Rise of the Zuckerverb: The New Language of Facebook - Ben Zimmer - Technology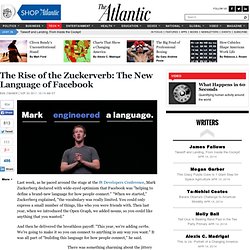 Last week, as he paced around the stage at the f8 Developers Conference, Mark Zuckerberg declared with wide-eyed optimism that Facebook was "helping to define a brand-new language for how people connect." "When we started," Zuckerberg explained, "the vocabulary was really limited. You could only express a small number of things, like who you were friends with. Then last year, when we introduced the Open Graph, we added nouns, so you could like anything that you wanted." And then he delivered the breathless payoff: "This year, we're adding verbs. We're going to make it so you can connect to anything in any way you want."
Facebook 101 [COMIC]
Facebook has released several updates in the last month that will affect how journalists use the platform for reporting and storytelling. Many of these new features will make it easier for journalists to distribute their content and keep up with sources of information. Some of the relevant changes for journalists include Subscribe, which enables readers to subscribe to journalists' public updates, and a redesigned News Feed — complete with a newly introduced Ticker for real-time updates that makes it easier to keep up with the news that's most important to you.
Vadim Lavrusik: What Facebook's latest updates mean for journalists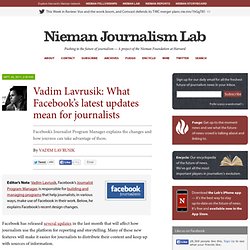 Twitter's most asked questions
10 amazing Twitter infographics
This blog has been inspired by Jan who contacted me through Twitter saying, "Would I think about doing an article on "Blogging For Dummies". Jan has just started a blog and she said in her first post on February 28, 2010. "I have started this blog because frankly, I, like thousands of others, have recently been downsized. I am unemployed. I am home without a job to go to for the 1st time in 25 years. It is a staggering admission and why would I want to expose this to the world?
Blogging For Dummies – An Opportunity For Personal Branding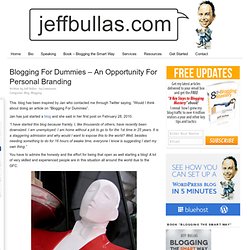 10-levels-of-intimacy.jpg (JPEG Image, 482x700 pixels) - Scaled (92%)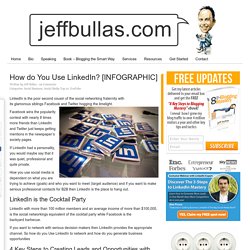 LinkedIn is the poor second cousin of the social networking fraternity with its glamorous siblings Facebook and Twitter hogging the limelight. Facebook wins the popularity contest with nearly 8 times more friends than LinkedIn and Twitter just keeps getting mentions in the newspaper's society pages. If LinkedIn had a personality, you would maybe say that it was quiet, professional and quite private. How you use social media is dependent on what you are trying to achieve (goals) and who you want to meet (target audience) and if you want to make serious professional contacts for B2B then LinkedIn is the place to hang out.
How do You Use LinkedIn? [INFOGRAPHIC]
HOW TO: Make the Most of the New Facebook Timeline Cover Photo [PICS]
7 Ways Facebook Complicates Dating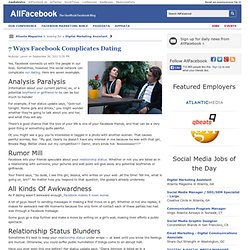 Yes, Facebook connects us with the people in our lives. Sometimes, however, the social network can complicate our dating. Here are seven examples. Information about your current partner, ex, or a potential boyfriend or girlfriend to-be can be too much to handle!
Facebook has overhauled its Pages Insights analytics tool and added a new metric to gauge the health of a page: "People Talking About." That statistic, which users will see on Pages below the total number of "Likes," will be one of four tracked by Pages Insights. The idea is that users will understand a Page with a high People Talking About rating is one that has compelling content.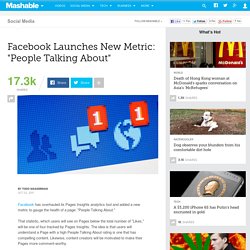 Facebook Engagement Benefits Students: Infographic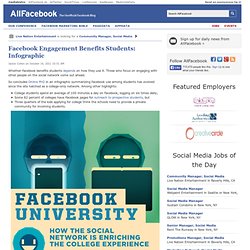 Jackie Cohen on October 14, 2011 10:51 AM Whether Facebook benefits students depends on how they use it. Those who focus on engaging with other people on the social network come out ahead.
Google+ is rapidly evolving. If you're looking for easy ways to improve your knowledge and experience with this hot new social network, keep reading. The fast-paced development of Google+ has become a force to be reckoned with. Social media marketers and community managers will undoubtedly feel the pressure to keep up. In this post, I'll share 20 tips and resources to help you keep learning about Google+ and ways to enhance your user experience.
20 Ways to Master Google+
The Top 35 "Connectors" on Twitter
Twitter By Brian Rice, Published October 7, 2011 A few months ago, I created a list of the 40 most engaging and approachable people on Twitter and since I had so much fun putting it together, I figured it was time for a new list. With the importance of "Klout" circulating around Twitter lately, I decided to look at an even more important trait than one's influence – their ability and willingness to connect others. In addition to being knowledgeable and extremely personable, the following 35 individuals (in no particular order) have the "networking gene" that triggers their ability to bring people together. Sam Fiorella = @samfiorellaPeggy Fitzpatrick = @PegFitzpatrickPaul Biedermann = @PaulBiedermannBonnie Richards = @BonRichsDan Schawbel = @DanSchawbelSarah Goodall = @tribalimpactGlen Gilmore = @GlenGilmoreChris Abraham = @chrisabrahamCheryl K.
It is often the "little things" that can make or break you. One of the tenets we try to teach at SHIFT is "Underpromise, Overdeliver." There is nothing more frustrating to a client than expecting the moon, because they've been told to expect the moon … but getting a slice of green cheese, instead. Far better for the client to be sold on the moon-like benefits of a green cheese slice … but then being handed the actual g-dmn moon!
2 Flares Facebook 0 Twitter 2 Google+ 0 LinkedIn 0 Buffer 0 StumbleUpon 0 Pin It Share 0 Email -- Filament.io 2 Flares × In the "so bizarre it has to be true" news… Benito Apolinar, 36, was arrested this week after fighting with his wife of 15 years, from whom he had recently separated. He had posted an update on Facebook about the anniversary of his mother's death and became angry when he noticed his wife had not clicked the "Like" button. So when he went to drop his children off on Tuesday night, he confronted her: "That's amazing everyone Likes my status but you, you're my wife.
Texas Man Attacks Wife for Not Liking His Facebook Update | Scott Social Media Allen
Peoplebrowsr Launches Kred. Yes, It Competes With Klout
Florida State Players Vote to Ban Social Media
20 Ways to Make More Money from Your Blog
Twitter Revenue to Hit $400 Million By 2013 [STUDY]
Parisian Love
10-06-2011 - Steve Jobs Death Smashes Twitter Traffic Records
My Blog
Blog » Blog Archive » How To Find An Internship: Kristin Lenander
The Dashboard Dance | jrose1129