Social Tools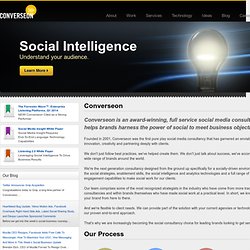 Founded in 2001, Converseon was the first pure play social media agency that has garnered an enviable reputation for innovation, creativity and partnering deeply with clients. We don't just follow best practices, we've helped create them. We don't just talk about success, we've accomplished it with a wide range of brands around the world. We're the next generation agency designed from the ground up specifically for a socially-driven environment. We provide the social strategies, enablement skills, the social intelligence and analytics technologies and a full range of social engagement capabilities to make social work for our clients.
Facebook News Feed Optimization Experts | BrandGlue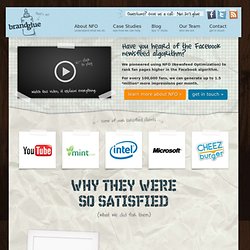 Intel came to us looking to train their employees in all things Facebook marketing. We said fantastic, you've come to the right place. So, we went to work, creating and producing a set of seven training videos covering messaging, administration, media, events, the marketing funnel, and the newsfeed. Need training? We do consulting over the phone and custom webinars.
Loaded: 0% Progress: 0% Newswire A new kind of newswire, powered by Storyful's "human algorithm". Verified news videos, alerts and context served into a powerful web dashboard and backed up by editorial services from the world's leading digital news gathering team.