Food
Cocktails & grown-up beverages
Mulligatawny Soup Recipe at Epicurious
Heat vegetable oil in heavy large pot over medium-high heat. Add onions and cook until golden brown, stirring frequently, about 15 minutes. Add garlic and sauté 2 minutes. Add garam masala and next 4 ingredients; stir 1 minute. Add lentils; stir until coated. Add chicken broth.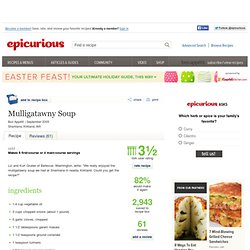 Quick Sausage Meatballs with a Tomato and Basil Sauce, Spaghetti and Sweet Raw Peas Recipe : Jamie Oliver
This is a fantastic recipe that completely celebrates everything I love about peas. Even though they only make an appearance right at the end, it's a star performance. I like to serve a pile of unshelled peas in the middle of the table so that everyone gets to shell some over their own plate.
All Recipies