Mom bloggers
Early Intervention is so important! Know the signs!
Obstacles and Glories
Mommy Brain Reports
Confessions of an Organized Mess
MumsDadsChildren
Thrifty Mom to Three Boys
A Little Boy's Blog
Peanut Butter and Pickle Reviews
HappyMommy3
twitter moms: the influential moms network
Frugal Mom knows Best
Super Mommy To The Rescue
A Mama's Blog
Momma Young @ Home | It's a Mom's life…
whitetrashmom — motherhood. pop culture. served up with sass and
Harriet is taking the comment challenge' R U?
ModernMommyBlog
Wordless Wednesday-Ali Sweeney and Me!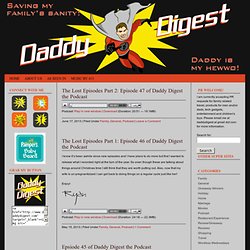 Podcast | Daddy Digest
Yup. Another episode! Podcast: Play in new window | Download (Duration: 22:46 — 20.8MB) In this episode I drop some general family news and a pretty neat announcement! Podcast: Play in new window | Download (Duration: 24:31 — 22.4MB)