NewhouseSM4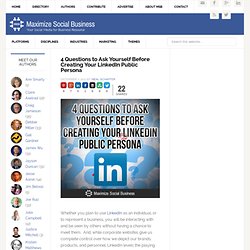 Whether you plan to use LinkedIn as an individual, or to represent a business, you will be interacting with and be seen by others without having a chance to meet them.
4 Questions to Ask in Creating Your LinkedIn Public Profile
Foursquare grows to 15m users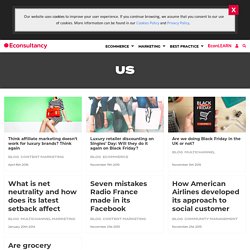 Foursquare has announced that it has grown to 15m users, more than tripling its community in the last 12 months. The location-based gaming platform says that half of its users are in the US, while the other half are international, as reported by ClickZ .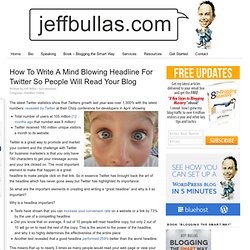 How To Write A Mind Blowing Headline For Twitter So People Will Read Your Blog
The latest Twitter statistics show that Twitters growth last year was over 1,300% with the latest numbers revealed by Twitter at their Chirp conference for developers in April showing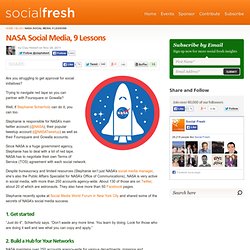 by Clay Hebert on Nov 28, 2011 Are you struggling to get approval for social initiatives? Trying to navigate red tape so you can partner with Foursquare or Gowalla?
9 Other Worldly Social Media Lessons from NASA
The technology we buy isn't particularly unique in and of itself, but thanks to several customization tools and services we can easily add our unique style. These are our ten favorite ways to customize your computers and smartphones, both inside and out. 10.
Top 10 Ways to Customize Your Technology, Both Inside and Out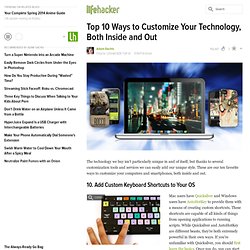 Why You Should Boycott Klout Now
Whether you know it or not, if you have not opted out of Klout, it's created a profile for you.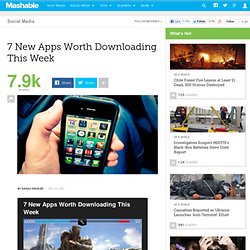 With about 500,000 apps in the Apple App Store and an estimated 300,000 apps in the Android Market, finding the gems among the virtual haystack can be full time job.
7 New Apps Worth Downloading This Week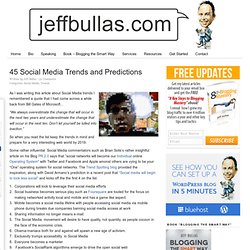 As I was writing this article about Social Media trends I remembered a quote that I had come across a while back from Bill Gates of Microsoft…
45 Social Media Trends and Predictions
YouTube is launching what the company calls the biggest redesign in its history today, including sweeping changes to its homepage and channel pages.
YouTube's New Homepage Goes Social With Algorithmic Feed, Emphasis On Google+ And Facebook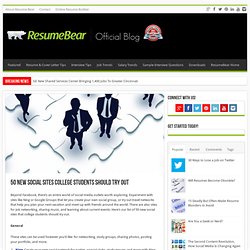 Beyond Facebook, there's an entire world of social media outlets worth exploring.
50 New Social Sites College Students Should Try Out
Foursquare is adding two new features that aim to integrate publishers' and brands' content into users' mobile activities, a "Follow" and a "Save to Foursquare" button.
Foursquare Adds 'Follow' and 'Save to Foursquare' Buttons for Publishers
5 Ways to Tweet Yourself to a New Job
By Careerbliss The traditional resume remains an important tool for jobseeker and employer alike. But it is no longer the final word on how candidates communicate their qualifications to potential employers.
Deadly Resume Mistakes To Avoid
1. Resume is too random and generic; lacks focus. For fear of limiting their opportunities, many people are afraid to make a stand and commit to a target position or industry.
Just how much can we value a Twitter follower?
How much is a Twitter follower worth? $2.50 says lawsuit
Dunkin' Brands is a customer-centric business and has earned a community of loyal supporters over the years. If "America runs on Dunkin'," or if it is to continue to do so, the company must continue to earn the time, attention, and support of customers. As their behavior and preferences evolve, Dunkin' to must rethink its customer approach to remain part of its customer's daily routine.
Dunkin' Donuts Uses Social Media to Improve Customer Relationships and Experiences Brian Solis
Are You Failing At Blogging? 3 Successful Blogs You Can Learn From
Online Education: My Teacher Is an App
Women better than men at social media
Update All of Your Social Media Websites at Once
20 Things Job Seekers Should Never Tweet About
Instagram, meet facebook!
Fox News to use Google+ Hangouts for GOP candidate interviews
Facebook is now too big to buy, Sheryl Sandberg says - Nov. 8
5 apps to celebrate laziness
50 Amazing Facts and Figures About Google
"Optimizing LinkedIn Profiles for Job Search"
What Is Your Twitter Reputation?
Jennie @ #Newhousesm4
How This 23-Year-Old Used Tumblr To Land A Book Deal
20 Reasons Why You Shouldn't Use Social Media
LinkedIn: The Marketing Channel for Businesses and Professionals
5 Motivations for Sharing Content
30 Interesting Social Media Observations
New Facebook Search Engine Lets Employers Find You
Why Social Media Attention Seeking Drives Traffic
Jennie Pikowsky: @elorarachel, @yoliworth a
Allie @ S. I. Newhouse School of Public Communications
Twitterology - A New Science?
HOW TO: Get a Job at a LinkedIn Connection's Company
Social Networking News
Wired Campus
dr4ward.com/
Social networks are becoming your personal operating system
Twitter Chat Schedule
Google
Social Media U Need 2 Know #NewhouseSM4 "To Do" List - Things Due For Tues., Oct.11
Social Media U Need 2 Know #NewhouseSM4 "To Do" List - Things Due For Tues., Oct.18