Christianity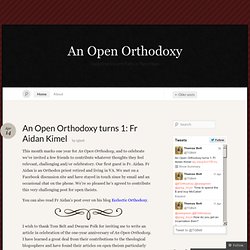 An Open Orthodoxy « Exploring Ancient Paths in New Ways
This month marks one year for An Open Orthodoxy, and to celebrate we've invited a few friends to contribute whatever thoughts they feel relevant, challenging and/or celebratory. Our first guest is Fr. Aidan.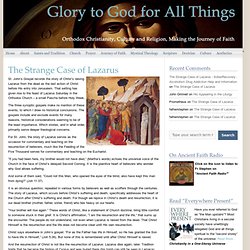 St. John's Gospel records the story of Christ's raising Lazarus from the dead as the last action of Christ before His entry into Jerusalem. That setting has given rise to the feast of Lazarus Saturday in the Orthodox Church – a small Pascha before Holy Week. The three synoptic gospels make no mention of these events, to which I draw no historical conclusions. The gospels include and exclude events for many reasons, historical considerations seeming to be of the least importance.
Glory to God for All Things | Orthodox Christianity, Culture and Religion, Making the Journey of Faith
Cataclysmic | In Christ Everything is Undone
We've had a bit of a rocky start to our "weekly" Frauen Friday series, but I'll get there. I've got the next couple of weeks planned out and I'm really looking forward to the weeks to come! I will be getting back to my language roots with next week's featured scholar who works in Jewish Studies and has written two important books for understanding Biblical Hebrew. If I might take a short excursion, I want to point out that though the past couple of weeks have featured scholars who have focused on feminist interpretation, the point of this series is not necessarily to focus on only feminist theologians. It just so happens that the first three women I featured were ones I've encountered recently while working on my own specific gender-related questions.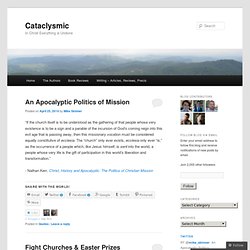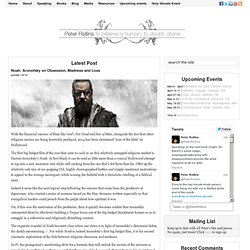 peterrollins.net
With the financial success of films like God's Not Dead and Son of Man, alongside the fact that other religious movies are being feverishly produced, 2014 has been christened "year of the bible" in Hollywood. The first big budget film of the year that aims to cash in on this relatively untapped religious market is Darren Aronofsky's Noah. At first blush it can be read as little more than a cynical Hollywood attempt to tap into a new monetary vein while still sucking from the one that's fed them thus far. Offer up the relatively safe mix of eye-popping CGI, highly choreographed battles and simple emotional motivations to appeal to the average moviegoer, while wooing the faithful with a literalistic retelling of a biblical story.
The numbers to the left show an estimated range of dating. Take a look at the e-Catena project for many references from the Church Fathers to particular New Testament passages. Go to the Online Books page for many classic scholarly works. Visit Early Jewish Writings for documents from antiquity by Jewish authors.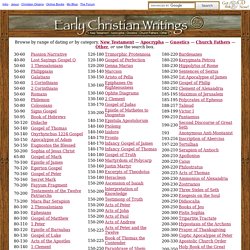 Acts 17:11 Bible Studies: Main Index Page
On Behalf of All – Orthodox Christianity in the diaspora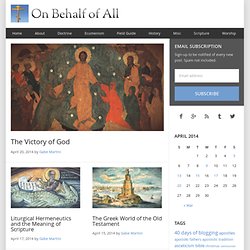 The Eucharistic Liturgy in Ancient House Churches January 13, 2014 by Gabe Martini Many evangelical groups today are proposing that we abandon traditional models of doing the Church, instead replacing … [more] Book Review: On the Divine Liturgy (Popular Patristics Series) January 12, 2014 by Gabe Martini
Welcome to the Book of Concord
Welcome to the Book of Concord's home on the Internet. If you are unfamiliar with the Book of Concord, please consult the helpful explanations available in the left hand column under the "Introductions" section; otherwise, the texts of the Lutheran Confessions are listed under the heading "The Lutheran Confessions." Under the Introduction section, you will also find a thorough historical introduction to the Book of Concord. Additional supplemental materials, providing historical context and other information, are available under the "Sources and Context" section in the left hand column. Beneath that, you will find additional resources, including a blog site devoted to a discussion of the Lutheran Confessions, and various reading schedules.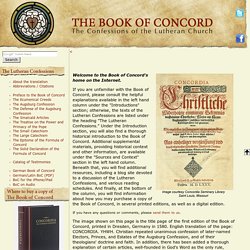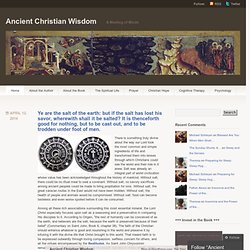 For the fathers, health could be defined as a "regularity (εὐστάθεια) in the discharge of natural functions" (Saint Basil the Great, Hexameron, 9) that reflected the good stability throughout the cosmos in which night follows day and sleep follows wakefulness. And that state of health certainly included regular and restful sleep. After all, Saint Ambrose is said to have written a poem to that effect, which Saint Augustine quotes in his Confessions(Book 9, chapter 12) and happens to be rendered in verse by one 17th century translation as follows:
Ancient Christian Wisdom | A Meeting of Minds
Christian history is, by definition, the most exciting stories and interesting facts of all time. Everyman … is you! Have you heard of the days when the storyteller was the most beloved man in the village.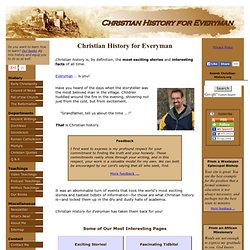 Christian History for Everyman
The Veritas Forum
The Catholic Counter-Reformation in the 21st century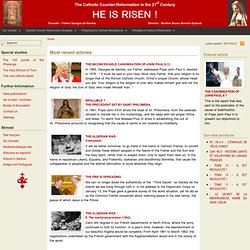 Most recent articles After having analysed the light of faith according to three key words : love, intelligence and tradition, the Pope writes a conclusion that draws attention to its fruitfulness. In the end, this " four-handed " encyclical unequivocally reflects two religions : Pope Francis' religion, which is Catholic, and Pope Benedict XVI's, which no longer is. For Christmas 2013, our fiftieth at Maison Saint-Joseph, let us reread the editorial of Christmas 1973. Pope Francis has undertaken to do something that we have been dreaming about for forty years and, as expected, he attracts crowds.
Theories about the Father, Son, and Holy Spirit
Events March 21 - 22 2014 2014 EPS SOUTHEASTERN REGIONAL MEETINGBirmingham The conference will be March 21-22.
Welcome to the EPS - Evangelical Philosophical Society
Lutheran Quarterly - Home
Come, Thou Fount of Every Blessing It is the blessing of the Lord that makes rich, And He adds no sorrow to it. —Proverbs 10:22 Come, Thou Fount of every blessing, Tune my heart to sing Thy grace; Streams of mercy, never ceasing, Call for songs of loudest praise. Teach me some melodious sonnet, Sung by flaming tongues above, Praise His name—I'm fixed upon it— Name of God's redeeming love. Hitherto Thy love ha blest me, Thou hast brou't me to this place; And I know Thy hand will bring me Safely home by Thy good grace.
The Thirsty Theologian
Orthodox.info
Welcome to the OCIC Web site, one of the largest and oldest sites on Orthodox Christianity. Think of the OCIC as a vast online article repository, with over 850 articles and 3,000 printed pages. This site has been online since 1996 and receives over 50,000 visits per month, according to Google Analytics.
OrthodoxWiki
Today's feasts April 13 2014: Hieromartyr Artemon, presbyter of Laodicea in Syria; MartyrCrescens of Myra in Lycia (see also April 15); Woman Martyr Thomais of Alexandria (see also April 14); Martyrs Dada, Maximus, and Quinctilian at Dorostolum (see also April 28); Martyr Eleutherius of Persia; Martyr Zoilus of Rome; New-Martyr Demetrius of the Peloponnesus who suffered at Tripoli (see also April 14); Saint Martius, Abbot of Clermon, Gaul; Saint Martin the Confessor, Pope of Rome (see also April 14); New Hieromartyr Stephen; Martyr Theodosius; Saint Guinoch of Buchan ( March 31 2014: Julian Calendar )
True Orthodox Polemics - Welcome
May God's blessing be upon you. I am pleased to welcome one and all to "TrueOrthodoxy.Org", the new polemical website containing the truth about the various false religions, heresies, and schisms. We have created this website for the spiritual edification and protection of faithful Orthodox Christians, and for all who desire to live according to the perfect and holy Faith of the Orthodox Church. The need for such a database of information has never been greater as, in our age, the pernicious spirit of ecumenism ever more zealously strives to falsify the real and spiritually-vital distinction between the true faith given by God for all men and the false doctrines which God did not originate.
Antiochian Orthodox Christian Archdiocese
Faith Has Its Reasons
BiblicalStudies.org.uk: An Introduction to the Site
Bible Truth Web Site 1996-2012 - Sermons, Articles on Current Christian Subjects, Bible Studies, Bible questions answered, Baptist History, much more
A Nicene Creed-based Systematic Theology Survey
Early Christian Writings (Patristics)
» Introducing Anamnēsis
The Tertullian Project
Gieraths: Life in Abundance - 1
Commandments of Christ
DEATH TO THE WORLD
David Clines - Noah's Flood I: The Theology of the Flood Narrative
Biblical Anarchism
FREE-online
NO Cross, No Crown by William Penn--Index of Chapters
THE ROMANS Ancient, Medieval and Modern
Strange Notions
Orthodoxy and Heterodoxy | And this is life eternal, that they might know Thee, the only true God, and Jesus Christ, whom Thou hast sent. (John 17:3)
Uncommon Descent - Serving the Intelligent Design Community
Ethika Politika
Faith & Reason Ministries
Welcome to Descent Of The Holy Spirit