Christianity
philorthodox
The Pilgrim Path
Christ "emptied Himself" (Philippians 2:7)
TheoCenTriC | ravings of an amateur pastor, hack theologian, and wannabe mystic
Athanatos Christian Apologetics Ministry - The homepage for Anthony Horvath's defense of the Christian faith...
An Open Orthodoxy « Exploring Ancient Paths in New Ways
Glory to God for All Things | Orthodox Christianity, Culture and Religion, Making the Journey of Faith
Cataclysmic | In Christ Everything is Undone
peterrollins.net
Acts 17:11 Bible Studies: Main Index Page
On Behalf of All – Orthodox Christianity in the diaspora
Welcome to the Book of Concord
Ancient Christian Wisdom | A Meeting of Minds
Christian history is, by definition, the most exciting stories and interesting facts of all time. Everyman … is you! Have you heard of the days when the storyteller was the most beloved man in the village.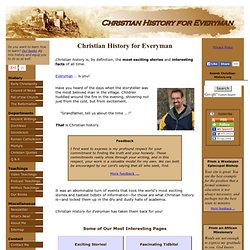 Christian History for Everyman
The Veritas Forum
Theories about the Father, Son, and Holy Spirit
Welcome to the EPS - Evangelical Philosophical Society
Lutheran Quarterly - Home
The Thirsty Theologian
Orthodox.info
OrthodoxWiki
True Orthodox Polemics - Welcome
Antiochian Orthodox Christian Archdiocese
Faith Has Its Reasons
BiblicalStudies.org.uk: An Introduction to the Site
A Nicene Creed-based Systematic Theology Survey
Early Christian Writings (Patristics)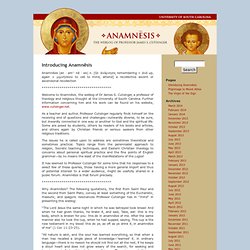 » Introducing Anamnēsis
Anamnēsis (an · am′· nē · sis) n. [Gr. ἀνάμνησις remembering < ἀνά up, again + μιμνήσκειν to call to mind, attend] a recollective ascent or ascensional recollection Welcome to Anamnēsis, the weblog of Dr James S. Cutsinger, a professor of theology and religious thought at the University of South Carolina. Further information concerning him and his work can be found on his website, www.cutsinger.net.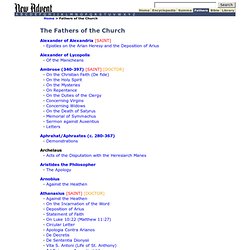 Alexander of Alexandria[SAINT] - Epistles on the Arian Heresy and the Deposition of Arius Alexander of Lycopolis - Of the Manicheans Ambrose (340-397)[SAINT][DOCTOR] - On the Christian Faith (De fide) - On the Holy Spirit - On the Mysteries - On Repentance - On the Duties of the Clergy - Concerning Virgins - Concerning Widows - On the Death of Satyrus - Memorial of Symmachus - Sermon against Auxentius - Letters
The Tertullian Project
Gieraths: Life in Abundance - 1
The Commandments of Christ The following is a list of commands which form the basis of our life in Christ. Most were spoken directly by Christ; many were added for clarity by the writers of the epistles. Love your enemies: do good to them that hate you (Matt. 5:44). Resist not evil: if a man smite thee on one cheek, turn to him the other also (Matt. 5:30-40). Avenge not yourselves: rather give place unto wrath: and suffer yourselves to be defrauded (Rom. 12:18, 19).
Commandments of Christ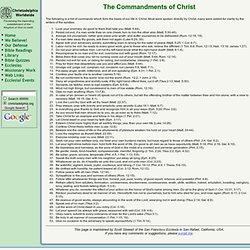 DEATH TO THE WORLD
David Clines - Noah's Flood I: The Theology of the Flood Narrative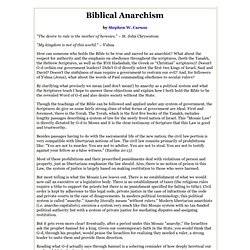 Biblical Anarchism
by Stephen W. Carson "The desire to rule is the mother of heresies." ~ St. John Chrysostom
FREE-online
NO Cross, No Crown by William Penn--Index of Chapters
THE ROMANS Ancient, Medieval and Modern
Strange Notions
Orthodoxy and Heterodoxy | And this is life eternal, that they might know Thee, the only true God, and Jesus Christ, whom Thou hast sent. (John 17:3)
Uncommon Descent - Serving the Intelligent Design Community
Ethika Politika
Faith & Reason Ministries
Welcome to Descent Of The Holy Spirit