Christianity
Eclectic Orthodoxy | Gospel and Church Fathers
Faith and Theology
True Orthodox Polemics - Welcome
FREE-online
Welcome to Descent Of The Holy Spirit
Orthodoxy and Heterodoxy | And this is life eternal, that they might know Thee, the only true God, and Jesus Christ, whom Thou hast sent. (John 17:3)
Lutheran Orthodoxy
Orthodox.info
Antiochian Orthodox Christian Archdiocese
OrthodoxWiki
The Jesuist « Exploring the Theology of Jesus
Fishing The Abyss
Pater Noster | Forgive us our trespasses, as we forgive those who trespass against us
Classical Christianity —
Mother Maria Skobtsova, a martyr of the Nazi concentration camps, and an early 20 th century intellectual and nun, wrote an insightful essay entitled, "Types of Religious Life." In it she articulates five ways of being religious: the "synodal," the ritualist, the aesthetical, the ascetical as well the ideal way, the "evangelical" (or "way of the Gospel.").
Five Types of Christians - Journal - Bonovox
Faith Has Its Reasons
Bible Study Tools Online – Verses, Commentaries, Concordances, Verses, Parallel Versions
CARM - Christian Apologetics and Research Ministry
BiblicalStudies.org.uk: An Introduction to the Site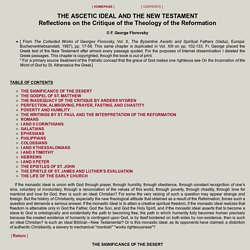 THE ASCETIC IDEAL AND THE NEW TESTAMENT
THE ASCETIC IDEAL AND THE NEW TESTAMENT Reflections on the Critique of the Theology of the Reformation © F.
A Nicene Creed-based Systematic Theology Survey
Home | First Things
Early Christian Writings (Patristics)
INNER EXPLORATIONS
Welcome to the CCEL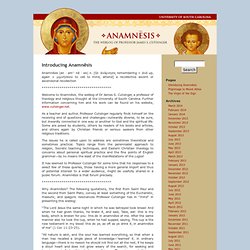 » Introducing Anamnēsis
Anamnēsis (an · am′· nē · sis) n.
Orthodox-Reformed Bridge | A Meeting Place for Evangelicals, Reformed & Orthodox Christians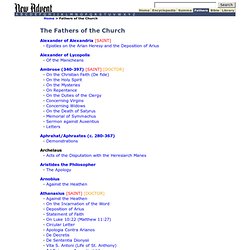 Alexander of Alexandria [SAINT] - Epistles on the Arian Heresy and the Deposition of Arius Alexander of Lycopolis - Of the Manicheans Ambrose (340-397) [SAINT] [DOCTOR] - On the Christian Faith (De fide) - On the Holy Spirit - On the Mysteries - On Repentance - On the Duties of the Clergy - Concerning Virgins - Concerning Widows - On the Death of Satyrus - Memorial of Symmachus - Sermon against Auxentius - Letters
CHURCH FATHERS: Home
Early Christian Writings: New Testament, Apocrypha, Gnostics, Church Fathers
This article discusses Roman Catholic – Eastern Orthodox theological differences.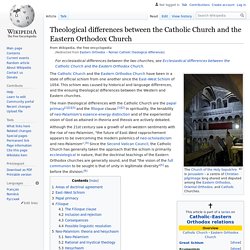 Eastern Orthodox – Roman Catholic theological differences
Strange Notions
Gieraths: Life in Abundance - 1
The Commandments of Christ The following is a list of commands which form the basis of our life in Christ.
Commandments of Christ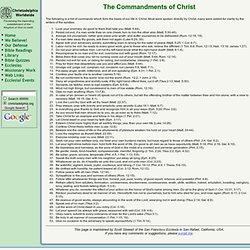 DEATH TO THE WORLD
Qere Ketiv
Faith & Reason Ministries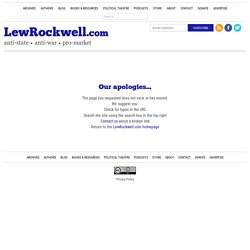 Biblical Anarchism
by Stephen W.
David Clines - Noah's Flood I: The Theology of the Flood Narrative
NO Cross, No Crown by William Penn--Index of Chapters
THE ROMANS Ancient, Medieval and Modern