Christianity
peterrollins.net
Acts 17:11 Bible Studies: Main Index Page
On Behalf of All – Orthodox Christianity in the diaspora
Welcome to the Book of Concord
Ancient Christian Wisdom | A Meeting of Minds
Christian history is, by definition, the most exciting stories and interesting facts of all time. Everyman … is you! Have you heard of the days when the storyteller was the most beloved man in the village.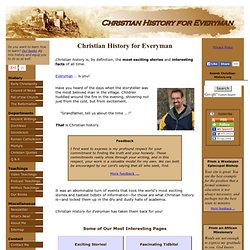 Christian History for Everyman
The Veritas Forum
The Catholic Counter-Reformation in the 21st century
Theories about the Father, Son, and Holy Spirit
Welcome to the EPS - Evangelical Philosophical Society
Lutheran Quarterly - Home
The Thirsty Theologian
Orthodox.info
OrthodoxWiki
True Orthodox Polemics - Welcome
Antiochian Orthodox Christian Archdiocese
Faith Has Its Reasons
BiblicalStudies.org.uk: An Introduction to the Site
Bible Truth Web Site 1996-2012 - Sermons, Articles on Current Christian Subjects, Bible Studies, Bible questions answered, Baptist History, much more
A Nicene Creed-based Systematic Theology Survey
Early Christian Writings (Patristics)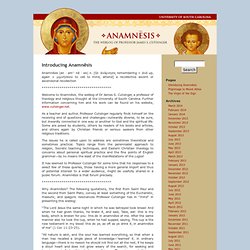 » Introducing Anamnēsis
Anamnēsis (an · am′· nē · sis) n.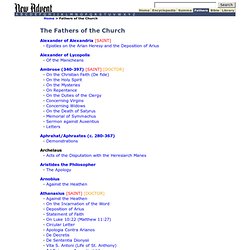 Alexander of Alexandria[SAINT] - Epistles on the Arian Heresy and the Deposition of Arius Alexander of Lycopolis - Of the Manicheans Ambrose (340-397)[SAINT][DOCTOR] - On the Christian Faith (De fide) - On the Holy Spirit - On the Mysteries - On Repentance - On the Duties of the Clergy - Concerning Virgins - Concerning Widows - On the Death of Satyrus - Memorial of Symmachus - Sermon against Auxentius - Letters
The Tertullian Project
Gieraths: Life in Abundance - 1
The Commandments of Christ The following is a list of commands which form the basis of our life in Christ.
Commandments of Christ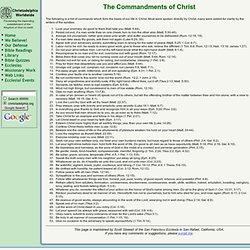 DEATH TO THE WORLD
David Clines - Noah's Flood I: The Theology of the Flood Narrative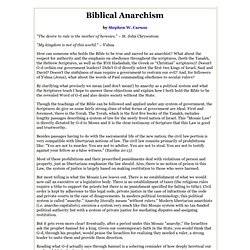 Biblical Anarchism
by Stephen W.
FREE-online
NO Cross, No Crown by William Penn--Index of Chapters
THE ROMANS Ancient, Medieval and Modern
Strange Notions
Orthodoxy and Heterodoxy | And this is life eternal, that they might know Thee, the only true God, and Jesus Christ, whom Thou hast sent. (John 17:3)
Uncommon Descent - Serving the Intelligent Design Community
Faith & Reason Ministries
Welcome to Descent Of The Holy Spirit