Geeky stuff
Infographic: Write It Down. The Curious Case of the Immortal Jellyfish | Discoblog. Film Production Apps. Virtual Museum of Bacteria. Robert Hooke's Micrographia. Gadgets.
30 Fantastic Geeky Tricks to Get The Most From Your Mac. If you're one of those Mac users that loves to dig in and play with hidden features and settings, this post is for you.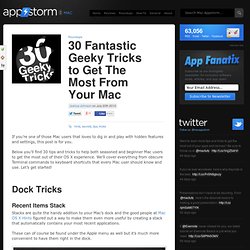 Below you'll find 30 tips and tricks to help both seasoned and beginner Mac users to get the most out of their OS X experience. We'll cover everything from obscure Terminal commands to keyboard shortcuts that every Mac user should know and use. Let's get started!
---