Gardening
Container Vegetable Gardening. Container Vegetable Gardening is a fabulous solution for those of us who do not own large gardens or have access to an allotment.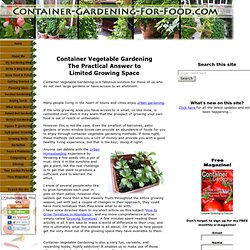 Many people living in the heart of towns and cities enjoy urban gardening. If the only growing area you have access to is small, or like mine, is cemented over, then it may seem that the prospect of growing your own food is out of reach or unfeesable. However this is not the case. Fruit & Veg planner. 10 Killer DIY Garden Hacks. Gardening is one of the most rewarding home hobbies you can do.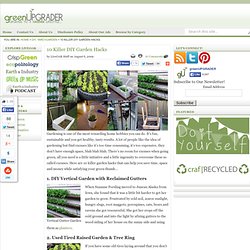 It's fun, sustainable and you get healthy, tasty results. A lot of people like the idea of gardening but find excuses like it's too time consuming, it's too expensive, they don't have enough space, blah blah blah. There's no room for excuses when going green, all you need is a little initiative and a little ingenuity to overcome these so called excuses. Here are 10 killer garden hacks that can help you save time, space and money while satisfying your green thumb... 1. 5 Secrets to a 'No-work' Garden. It took over 20 years of gardening to realize that I didn't have to work so hard to achieve a fruitful harvest.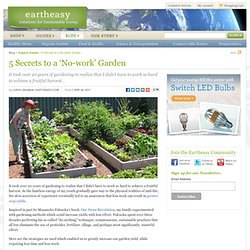 As the limitless energy of my youth gradually gave way to the physical realities of mid-life, the slow accretion of experience eventually led to an awareness that less work can result in greater crop yields. Inspired in part by Masanobu Fukuoka's book, One Straw Revolution, my family experimented with gardening methods which could increase yields with less effort. Fukuoka spent over three decades perfecting his so-called "do-nothing" technique: commonsense, sustainable practices that all but eliminate the use of pesticides, fertilizer, tillage, and perhaps most significantly, wasteful effort. Here are the strategies we used which enabled us to greatly increase our garden yield, while requiring less time and less work. 1. Best Shade-Tolerant Vegetables - Organic Gardening. Even in shady conditions, you can bask in great garden harvests if you choose the right crops and make a few easy adjustments.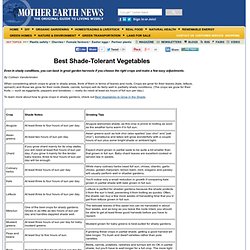 By Colleen Vanderlinden When considering which crops to grow in shady areas, think of them in terms of leaves and roots. How to Start a Vertical Garden. As with any gardening, take into account sun, shade, humidity, wind, and cold when choosing plants that you're going to leave outside all year.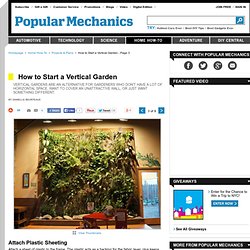 If you intend to leave the garden out during the winter, Yates recommends selecting plants for a colder zone than the one you live in. For example, Oregon City is a zone 9, but Yates plants at least a 6, and usually in the 3 to 5 range. If you're building a detachable wall and planting it with evergreens, you could try storing it in a cool, dry place for the winter while the plants are dormant. Some plants that have done well in Yates's walls are hostas, iberis, phlox, ferns, weigela, and even blueberries. DIY Greenwalls. Venelin.Petkov said...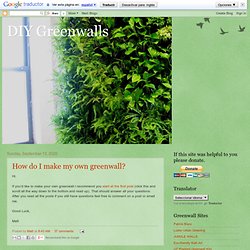 "Can you post a list of the plants you used and what nutrients are you using (I imagine you are not using pure water, since there are no minerals in the felt substrate). Thanks" Vertical Veg – how to grow vegetables – salads – herbs in containers – small spaces. Vertical Garden. Vegetable Gardening Plans & Designs for an Indoor or Outdoor Garden. No dig growing |No dig gardening| www.charlesdowding.co.uk. Many gardeners are discovering the benefits of growing healthy food without any soil cultivation.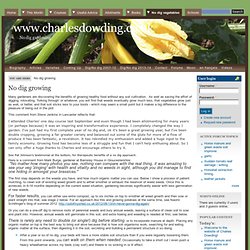 As well as saving the effort of digging, rotovating, 'forking through' or whatever, you will find that weeds eventually grow much less, that vegetables grow just as well, or better, and that soil sticks less to your boots - which may seem a small point but it makes a big difference to the pleasure of being out in the plot. This comment from Steve Jenkins in Lancaster reflects that: I attended Charles' one day course last September and even though I had been allotmenting for many years (or perhaps because) it was an inspiring and transformative experience.
---