Gardening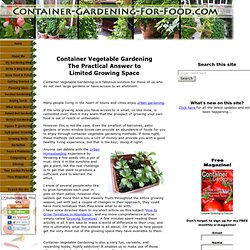 Container Vegetable Gardening
Container Vegetable Gardening is a fabulous solution for those of us who do not own large gardens or have access to an allotment. Many people living in the heart of towns and cities enjoy urban gardening. If the only growing area you have access to is small, or like mine, is cemented over, then it may seem that the prospect of growing your own food is out of reach or unfeesable. However this is not the case.
Fruit & Veg planner
Gardening is one of the most rewarding home hobbies you can do. It's fun, sustainable and you get healthy, tasty results.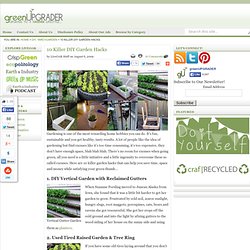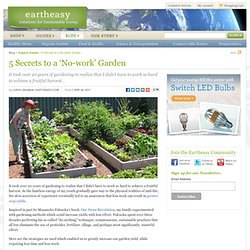 It took over 20 years of gardening to realize that I didn't have to work so hard to achieve a fruitful harvest. As the limitless energy of my youth gradually gave way to the physical realities of mid-life, the slow accretion of experience eventually led to an awareness that less work can result in greater crop yields.
Even in shady conditions, you can bask in great garden harvests if you choose the right crops and make a few easy adjustments. By Colleen Vanderlinden When considering which crops to grow in shady areas, think of them in terms of leaves and roots. Crops we grow for their leaves (kale, lettuce, spinach) and those we grow for their roots (beets, carrots, turnips) will do fairly well in partially shady conditions.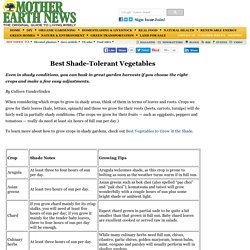 Best Shade-Tolerant Vegetables - Organic Gardening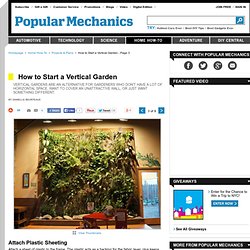 As with any gardening, take into account sun, shade, humidity, wind, and cold when choosing plants that you're going to leave outside all year. If you intend to leave the garden out during the winter, Yates recommends selecting plants for a colder zone than the one you live in. For example, Oregon City is a zone 9, but Yates plants at least a 6, and usually in the 3 to 5 range. If you're building a detachable wall and planting it with evergreens, you could try storing it in a cool, dry place for the winter while the plants are dormant. Some plants that have done well in Yates's walls are hostas, iberis, phlox, ferns, weigela, and even blueberries.
How to Start a Vertical Garden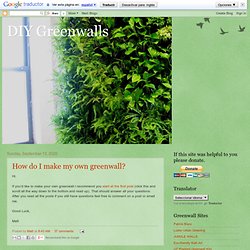 DIY Greenwalls
Venelin.Petkov said... "Can you post a list of the plants you used and what nutrients are you using (I imagine you are not using pure water, since there are no minerals in the felt substrate). Thanks"
Vertical Garden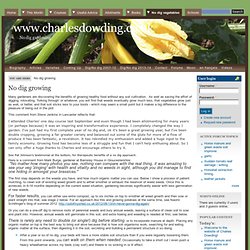 No dig growing |No dig gardening| www.charlesdowding.co.uk
Many gardeners are discovering the benefits of growing healthy food without any soil cultivation.