Technolgy Standards
NETS for Students 2007 profiles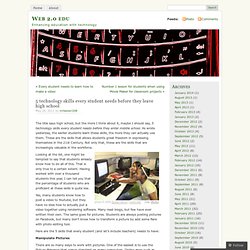 May 24, 2011 by mrkaiser208 The title says high school, but the more I think about it, maybe I should say, 5 technology skills every student needs before they enter middle school . As wrote yesterday, the earlier students learn these skills, the more they can actually use them. These are the skills that allows students great freedom in expressing themselves in the 21st Century.
5 technology skills every student needs before they leave high school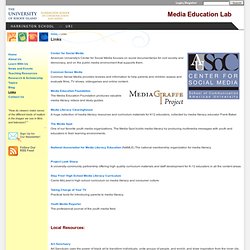 Links
Center for Social Media American University's Center for Social Media focuses on social documentaries for civil society and democracy, and on the public media environment that supports them. Common Sense Media Common Sense Media provides reviews and information to help parents and children assess and evaluate films, TV shows, videogames and online content. Media Education Foundation The Media Education Foundation produces valuable media literacy videos and study guides. Media Literacy Clearinghouse A huge collection of media literacy resources and curriculum materials for K12 educators, collected by media literacy educator Frank Baker.
NETS Student Standards 2007
"By 2020, America will once again have the highest proportion of college graduates in the world." —President Barack Obama, Address to Congress, February 24, 2009 The National Education Technology Plan, Transforming American Education: Learning Powered by Technology , calls for applying the advanced technologies used in our daily personal and professional lives to our entire education system to improve student learning, accelerate and scale up the adoption of effective practices, and use data and information for continuous improvement.