Education
Tree_Cycle_.pdf.
Special needs
4 Principles Of Student-Centered Learning. 4 Principles Of Student-Centered Learning by TeachThought Staff A Definition of Student-Centered Learning.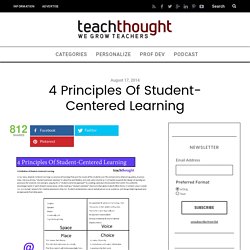 Happy Teaching, Happy Learning: 13 Secrets to Finland's Success - Education Week Teacher. Published Online: June 24, 2014 By Sophia Faridi Most educators have probably found themselves wishing for a simpler solution to the hardships and inequities of the U.S. education system.
I recently got the once-in-a-lifetime opportunity to attend the Oppi Festival in Helsinki, Finland, with a group of seven U.S. educators to learn more about the Finnish school system and the lessons it might offer. During the trip, our group had the chance to visit several innovative schools. Building_the_curriculum_3_jms3_tcm4-489454. VAK Learning and Communication Style Eye Movement Chart. Neurologists tell us that the eyes are the externalization of the brain.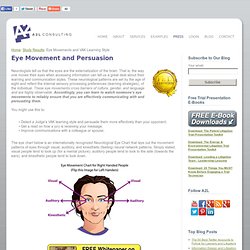 That is, the way one moves their eyes when accessing information can tell us a great deal about their learning and communication styles. These neurological patterns are set by the age of eight and reflect the internal sensory processing preferences (learning strategies), of the individual. These eye movements cross barriers of culture, gender, and language and are highly observable. Top 5 presentation tools for teachers and learners. #mytop5 Published on May 11th, 2014 | by Mark Anderson PowerPoint.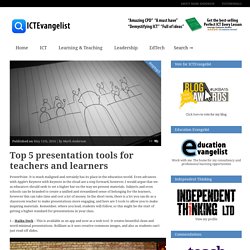 It is much maligned and certainly has its place in the education world. Even advances with Apple's Keynote with Keynote in the cloud are a step forward, however, I would argue that we as educators should seek to set a higher bar on the way we present materials. Subjects and even schools can be branded to create a unified and streamlined sense of belonging for the learners, however this can take time and cost a lot of money.
4 Great Rubrics to Develop Students Presentations and Speaking Skills. February 20, 2014 Looking for some rubrics to hone in your students presentation skills ?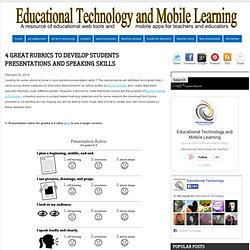 The rubrics below will definitely be of great help. I came across these materials on Discovery Assessment in an article written by Dona Criswell and I really liked them specially that they cover different grades. However, it should be noted that these rubrics are the property of Bucket Institute of Education, a leading source on project based learning materials and for some reasons the download link Donna provided is not working so I am hoping you will be able to have rough idea of how to create your own rubric based on these samples here. 1- Presentation rubric for grades k-2 click here to see a larger version. 2- Presentation rubric for grades 3-5, click here to see a larger version.
REACT-2003-1-53.pdf. 10 Websites to Find Special Needs Apps for the iPad & iPhone. This post is part Five of the Special Needs iPad & App Series.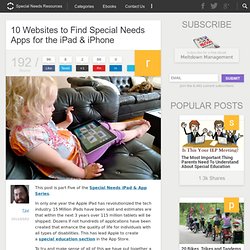 In only one year the Apple iPad has revolutionized the tech industry. 15 Million iPads have been sold and estimates are that within the next 3 years over 115 million tablets will be shipped. Dozens if not hundreds of applications have been created that enhance the quality of life for individuals with all types of disabilities. This has lead Apple to create a special education section in the App Store. To try and make sense of all of this we have put together a nine part series on the iPad and useful applications. In part four we discussed 11 Social Skills & Life Skills Apps in iPad App Store. Carly's Voice | Changing the World of Autism. Join our SN Community. Kathy Greenberg - Learning How To Learn. Learning, which begins before birth, becomes ever more important as the pace of change accelerates around us.
Whether it involves learning how to better influence the future, or developing the needed skills for earning a livelihood, learning can be empowering, fun, and energizing – or it can be frustrating and discouraging – depending on your skills in learning. But how can we learn how to learn? Kathy Greenberg, Associate Professor of Special Education at the University of Tennesee, Knoxville, works to help teachers mediate their students' learning experiences so that students gain practical skills in problem-solving. Her COGNET program, based on Reuven Feuerstein's Mediated Learning Experience (MLE), makes the power of effective mediation widely accessible.
Robert J. Sternberg, Elena Grigorenko, and Donald A. Bundy - The Predictive Value of IQ - Merrill-Palmer Quarterly 47:1. Find using OpenURL The Predictive Value of IQ Abstract This article reviews findings on the predictive validity of psychometric tests of intelligence.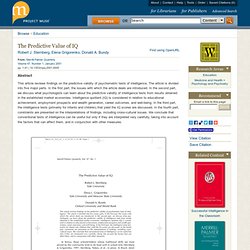 Special Education Math Teaching Strategies. Life Skills Curriculums - Basic Math: Addition Skills. This workbook provides single worksheet pages for each of the levels included in the task analysis outline, except for those levels at which decimal usage is a part of the skill.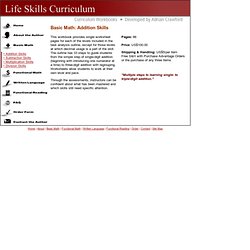 The outline has 33 steps to guide students from the simple step of single-digit addition (beginning with introducing one numerator at a time) to three-digit addition with regrouping. Worksheets allow students to work at their own level and pace. Through the assessments, instructors can be confident about what has been mastered and which skills still need specific attention. Special education needs / Fact sheets / Key information / National Standards / The New Zealand Curriculum Online - NZ Curriculum Online. Individual Education Programmes and plans (IEPs) Individual education plans (IEPs) will continue to be the basis for planning learning programmes for most students with special education needs.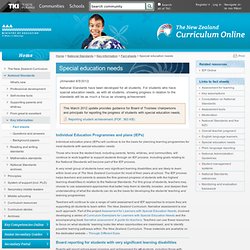 Those who know the student best, including parents, family, whānau, and communities, will continue to work together to support students through an IEP process. Including goals relating to the National Standards will become part of the IEP process. A very small group of students have very significant learning disabilities and are likely to learn within level one of The New Zealand Curriculum for most of their years at school. Allspeced. 22 Simple Ideas for Harnessing Creativity in the Elementary Classroom. (Updated 2/6/14) Here's an experiment you can conduct in many schools, maybe even the school where you teach. Look through the door of one classroom and you might see the students hunched over, not engaged, even frowning. The teacher looks frazzled, tired and wishing he or she were somewhere else. Briefs | autismpdc.fpg.unc.edu.
Evidence-based practice (EBP) briefs have been developed for all 24 identified evidence-based practices. Select a practice in the list below to access the overview of the practice and downloadable PDF files for the EBP brief and the individual components. An evidence-based practice brief consists of the following core components: Components of an Evidence-Based Practice Brief Overview: A general description of the practice and how it can be used with learners with autism spectrum disorders.
Autism Internet Modules (AIM) | autismpdc.fpg.unc.edu. Our center is in the process of developing online modules for each of the 24 identified evidence-based practices. These modules are available on the Autism Internet Modules (AIM) website hosted by the Ohio Center for Autism and Low Incidence (OCALI). The Autism Internet Modules (AIM) website features content from experts on ASD across the nation on topics including assessment and identification, characteristics, evidence-based practices and interventions, transition to adulthood, and employment.
The AIM platform was designed and built by OCALI staff with components consistent with research on how adults learn. Information is presented at a universal reading level with activities providing support to those with introductory or advanced knowledge on ASD. Learning Port - List of Featured Resources. Bringing resource based education to our local partners Welcome | Sign up for Email Updates » 9 Results.
---