Creative sites
Discovery Education: The Clip Art Gallery offers free educational clipart.
egon Public Education Network (OPEN) Clearinghouse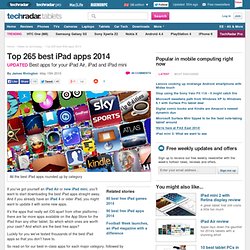 If you've got yourself an iPad Air or new iPad mini, you'll want to start downloading the best iPad apps straight away. And if you already have an iPad 4 or older iPad, you might want to update it with some new apps. It's the apps that really set iOS apart from other platforms - there are far more apps available on the App Store for the iPad than any other tablet.
Presentation Zen
Wordle tutorial