Bullying
Think before you speak. Don't say "That's So Gay."
Want to bring Hardy Girls to your community? Our curricula and resource guides give you the tools you need to bring our programs to your school, organization, or community. Girls' Coalition Groups Curriculum Are you ready to take a new approach in your work with girls?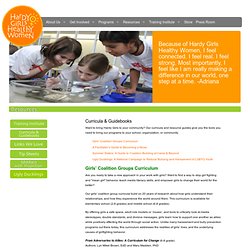 Curricula & Guidebooks | Hardy Girls Healthy Women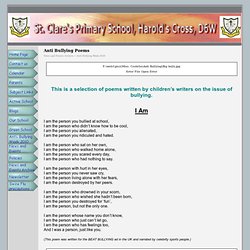 F:\web1\pics\Miss. Costello\Anti Bullying\Big bully.jpgError File Open Error This is a selection of poems written by children's writers on the issue of bullying.
Anti Bullying Poems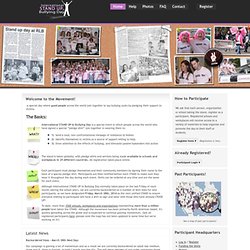 -a special day where good people across the world join together to say bullying sucks by pledging their support to victims. The Basics: Backordered Sizes - March 28th Next Day: Our campaign is gaining a lot of momentum and as a result we are currently backordered on adult size medium, large and XL shirts in English, in both Canada and the USA.
International STAND UP to Bullying Day - Welcome to the Movement!
Steps to Respect: A Bullying Prevention Program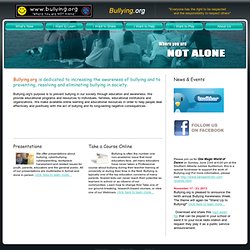 Bullying.org's purpose is to prevent bullying in our society through education and awareness. We provide educational programs and resources to individuals, families, educational institutions and organizations. We make available online learning and educational resources in order to help people deal effectively and positively with the act of bullying and its long-lasting negative consequences. Please join us for One Magic World of Dance on Sunday, June 23rd at 6:00 pm at the Southern Alberta Jubilee Auditorium, this is a special fundraiser to support the work of Bullying.org! For more information, please visit, http://www.taniaandvish.com/events.html
www.bullying.org Where you are NOT alone! Created by Bill Belsey
Skip Navigation Kids Section Training Center Be More Than a Bystander Spanish Website Parents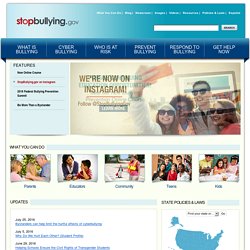 Home | StopBullying.gov
United Against Bullying
Anti-bullying campaign
An Anti-Bullying Message From the NOH8 Campaign
anti-bullying
Born This Way Foundation
Meet our friend, Alfie. See the alligator on his chest? It isn't just there for fun: underneath the paint is a scar he sustained after undergoing a life-saving heart surgery when he was just a newborn.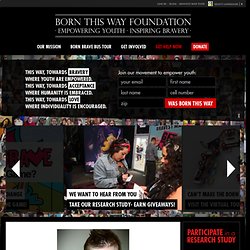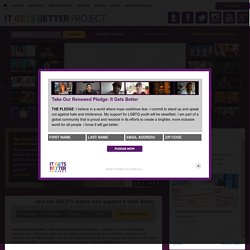 It Gets Better Project | Give hope to LGBT youth
Posted May 7, 2012 by Gary Nelson A Letter to Any Teen Who's Thinking About Suicide Dear friend, Let me start by telling you that I love you. No, I don't know you at all. I might have passed you at the mall or caught a glimpse of you driving down the road, but chances are you live far away from me, in another state or even in another country.
Yahoo! Pride It Gets Better
- It is estimated that 160,000 children miss school every day due to fear of attack or intimidation by other students. Source: National Education Association. - American schools harbor approximately 2.1 million bullies and 2.7 million of their victims. Dan Olweus, National School Safety Center. - 1 in 7 Students in Grades K-12 is either a bully or a victim of bullying.
Bully Facts & Statistics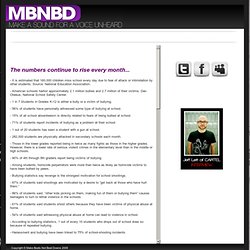 Violencia escolar, problema en aumento en México
VIOLENCIA ESCOLAR EN MÉXICO Y EN OTROS PAÍSES Comparaciones a partir de los resultados del Instituto Nacional para la Evaluación de la Educación Gustavo Muñoz AbundezNúmero 39, Volumen XIII. OCTUBRE-DICIEMBRE de 2008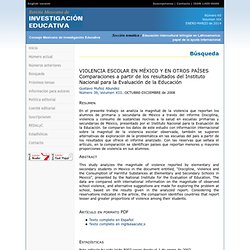 ..:: Revista Mexicana de Investigación Educativa ::..