Diseño y desarrollo web
HTML5 Please – conozca aspectos de HTML5/CSS3 que puedes usar con seguridad
Los sitios web, al cabo del tiempo, suelen realizar modificaciones en sus estructuras y estilos visuales con el fin de adaptarlos a las últimas tecnologías web y tendencias con el fin de no quedarse rezagados. Y en los últimos tiempos estamos viendo como irrumpen con fuerza el HTML5 y el CSS3, de manera que habrá propietarios de sitios web que se estén planteando añadir modificaciones en sus respectivos sitios. Lo malo es que no todas las características de HTML5 y CSS3 están presentes en los navegadores web, con lo que habrá que saber cuáles de ellas se pueden emplear con seguridad y con cuáles de ellas con cautela.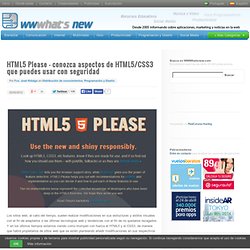 Guía de HTML5 en PDF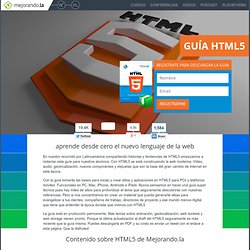 aprende desde cero el nuevo lenguaje de la web En nuestro recorrido por Latinoamérica compartiendo historias y tendencias de HTML5 empezamos a redactar esta guía para nuestros alumnos. Con HTML5 se está construyendo la web moderna. Vídeo, audio, geolocalización, nuevos componentes y etiquetas que son la base del gran cambio de internet en esta época. Con la guía tomarás las bases para iniciar y crear sitios y aplicaciones en HTML5 para PCs y teléfonos móviles. Funcionales en PC, Mac, iPhone, Androids e iPads.
Desde el blog de adsense, y haciendo referencia a este documento PDF creado por Google, nos cuentan algunas cosas que tenemos que tener en cuenta antes de empezar a crear nuestra web para móviles. Entre algunos datos estadísticos, comentan 10 consejos que no podemos dejar pasar: 1. Tiene que ser un Sitio rápido, que se cargue rápidamente y que facilite la lectura selectiva del contenido. 2.
Google nos cuenta cómo crear un sitio web para móviles
Learn Web Design with this Web Design eBook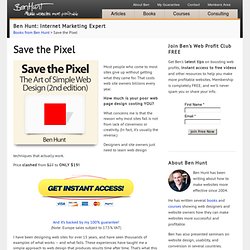 Most people who come to most sites give up without getting what they came for. That costs web site owners billions every year. How much is your poor web page design costing YOU? What concerns me is that the reason why most sites fail is not from lack of cleverness or creativity.
What is HTML5?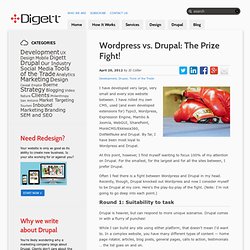 Wordpress vs. Drupal: The Prize Fight!
I have developed very large, very small and every size website between. I have rolled my own CMS, used (and even developed extensions for) Typo3, Wordpress, Expression Engine, Mambo & Joomla, WebGUI, SharePoint, MonkCMS/Ekklesia360, DotNetNuke and Drupal. By far, I have been most loyal to Wordpress and Drupal. At this point, however, I find myself wanting to focus 100% of my attention on Drupal. For the smallest, for the largest and for all the sites between, I prefer Drupal.
Wouldn't you like to know the secrets to layout, design, and copywriting that no one ever told you about? You know, the ones that actually work? Save the Pixel, the best-selling eBook guide to crafting effective web pages, does all that and more! Now in its second edition, Save the Pixel includes 188 pages of info and examples to show you exactly how to transform your web sites today.
eBook: "Save the Pixel" - Web Design and Marketing Secrets - only $13