Cultura
ya no tengo prisa
Smart cyties + steampunk = smartpunk Bien saben que la época victoriana fue la que inauguró, en realidad, la explotación moderna en nombre del progreso y al calor de una tecnología mecánica que colaboraría en "facilitar" la vida de éstas nuevas sociedades. Que aplicó el exterminio y la esclavitud, también la infantil, a partir de la violencia en sus colonias para el beneficio máximo de las naciones civilizadas; que ocupó espacios y territorios salvajes para glorificar el desarrollo. Sin embargo de esto nada se recuerda y tan solo nos queda ese fetichismo que la identifica con los brillos de la burguesía y la aristocracia, una admiración sin fisuras hacia la élite y la jerarquía. Claro, también existió Darwin y las mujeres ganaron el derecho de propiedad, Wilde, Lacan… y Holmes.
Joseba @ Bendita Ruina
Instagram
Solicitud de Inscripción en el proyecto MICRO - Cultura - Cultura - Sede Electrónica - Trámites de Cultura - Sede Electrónica del Ayuntamiento de Huesca
Germany, International, Open CallsContributed by: Judith Staines Date Posted: Tuesday, 17th July 2012 IGBK Weblog a.RTISTS IN TRANSIT__Call for Artists to write about their experiences of residencies, working and travelling abroad for the visual arts mobility blog. At a.RTISTS IN TRANSIT (http://blog.igbk.de) artists who work and travel or do a residency abroad have been sharing experiences on their mobile lives since the end of 2010.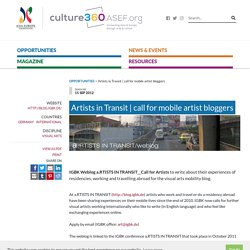 Artists in Transit | call for mobile artist bloggers
¡Concentración de la #CULTURA ! Jueves 19 de julio 20:00 h Pl
Coopera Cultura: Inicio
Formación y Cultura « #Cultura18
Directorios de software libre para bibliotecas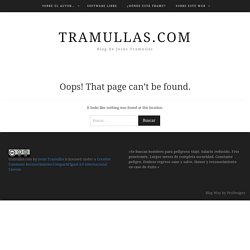 La proliferación de recursos de información de todo tipo sobre la aplicación de herramientas tecnológicas en las bibliotecas es evidente.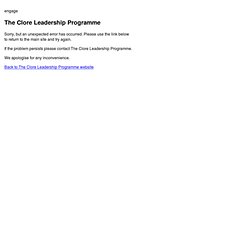 The Clore Leadership Programme - International Scholarships
2014/15 International Fellowships on the Clore Leadership Programme The Clore Leadership Programme offers a number of International Fellowships to exceptional individuals from prioritised countries outside the UK.
tweetdoc
Documento IV Jornadas Internacionales de Ciudades Creativas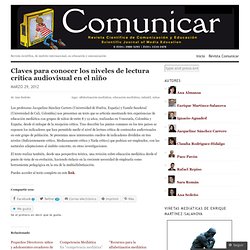 Los profesoras Jacqueline Sánchez Carrero (Universidad de Huelva, España) y Yamile Sandoval (Universidad de Cali, Colombia) nos presentan un texto que se articula mostrando tres experiencias de educación mediática con grupos de niños de entre 8 y 12 años, realizadas en Venezuela, Colombia y España, desde el enfoque de la recepción crítica.
Claves para conocer los niveles de lectura crítica audiovisual en el niño « Revista Comunicar
Levante-EMV (09-07-95) copy.jpg (imagen JPEG, 925 × 919 píxeles)
blog de notas de juan freire
Jornada Cultura y participación on USTREAM: Jornadas de "Cultura y participación" organizadas por PROCURA, profesionales de la cultura de Aragón. 11 de nov
Watch without ads Ustream © Search