Ilustración
Serge Birault - Aka - Papa ninja - Illustrateur free lance - Toulouse France
Alexis Beauclair
As fotos surreais monocromáticas de Dariusz Klimczak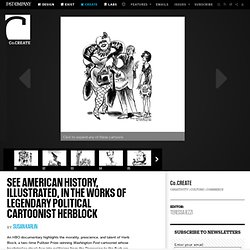 Years before the 1954 Army-McCarthy hearings that ended Joseph McCarthy's paranoid Communist witch hunt in the United States, one political cartoonist used his art to face him down. Herbert Block--known professionally as Herblock, a two-time Pulitzer Prize-winning editorial cartoonist for the Washington Post--created the seminal 1950 cartoon attacking the McCarthy regime, inadvertently coining the word "McCarthyism" in the process. Like many who opposed the powerful Republican senator, Block's editorializing risked potential ruin and blacklisting. This segment in the HBO documentary Herblock--The Black & The White, premiering January 27, particularly astonishes for three reasons: it drives home the morality of a man willing to risk his career to expose dangerous abuses of power, the willingness of a newspaper to stand by him, and the difficulty of that kind of editorial conviction happening today.
1 | See American History, Illustrated, In The Works Of Legendary Political Cartoonist Herblock
byronegg.com | portfolio
Artist Spotlight: Daniela Uhlig
Gad Elmaleh - Gad Elmaleh - Le Monde Entier avec Matthieu Chedid - la vidéo sur Off.tv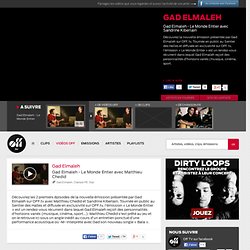 Découvrez les 2 premiers épisodes de la nouvelle émission présentée par Gad Elmaleh sur OFF.tv avec Matthieu Chedid et Sandrine Kiberlain. Tournée en public au Sentier des Halles et diffusée en exclusivité sur OFF.tv, l'émission « Le Monde Entier » est un rendez-vous récurrent dans lequel Gad Elmaleh reçoit des personnalités d'horizons variés (musique, cinéma, sport...). Matthieu Chedid s'est prêté au jeu et on le retrouve ici sous un angle inédit au cours d'un entretien ponctué d'une performance acoustique où -M- interprète avec Gad son nouveau single « Baïa ».
LOS OJOS DEL GATO, de JODOROWSKY/MOEBIUS - Trazos de Tinta | Trazos de Tinta
Ilustración, cómics y artistas. Descubre el mundo de los trazos de tinta. Subscribe LOS OJOS DEL GATO, de JODOROWSKY/MOEBIUS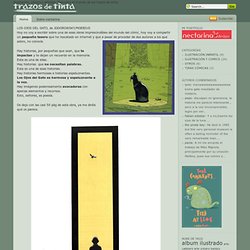 3 | Sweeping Landscapes Painted On A High School Teacher's White Board | Co.Design | business + design
We all have different ways of coping with the boredom that comes with a daily routine. Some of us take to YouTube, others smoke. When Gregory Euclide gets restless, he draws. The Minnesota-by-way-of-Wisconsin artist, who has exhibited at Mass MoCA and MAD, teaches high schoolers outside of Minneapolis.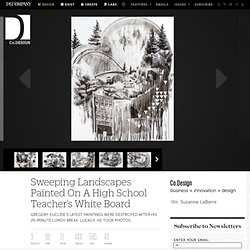 Secuencia de fotos de Pixelpancho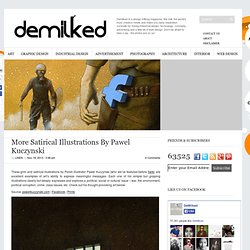 More Satirical Illustrations By Pawel Kuczynski
EmailEmail These grim and satirical illustrations by Polish illustrator Pawel Kuczynski (who we've featured before here) are excellent examples of art's ability to express meaningful messages. Each one of his simple but gripping illustrations clearly but deeply expresses and explores a political, social or cultural issue – war, the environment, political corruption, crime, class issues, etc. Check out his thought-provoking art below:
index.html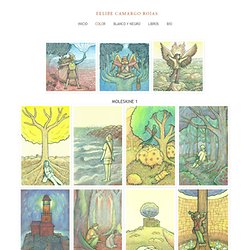 Felipe Camargo Rojas: COLOR
La serie de imágenes presentada arriba está realizada en las páginas de mi primera libreta Moleskine. Cada imagen es una página. Mi intención al hacer esta bitácora fue crear una serie de deseos y recuerdos que me agradaran, supongo que por alguna intención de conservar una inocencia primaria que no se viera influenciada por imágenes externas. Quería entonces liberarme y hacer imágenes que tuvieran una serialidad y, por ello mismo, planteé desde el principio ciertas reglas básicas de forma que pudieran persistir a lo largo de la libreta (como el margen, los mismos materiales y un estilo particular de dibujo).
TELEFONO 4
Digital painting, photoshop.Digital Art, Painting2013 Personal Project. Digital painting (Photoshop)Digital Art, Painting2013 MFACA SVA Thesis ProjectDigital Art, Fine Arts, Painting2013 Series of concepts commissioned by VolvoxLabs to create the visuals for a music festival in Toronto.Digital Art, Illustration, Painting2013 Digital painting, photoshop.Digital Art, Painting2013 Personal projectCharacter Design, Digital Art, Illustration2013 Personal projectDigital Art, Illustration, Painting2013 Series of concept arts commissioned by VolvoxLabs to create the visuals for a music festival in Toronto.Digital Art, Illustration, Painting2013 Series of creatures commissioned by VolvoxLabs for a music festival in Toronto.Digital Art, Illustration, Painting2013 Concept art for Digital Dreams summer festival in Toronto.
Alicia Martin Lopez
craig schlewitz / misc I
Books | Daniel Horowitz
For inquiries regarding book covers please contact: Meredith Kaffelmeredith@defioreandco.com212-925-7744 (x108)DeFiore and Company Musicophilia Fools Paradise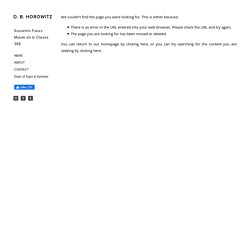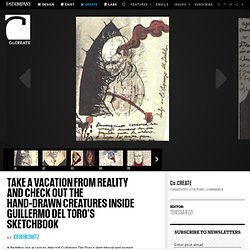 Take A Vacation From Reality And Check Out The Hand-Drawn Creatures Inside Guillermo Del Toro's Sketchbook | Co.Create | creativity + culture + commerce
Creative people tend to have rituals and superstitions about the way they work. Guillermo Del Toro, for example, continues to sketch out characters and ideas for his films in a simple spiral notebook to this day. Perhaps it keeps the visionary director connected to the mindset he had before earning an Academy Award nomination. In any case, the contents of some of his sketchbooks recently found their way onto Reddit for all the world to enjoy. One movie-focused member of the aggregator site gained access to and posted a collection of 20 hand-scrawled Del Toro sketches. These drawings date back at least to The Devil's Backbone, the 2001 Spanish-language horror movie that first attracted international attention for the director, and cover his catalog all the way through to this summer's Pacific Rim.
Marcos Chin Editorial1
Robert Crumb ( Filadelfia, Pensilvania, 30 de agosto de 1943) es un historietista, ilustrador y músico estadounidense. Fue uno de los fundadores del cómic underground y es quizá la figura más destacada de dicho movimiento. Aunque es uno de los más conocidos autores de cómic, su carrera se ha desarrollado siempre al margen de la industria. Biografía[editar · editar código] Infancia y juventud[editar · editar código]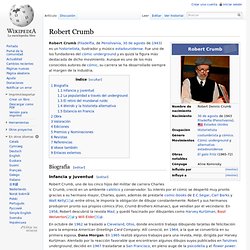 Robert Crumb
Philadelphia Artist + Illustrator - Jon Krause − portfolio
georges le mercenaire on Behance
referentes frontera con arte
Esta semana ha tenido lugar en Madrid la segunda edición de MFSHOW Men AW 14, la única pasarela dedicada íntegramente al hombre que existe en nuestro país e igual que en la anterior edición, ha estado volcada en presentar al público y la prensa una serie de colecciones destinadas al gran consumo. Bajo la tutela omnipotente de El Corte Inglés, varias empresas -entre ellas Soloio, Anglomanía, Tenkey, El Ganso, X-Adnan y Emidio Tucci- se han reunido en espacios significativos de la capital para mostrar indumentarias que insisten en los códigos establecidos y se apartan de la creatividad anhelada por otras plataformas. Casi todas las propuestas apuntan a la figura del dandy, prestando especial atención a la sastrería mediante tejidos de seda y estampados corbateros de impecable manufactura.
"Mi trabajo consiste en saber robar bien"
UK-based artist Matthew Forster creates striking landscape watercolours with a classic feel, yet which have a vibrant fresh quality, that we were really drawn to. What is evident from this work, is the clear demonstration of how a style can be honed to such maturity, that shape and colour interact seemingly effortlessly together on paper. There is something very satisfying about the way Matthew has achieved such clarity in the aesthetic of his creations. Read more on Landscapes, 'Überpainting' and a £1,250 Painting Giveaway, from Artist Matthew Forster…
Breve História Ilustrada da Humanidade
Grim Colberty Tales with Maurice Sendak Pt. 1 - The Colbert Report - 2012-24-01
WICKED Imagined as a Disney Animated Film - Character Art
paginas y listas de ilustradores