Organising
Free Online Graph Paper / Grid Paper PDFs Downloadable and very printable, I find these PDFs extremely useful. Tip number one! Though I do return the correct header for a PDF, sometimes Explorer gets confused when downloading... So if you're running Windows, you may need to right-click a link and choose "Save link to disk".
Help Getting Organized | Get Organized with Organizational Tips from Buttoned Up | Find Your Guru | Buttoned Up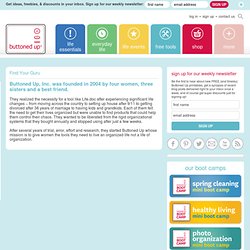 Buttoned Up, Inc. was founded in 2004 by four women, three sisters and a best friend. They realized the necessity for a tool like Life.doc after experiencing significant life changes − from moving across the country to setting up house after 9/11 to getting divorced after 38 years of marriage to having kids and grandkids. Each of them felt the need to get their lives organized but were unable to find products that could help them control their chaos.
Sticking to the goals we set for ourselves is hard to do. This can be especially true for New Year's resolutions. This form is designed to help you articulate your goal clearly, create an easy to follow roadmap by breaking it down into a series of mini tasks, and most importantly, help you plan ahead for the inevitable slip-ups so they don't cause you to throw up your hands in defeat. Before you know it, you'll have arrived at your destination. Print out as many of these as you like! Download here.
Tool: Free Printable Goal List Form « Buttoned Up
For more than three years now, my wife and I have both been scout troop leaders (Girl Scouts for her, Cub Scouts for me). The organizations offer a lot of fun for the kids and, let's be honest, a lot of work for those of us adults who have stepped up to the plate to be leaders. It's not without its rewards, though, and getting to spend time with our kids and their friends in a learning and creative situation is worth all the unpaid hours. Depending on how many kids you've got in your club, den, troop, or group, you could feel like you've taken on a second job. (Especially when cases of cookies pack your house every winter.) One thing is for certain, the job won't be fun for you if you're stressing about running the group and keeping things organized.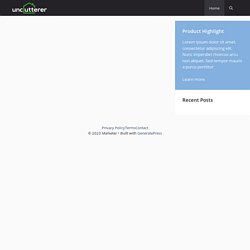 Home & Organizing