From lemons
Sunny Simple Life
Easy flower gardening. How to grow Dutch Iris. If you are looking for an easy flower bulb to plant, Dutch Iris is for you.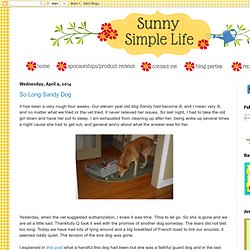 The Cottage Chick
Space for Living
Remember a few weeks back when I posted about the Braised Beef & Tortellini (Olive Garden's Copycat recipe) I found. If you don't remember, check it out HERE. Well ever since I have been on the hunt for recipes of stuff we LOVE that I can make homemade. Well spaghetti sauce is something I use all the time. I have several recipes that call for it, as well as I use it as pizza sauce in a bind.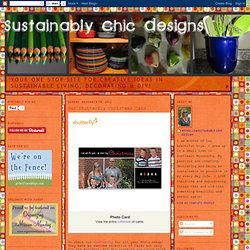 Sustainably Chic Designs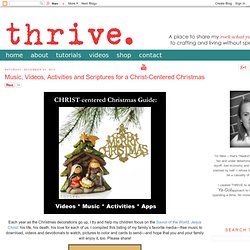 Thrive
Why make this? When my oldest was diagnosed with Autism nine years ago, we soon realized how critical structured, predicable routines were. They made a night-and-day difference in my son's behavior that he began to thrive around.
New Twist on Your Home Filing System Organized Living for Peace of Mind
Penelope Loves Lists | how to organize | organization tips | closet organizer | pretty office supplies | office products | Inspiration for the Unapologetically Organized Soul
Here's a question from a reader named Amy:I'm struggling with my Penelope tendencies and my ability to effectively mother. I tend to want to pick up the Legos immediately upon them being emptied from the box. I'm not exactly carefree and laid-back, and I'm afraid that my (ahem) more controlling nature might be negatively impacting my son. Thoughts? First of all, Amy, let me say "I HEAR YOU." This is a huge issue.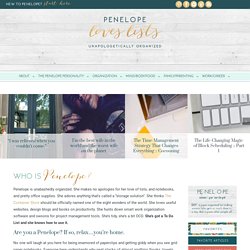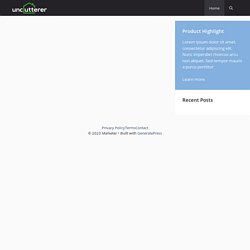 Unitasker Wednesday: USB Foot Warmer Slippers by Erin Doland on Jan 15, 2014 All Unitasker Wednesday posts are jokes — we don't want you to buy these items, we want you to laugh at their ridiculousness. Enjoy! Today's unitasker selection fits nicely into the "this is an incredibly bad idea" category.
The Story of Us
10 years ago this morning, I had breakfast with my dad, at our family farm on the second concession South of Gorrie. He was so nervous, he couldn't even open the jar of cinnamon, the signature ingredient of my favourite, french toast. Later he gave me a collector's plate and on it was a picture of a little girl playing dress up. On the back he had inscribed "this is how I see you today". As I was getting my hair done, my childhood hairdresser recounted a conversation she had with a client earlier in the week who was going to an anniversary party that weekend. The couple were celebrating 5 years of marriage and my hairdresser mused "I didn't know people had parties at the 5 year mark but I suppose any milestone these days is worth celebrating".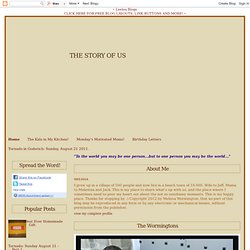 Create Order
Hello friends! As I sit here typing this post we are expecting another snow storm. This time we are supposed to get 6-10 inches of snow and some freezing rain/ice. My kids have had so many snow days and it looks like tomorrow will be another one. I am so over snow and cold weather.
Thrifty Decor Mom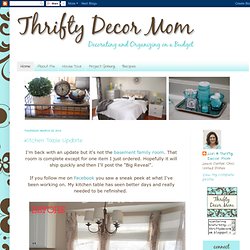 Ok so I'm combining week 2 and week 3 of the weekly challenges for A Bowl Full of Lemons I had my week 2 challenge done..I just forgot to take a picture of it and blog about it. Week 2: Launch Pad...a place where things are to get out of the door faster. Our coats get hung up in the newly organized coat closet that I did during the 21 day challenge.
It's All About the Butlers!
Outside My Kitchen Window
It's here...the post about our Destin trip!!! Better late than never right? For those of you who have been around the blog for a while, you know that we LOVE Destin. It was a place that we kind of discovered by accident.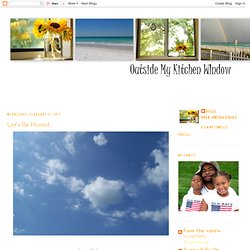 Williams Lifestyle Management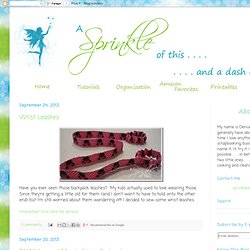 Before and After: Disney was AWESOME! We had the best time. I know I haven't posted in a while and it's because I was trying to finish everything in time. Now that we're back I can share the rest of what I created.
A Sprinkle of This . . . .
Fruity Lemonade
I just love this display of colorful bowls. I found this picture about two years ago on Pinterest and I fell in love with the idea of having a bowl collection. I even started collecting colorful bowls. I only have a few and they are in the basement because I don't know where to put them in my kitchen. I have been trying to brainstorm for days where to put some kind of display shelf in my kitchen. I have a couple of ideas, however I don't think my husband will go for them.
Frugalicous Domesticity - Menu Planning and The Office
I went to bed last night very worried that I may have come across as some one with OCD, ADD and a slew of other undiagnosed illnesses with acronyms. I'm just me. What's a girl to do. Today I did my usual morning routine. Today's room to 'clean' was the office.
So, I decided to take a little different turn with my goals for the year. I'm going to follow my theme word . . . Instead of creating this laundry list of things under individual topics, I did a brainstorming session and made a list of things I want to work on, accomplish or complete this year.
The "Unworking" Mom
Welcome to Clean, Smart, Simple Style. Thanks so much for stopping by! When I visit a new blog, I love to click through a few pages to get a feel for what their site is about- so hopefully landing here first will fill you in on what I'm all about and what else you can find here. When I started this blog in 2009, I didn't really have a concrete goal or a vision for this site- I was simply in search of a creative outlet and a way to continue to challenge myself with my writing and my photography.
Clean, Smart, Simple Style
My excuse for not writing - being a newlywed. No apologies. This is my home. We have a two bedroom apartment in the middle of the Tehachapi Mountains.
Homestead Revival
See Jane Work | Pulling It Together
Blog | The English Organizer