From lemons
Sunny Simple Life. The Cottage Chick. Space for Living. Sustainably Chic Designs. Thrive. TidyMom. New Twist on Your Home Filing System Organized Living for Peace of Mind. Penelope Loves Lists | how to organize | organization tips | closet organizer | pretty office supplies | office products | Inspiration for the Unapologetically Organized Soul. Unclutterer: Daily tips on how to organize your home and office.
The Story of Us. Create Order. Thrifty Decor Mom. CLEAN MAMA. It's All About the Butlers! Outside My Kitchen Window. Williams Lifestyle Management. A Sprinkle of This . . . . Fruity Lemonade. Frugalicous Domesticity - Menu Planning and The Office. I went to bed last night very worried that I may have come across as some one with OCD, ADD and a slew of other undiagnosed illnesses with acronyms.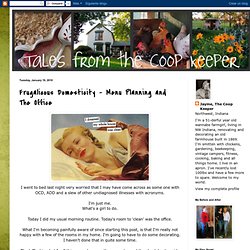 I'm just me. What's a girl to do. Today I did my usual morning routine. Today's room to 'clean' was the office. The "Unworking" Mom. Clean, Smart, Simple Style. Homestead Revival. See Jane Work | Pulling It Together. IHeart Organizing. Blog | The English Organizer.
---