Blogs & Info
The Deliberate Agrarian: StrawberriesOf The Largest & Finest Quality(the E.P. Roe Way)
Paradise Lot | Two plant geeks, one-tenth of an acre and the making of an edible garden oasis in the city
VEG Design Solutions - Part Two - Very Edible Gardens
VEG Design Solutions - Part Two Details Created on Monday, 16 July 2012 08:28 When designing edible gardens, a site-specific problem will often crop up. One of the most enjoyable aspects of permaculture design for us is devising site-specific solutions to those problems.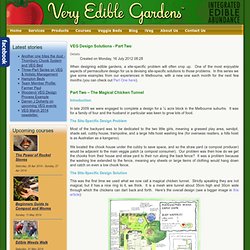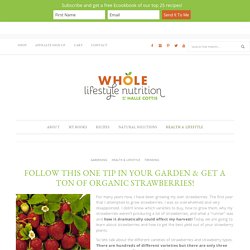 Time is running out to sign up for the FREE virtual online summit, New Year New You, and order the download package . I always order the download because I can't listen on the FREE days. This BRAND NEW online conference features 5 days of interviews from 31 amazing speakers (including me talking about meal plans!).
Follow This Tip In Your Garden & Get A Ton Of Organic Strawberries!
Our vegetable garden project: Vertical vegetable garden ideas
I prefer to have the bottle standing right-way-up as I think it looks nicer and it keeps debris out of the bottle thus keeping the holes from blocking. The materials: * 2 litre plastic soft-drink bottle or water bottle * Sharp small screwdriver, pointed hole-maker or drill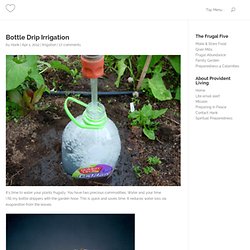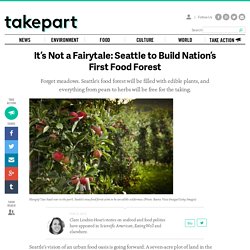 Seattle's vision of an urban food oasis is going forward. A seven-acre plot of land in the city's Beacon Hill neighborhood will be planted with hundreds of different kinds of edibles: walnut and chestnut trees; blueberry and raspberry bushes; fruit trees, including apples and pears; exotics like pineapple, yuzu citrus, guava, persimmons, honeyberries, and lingonberries; herbs; and more. All will be available for public plucking to anyone who wanders into the city's first food forest. "This is totally innovative, and has never been done before in a public park," Margarett Harrison, lead landscape architect for the Beacon Food Forest project, tells TakePart. Harrison is working on construction and permit drawings now and expects to break ground this summer.
Gardening Tips and Advice| Weekend Gardener Web Magazine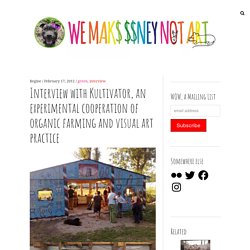 Interview with Kultivator, an experimental cooperation of organic farming and visual art practice
Images Kultivator from the series Wedding between art and agriculture I discovered KULTIVATOR a couple of years ago at Pixelache in Helsinki. The collective was founded in 2005 by 3 artists and 2 organic farmers in the village Dyestad, on the Swedish island of Öland. This cooperation of farming and visual art practice involves an organic farm with where pigs are raised, cows are milked, potatoes are harvested and linseed oil is pressed. But KULTIVATOR is also a space for artist residencies, exhibitions, performances, installations and screenings. And in between are activities that draw in both the artist and the farming community.
Farmers Go Wild by Abby Quillen
At the Permaculture Design Course we just finished in Sydney, Adam Grubb got everyone truly inspired about the power of Permablitz. A good permablitz is an valuable opportunity to participate in design, community, digging, growing and learning, all in one day. Following on from Adam's excellent 'How to run a Permablitz really well' talk that he gave during his visit (video of the talk is below), there's been a few videos come to light that really help understand just why a permablitz is so darn cool.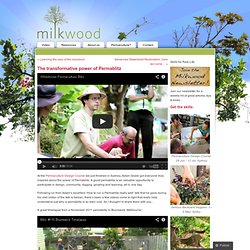 The transformative power of Permablitz
The Best Way to Ripen Peaches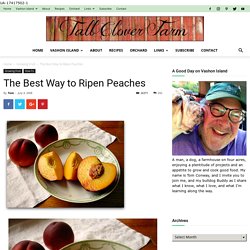 It took four days for this peach to ripen, note the dripping juice. I love peaches too much to eat them as the rock hard flavorless orbs we've come to expect from the local grocer. It's worth every penny to buy from local growers or grow peaches yourself as it seems impossible to ship perfectly ripe peaches. Heck, I can't take a bag full of my peaches to a neighbor across the street without having jam upon arrival.
P E R M A V A T I O N S
Lawn Reform Coalition
raised garden bed hugelkultur after one month raised garden bed hugelkultur after one year raised garden bed hugelkultur after two years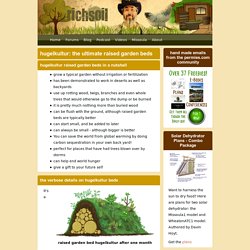 Three Little Chickens
Week 18 in the OMG – and Happy New Year to all… | Milkwood Market Garden
Christmas is over and the goose was fat – thank you Lloyd ! Rain fell – heaps (23mm in 20mins the day after Boxing Day) so everything around here is still very green. The OMG is looking very lush but the week was quiet and relaxed as our new WOOFer demonstrates ! Baz resting in the shade....so very helpful he is