Communication
Blockly - A visual programming language. Blockly is a web-based, graphical programming editor.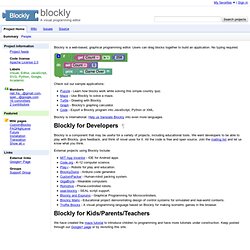 Users can drag blocks together to build an application. No typing required. Broadcast Yourself. Speech to Text in Evernote. Over the last six months Evernote has become my favorite tool for bookmarking my online discoveries, saving pictures that I take on my phone, and jotting down random notes.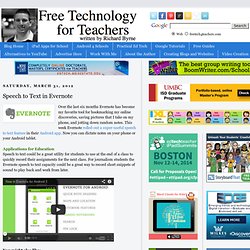 This week Evernote rolled-out a super-useful speech to text feature in their Android app. Now you can dictate notes on your phone or your Android tablet. Harkness App. Sorry, your username or password cannot be left blank Login with an existing account: Unfortunately, your passwords don't match Whoops!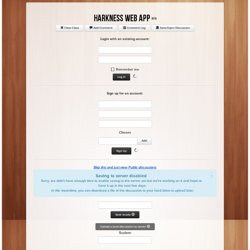 Harkness table. Students and instructor seated around a Harkness table What I have in mind is [a classroom] where [students] could sit around a table with a teacher who would talk with them and instruct them by a sort of tutorial or conference method, where [each student] would feel encouraged to speak up.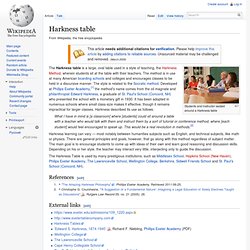 This would be a real revolution in methods.[2] Harkness learning can vary — most notably between humanities subjects such as English, and technical subjects, like math or physics. There are general principles and goals, however, that go along with this method regardless of subject matter. The main goal is to encourage students to come up with ideas of their own and learn good reasoning and discussion skills. How Higher Education Uses Social Media [INFOGRAPHIC] Schools are on a short list of organizations that have been notoriously slow to adopt emerging tech.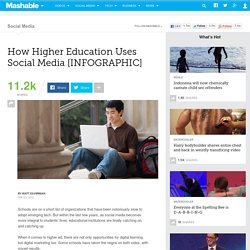 But within the last few years, as social media becomes more integral to students' lives, educational institutions are finally catching on, and catching up. When it comes to higher ed, there are not only opportunities for digital learning, but digital marketing too. Communication – Google Apps for Education. Get a Free Blog Here. Xlearn.
Voki Home. Wallwisher.com :: Words that stick.
---