Lego Mindstorms NXT Robotics Education
Engineering is the application of scientific , economic , social, and practical knowledge, in order to design , build, and maintain structures, machines, devices, systems, materials and processes . It may encompass using insights to conceive, model and scale an appropriate solution to a problem or objective. The discipline of engineering is extremely broad, and encompasses a range of more specialized fields of engineering , each with a more specific emphasis on particular areas of technology and types of application. The American Engineers' Council for Professional Development (ECPD, the predecessor of ABET ) [ 1 ] has defined "engineering" as: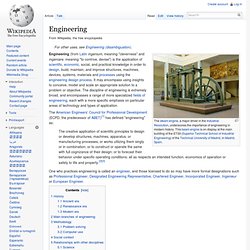 Engineering
Electricity
Lightning is one of the most dramatic effects of electricity. Electricity is the set of physical phenomena associated with the presence and flow of electric charge . Electricity gives a wide variety of well-known effects, such as lightning , static electricity , electromagnetic induction and the flow of electrical current . In addition, electricity permits the creation and reception of electromagnetic radiation such as radio waves . In electricity, charges produce electromagnetic fields which act on other charges. Electricity occurs due to several types of physics: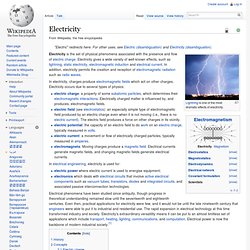 The PicoCricket Workshop Kit has been discontinued, and is no longer available. We apologize for any inconvenience. Planning to use PicoCrickets in a class or workshop?
Pico Cricket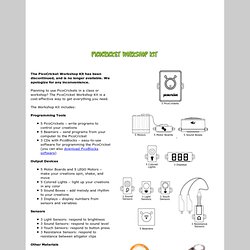 Snap Circuits® | Electronic and Educational Toys
Table of simple mechanisms, from Chambers' Cyclopedia , 1728. [ 1 ] Simple machines provide a "vocabulary" for understanding more complex machines. A simple machine is a mechanical device that changes the direction or magnitude of a force . [ 2 ] In general, they can be defined as the simplest mechanisms that provide mechanical advantage (also called leverage ). [ 3 ] Usually the term refers to the six classical simple machines which were defined by Renaissance scientists: [ 4 ] A simple machine is an elementary device that has a specific movement (often called a mechanism ), which can be combined with other devices and movements to form a machine . Thus simple machines are considered to be the "building blocks" of more complicated machines .
Simple machine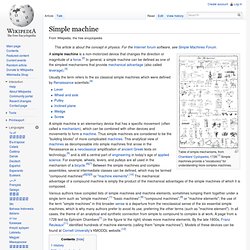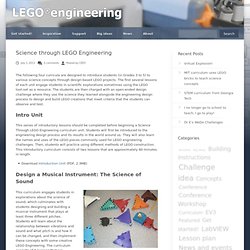 Science Through LEGO Engineering Curricula
CURRICULUM INDEX Teaching Science Through LEGO Engineering The following four curricula are designed to introduce students to various science concepts through design-based LEGO projects. The first several lessons of each unit engage students in scientific explorations sometimes using the LEGO toolset as a resource. The students are then charged with an open-ended design challenge where they use the science they learned alongside the engineering design process to design and build LEGO creations that meet criteria that the students can observe and test.
Lego Projects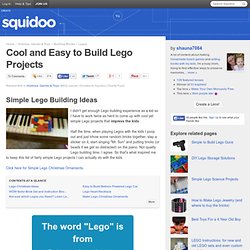 Mom's sure to be a hit by making this rubber-band gun. We printed off the instructions for this simple rubber band gun and make it with the kids. Instructions for this gun have gone missing. I'm going to try to make the gun myself from memory and post some new instructions soon.
Team Hassenplug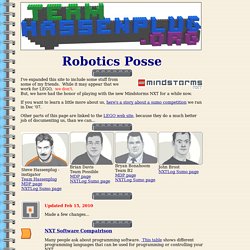 Simple Windows Bluetooth Remote Pretty early on, I made a pretty simple Windows application, that could control an NXT over Bluetooth. I really haven't done much with it, but someone just asked me about it, so I figured I'd post it.
There has been tremendous excitement with Microsoft Kinect within the robotics space signaling the potential opportunities that exist in transforming robots to low-cost mainstream consumer devices. RDS 4, with support from the Kinect sensor, aims to make it easier for developers to build applications, including those directed at personal robotics and consumer scenarios, both in hardware and in simulation. With RDS 4 simulation tools, you don't need physical hardware to develop a Kinect-based robot!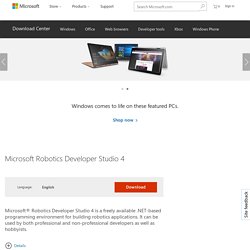 Microsoft Robotics Studio – Installing and Connecting VPL Studio to your Mindstorm Bluetooth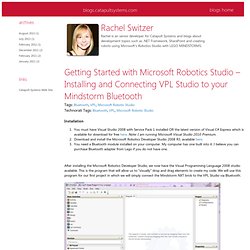 Installation You must have Visual Studio 2008 with Service Pack 1 installed OR the latest version of Visual C# Express which is available for download for free here . Note: I am running Microsoft Visual Studio 2010 Premium. Download and install the Microsoft Robotics Developer Studio 2008 R3, available here .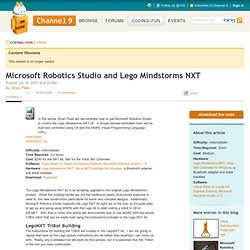 Microsoft Robotics Studio and Lego Mindstorms NXT
The Lego Mindstorms NXT kit is an amazing upgrade to the original Lego Mindstorms product. While the building blocks are not the traditional plastic stud blocks everyone is used to, the new construction parts allow for some very complex designs. Additionally, Microsoft Robotics Studio supports the Lego NXT kit right out of the box, so it's quite easy to get up and going using MSRS with the Lego kit to start coding a robot in C# or VB.NET. With that in mind, this article will demonstrate how to use MSRS with the simple TriBot robot that can be easily built using the instructions included in the Lego NXT kit. LegoNXT TriBot Building The instructions for building the TriBot are located in the LegoNXT kit.
LEGO Education
At the request of Tasmanian teachers Miss Clare Neilson and recently retired Mrs. Juanita Airey, activities using Lego's NXT 1 MindStorms Robots have been developed for use in School-based 2-hour sessions. Some, but not all, will work with the new NXT 2 kit ( click here for more information ).
NXT Five Minute Bot
Intelligent Control Software
The Intelligent Control Software is a stand-alone application that enables students to remotely control a LEGO ® MINDSTORMS ® NXT robot or a TETRIX ® robot powered by the NXT Intelligent Brick. The application enables students to gather real-time sensor data through a graphical display on a computer, providing information about the robot's remote environment. Students can use a Logitech joystick controller with USB connection to the computer and uniquely assign joystick button functionality to control a TETRIX robot powered by the NXT Intelligent Brick . The application is capable of controlling the TETRIX DC motors and NXT motors, as well as reading values of the light, sound, and ultrasonic sensors.
Description *Caution* This application requires the following, a computer with a network connection, and bluetooth to run the server to forward commands to the NXT. It also requires a Lego NXT to be useful. Direct Bluetooth connection is not currently possible, even in OS 3.0 due to Apple restrictions that all hardware that applications talk with be new and be approved through them.
iNXT Remote
Programming Solutions for the LEGO Mindstorms NXT
Downloads | LEGO MINDSTORMS NXT Software | Code
Documents Date added This code runs motors B and C until they stall. The code takes two rotation sensor readings, with a very short delay in between them. The loop exits when the difference between the two readings becomes less than a certain threshold. So if a motor slows down because it encounters an obstacle, the code will stop running the motors.
Mech Warfare
RoboCup Junior
Hitechnic Infrared Electronic Ball