AOE
Get flash to fully experience Pearltrees
Gliese 581 g ( pron.: / ˈ ɡ l iː z ə / ), also Gl 581 g or GJ 581 g , is an unconfirmed extrasolar planet claimed to orbit the red dwarf star Gliese 581 , [ 2 ] 22 light-years [ 3 ] from Earth in the constellation of Libra . [ 4 ] It is the sixth planet purportedly discovered orbiting the star. The discovery was announced by the Lick-Carnegie Exoplanet Survey in late September 2010, after a decade of observation. However, the ESO/ HARPS survey team was not able to confirm that the planet exists. [ 5 ] [ 6 ] Gliese 581 g has attracted attention because it is near the middle of the habitable zone of its parent star.
In physical cosmology , galaxy filaments , also called supercluster complexes or great walls (sometimes called "hyperclusters" [ 1 ] [ 2 ] or "great attractors" [ 3 ] [ 4 ] ), are amongst the largest known cosmic structures in the universe . They are massive, thread-like structures with a typical length of 50 to 80 megaparsecs h -1 that form the boundaries between large voids in the universe. [ 5 ] Filaments consist of gravitationally bound galaxies ; parts where a large number of galaxies are very close to each other (in cosmic terms) are called superclusters . Discoveries of structures larger than superclusters started in the 1980s. In 1987 astronomer R.
String theory is an active research framework in particle physics that attempts to reconcile quantum mechanics and general relativity . It is a contender for a theory of everything (TOE), a self-contained mathematical model that describes all fundamental forces and forms of matter . String theory posits that the elementary particles (i.e., electrons and quarks ) within an atom are not 0-dimensional objects, but rather 1-dimensional oscillating lines ("strings"). The earliest string model, the bosonic string , incorporated only bosons , although this view developed to the superstring theory , which posits that a connection (a " supersymmetry ") exists between bosons and fermions .
Estimated distribution of matter and energy in the universe, today (top) and when the CMB was released (bottom) In astronomy and cosmology , dark matter is a type of matter hypothesized to account for a large part of the total mass in the universe . Dark matter cannot be seen directly with telescopes; evidently it neither emits nor absorbs light or other electromagnetic radiation at any significant level. [ 1 ] Instead, its existence and properties are inferred from its gravitational effects on visible matter, radiation, and the large-scale structure of the universe. Dark matter is estimated to constitute 84.5% of the matter in the universe and 26.8% of the total energy density (with almost all the rest being dark energy ). [ 2 ]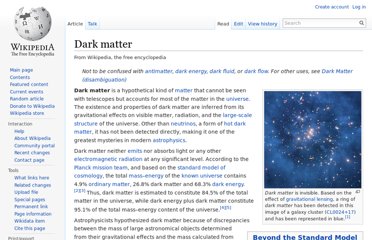 Is 2012 going to be the "End of The World?" No, not in terms of the complete destruction of the Earth and some kind of annihilation scenario. 2012 is not bringing the end of the planet. When we contemplate the expression "end of the world" let us realize the term "world" can refer to a cycle; a period of time; a world age era. Therefore 2012 is signalling the completion of one World Age Cycle, transitting into an emerging New World Age to come. It is said that the world we are ending is the one that is dominated by materialism and ego consciousness, therefore it may be that the world to follow will be founded on different values that honor the spirit of the interdependence of all of life. There are ideas in the collective mind that assert that 2012 is bringing the "end of the world as we know it," which may be linked with its other association of heralding "the end of linear time," and no one can say how valid these claims may be.
How Does Life Work? Ants: Monarchs of Symbiosis Ants are the dominant macro-animal on Earth. There are over 12,400 species we know. Ants are almost everywhere, and wherever they are, whatever their species, they live in an astonishing array of symbiotic associations.
left The Essential Guide to Alien Species is a reference book released by Del Rey Books in 2001 , written by Ann Margaret Lewis , and illustrated by R. K. Post . It covers 140 species in detail and an additional 25 in a section in the back of the book. The book comes with a handy chart with the planets and their constituent species, a pronunciation guide, and a timeline detailing events from 3,000,000 BBY to 30 ABY .