Social media strategy
How Sharing Will Transform Online Advertising
Twitter, LinkedIn, Facebook or Google+: Which Provides More Value?
Oprah Winfrey est arrogante, David Beckham joue au football avec ses pieds dans un pays qui n'y joue qu'avec les mains, Chris Brown est violent, Rihanna est violentée, Tom Cruise est fou et Brangelina ont 276 enfants au dernier recensement.
Lady Gaga, une stratégie 2.0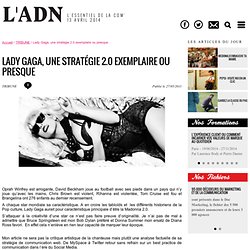 This post reflects the opinions of the author and not necessarily those of Mashable as a publication. Josh Rose is the EVP, digital creative director of ad agency Deutsch LA, who -- when time permits -- moonlights as a photographer.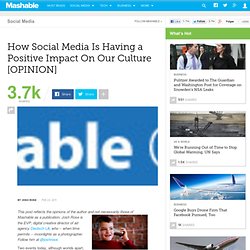 How Social Media Is Having a Positive Impact On Our Culture [OPINION]
Utilisation des medias sociaux par les grandes entreprises en 2011 [stats]
Mardi 22 février 2011 2 22 /02 /Fév /2011 08:21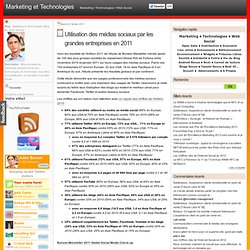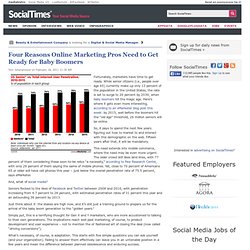 Fortunately, marketers have time to get ready.
Four Reasons Online Marketing Pros Need to Get Ready for Baby Boomers
That question is a recurring theme and a critical question in social media.
Quantity versus Quality in monitoring social media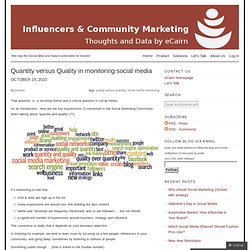 Social media tools are becoming mandatory for personal branding and professional success. The digital assets – blogs, podcasts, videos and social networking profiles – are your online identity and how people discover and connect with you and your brand.
10 Simple, yet Effective, Tips for Social Media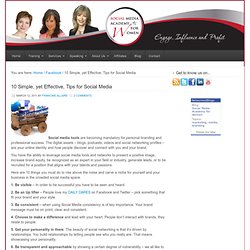 With enterprise social software platforms still in their infancy, ROI measurements are just now becoming possible with early adopter communities. While I don't expect that we will need to continuously re-justify these tools in the workplace, I do believe that measurements are going to be required to help bring about a more successful transition and wider adoption.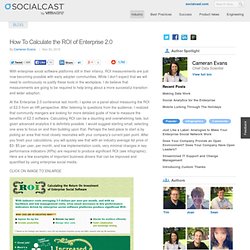 How To Calculate the ROI of Enterprise 2.0
So you've created a Facebook Page and a Twitter account for your business, and maybe you've even made a couple posts, but is anyone listening to what you have to say? These two social networking sites can be a great avenue for marketing your business and building your brand, but you need to put some work into gaining an audience.
10 Tips to Attract Fans on Facebook and Twitter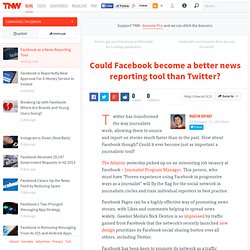 Could Facebook become a better news reporting tool than Twitter?
Twitter has transformed the way journalists work, allowing them to source and report on stories much faster than in the past.