Google Wallet - launching
Google Wallet Demonstration
Comment acheter une boisson avec Google Wallet | Blog Web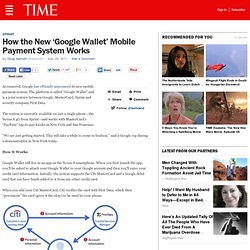 How the New 'Google Wallet' Mobile Payment System Works
As rumored, Google has officially announced its new mobile payment system. The platform is called "Google Wallet" and is a joint venture between Google, MasterCard, Sprint and security company First Data. The system is currently available on just a single phone—the Nexus S 4G from Sprint—and works with MasterCard's "PayPass" tap-to-pay kiosks in New York and San Francisco. "We are just getting started.
Google Announces 'Digital Wallet' - Digits
At Google's media event Thursday in New York City, the company unveiled Google Wallet, its mobile payment system, as well as more details about Google Offers. Mashable was at the event for the announcements. Here is a recap of what happened.
Google Reveals Mobile Payment System [Live Blog]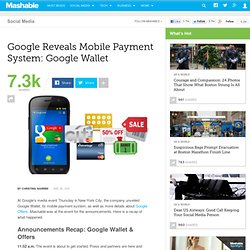 We're here at Google's massive New York City HQ (they own an entire block) for what Google was calling a "partner event" but everyone knew was really an "NFC event". Sure enough, Stephanie Tilenius, Google's VP of Commerce, has taken the stage to announce Google Wallet and Google Offers. Right off the bat, Tilenius wanted to make it clear that this would be an open platform.
Google Unveils Wallet And Offers: An Open Platform For Mobile Payments