Sketchbook
architect painter joshi
architect painter joshi
UK 2003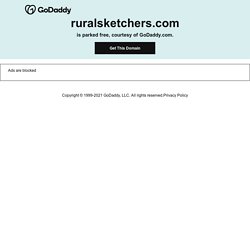 Rural Sketchers
é uma iniciativa dedicada a promover e encorajar a narrativa , do ponto de vista artístico das localidades rurais de Portugal e do mundo. O nosso objectivo é mostrar ao mundo , o nosso espaço rural captado no local (ao vivo) em desenho ou esboço, pela mão e pela sensibilidade do momento , sem o tradicional recurso a maquinas fotográficas. Queremos reunir promissores, talentosos desenhadores e artistas num espaço de valorização do esquisso frequentemente descurado.
Sketchbook By Scott Brundage
www.crayons.be
Today's Tumblr of the Week hasn't updated in a while, but it has enough cool content on it to share anyway. It's the adventure journal of Kailey, who tried to combat her shoddy memory span by drawing the events of her life every day. I love that it's really just a diary detailing what she did on a daily basis sprinkled with illustrative doodles. Some days there's only a few lines about how she feels and one thing she did.
Doodlers Anonymous: The permanent home for spontaneous doodle art.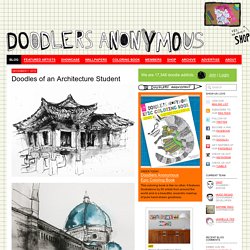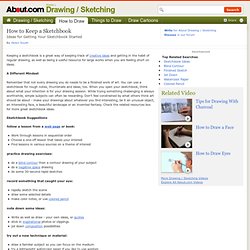 How to Keep A Sketchbook - Ideas for Getting Your Sketchbook Started
Keeping a sketchbook is a great way of keeping track of creative ideas and getting in the habit of regular drawing, as well as being a useful resource for large works when you are feeling short on ideas. A Different Mindset Remember that not every drawing you do needs to be a finished work of art. You can use a sketchbook for rough notes, thumbnails and ideas, too. When you open your sketchbook, think about what your intention is for your drawing session.
Sketchbooks are the artist's constant companion, repositories of our observation and thought. Here are my pick of the best sketchbooks, covering a range of media and purposes. You're sure to find one to suit you. 1. Canson Basic Sketchbook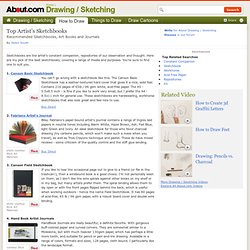 Sketchbooks - Choosing Artist's Sketchbooks
How to Keep a Sketchbook
How to Start a Sketchbook A sketchbook is great for perfecting your artistic skills and providing inspiration. Anybody can start one, and like art , there are... How to Keep a Sketch Book A sketch book is important to maintain in order to have a place to lay down ideas, collect inspiration and continue improving... How to Keep a Sketch Book for High School Art Whether it's for a class or for fun, keeping a sketchbook is a worthwhile project that will help preserve your artwork and... How to Make a Sketchbook What better way to personalize your sketchbook than to make it yourself? When you make your own sketchbook, you have complete control...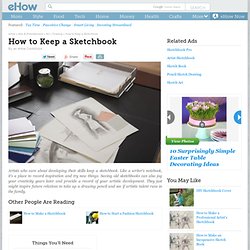 LINKS to ARTISTS' SKETCHBOOKS ONLINE - PAGE 1
1000 Hours of Drawing (Taylor O) sketchbooks | sketch 1000 JOURNALS PROJECT (Someguy)
Sketchbook Secrets: 50 Beautiful Sketchbook Scans
The sketchbook is—to borrow a term from the new millenniums' popular discourse—an artist's BFF. It's a diary for the visually inclined—a place where artists can most comfortably explore their personal thoughts, work out their visual needs, practice, maintain a visual history, and hopefully create the unpolished work that will eventually lead to amazing work for the world to see. But, sometimes, when we're lucky, we get to see the process. Below are 50 beautiful sketchbook scans from 35 talented artists.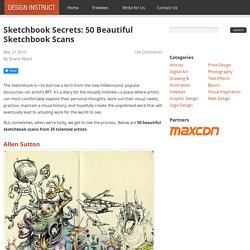 SKETCHBOOKS
- A P O L I T E W I N T E R -
See . Saw on the Behance Network
Sketchbook Dump 2003-2009 on the Behance Network
Galerie de gerard michel
Galerie de Don Low
'skine.art - Moleskine Art
Advertisement More than quick sketches and drawings, Moleskine art can encompass mixed media and even digital art. The imperfect lines, smudges and wrinkles give it dimension and raw honesty that more than ever are sought by digital artists and implemented in software. Regardless of any advancement in technology, pen and paper will always be the number once choice for any budding artist or seasoned illustrator. No theme or medium is ever neglected for the Moleskine treatment if the mood strikes the artist, spawning art like no other. With abstracts, travel themes and even other-worldly monsters, this collection of Moleskine art sketches and drawings is sure to inspire thought and spark your muse.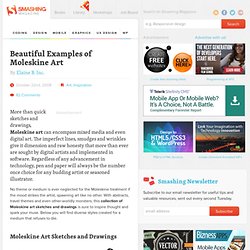 Moleskine Art
Beautiful Examples of Moleskine Art - Smashing Magazine