My Quotes Resources
Good Reads. The Tao of Pooh | Winnie the Pooh. Winnie the Pooh has a certain way about him, a way of doing things which has made him the world's most beloved bear.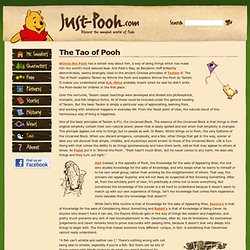 And Pooh's Way, as Benjamin Hoff brilliantly demonstrates, seems strangely close to the ancient Chinese principles of Taoism. The 'Tao of Pooh' explains Taoism by Winnie the Pooh and explains Winnie the Pooh by Taoism. It makes you understand what A.A. Quotes Daddy. Quotation Sites. Quote Garden. Related Quotes Hmmm Philosophy Truth Wise Words We are more often treacherous through weakness than through calculation.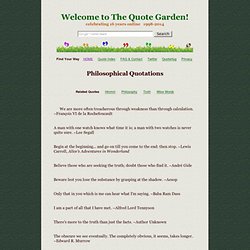 ~François VI de la Rochefoucault A man with one watch knows what time it is; a man with two watches is never quite sure. ~Lee Segall. Brainy Quote. Quoteland.com. The Quotations Page. Wisdom Quotes. Think Exist. The Friendship Page. Quote.it. Simply Quotes - StumbleUpon.
---