Soul and Funk Music
Ohio Players "Love Rollercoaster" The Ohio Players - Fire. Ohio Players, Leroy Sugarfoot Bonner. Ohio Players 2 Hour Spectacular: Featuring a 45 min Interview with Leroy "Sugarfoot" Bonner, Varee Is Love, Funky Worm, Walt's First Trip, Pain, Pleasure, Ecstasy, Fire, Sweet Sticky Thing, Jive Turkey, Heaven Must be Like This, Fopp, I Want to be Free, Climax, Love Rollercoaster, Far East Mississippi, Who'd She Coo, O-H-I-O.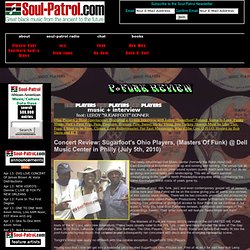 Hosted by Bob Davis and ELP. Concert Review: Sugarfoot's Ohio Players, (Masters Of Funk) @ Dell Music Center in Philly (July 5th, 2010) The newly refurbished Dell Music Center (formerly the Robin Hood Dell East-Essence of Entertainment) is up and running and running. The venue has all new seats, a good but not great sound system (surely that'll work itself out as we go along) and some really nice landscaping. This will all make summer concert-going in the heart of North Philadelphia enjoyable while maintaining the same low-budget ticket costs of years gone by. Marvin Gaye. Marvin Gaye (April 2, 1939 – April 1, 1984), born Marvin Pentz Gay, Jr., was an American singer-songwriter and musician.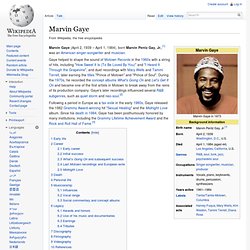 Following a period in Europe as a tax exile in the early 1980s, Gaye released the 1982 Grammy Award-winning hit "Sexual Healing" and the Midnight Love album. Since his death in 1984, Gaye has been posthumously honored by many institutions, including the Grammy Lifetime Achievement Award and the Rock and Roll Hall of Fame.[3] The Marvin Gaye Page. Isaac Hayes Discography at Discogs. War The Band Official Web Site - Home Page. Rick James. The Isley Brothers | LegacyRecordings.com. Kool and the Gang. James Brown Website & Links. Stevie Wonder Official Site. Earth Wind & Fire. Gil Scott-Heron. Official Curtis Mayfield Site. The Official Sly Stone Site. The Sugarhill Gang. Bob Sinclar collaborated with Wonder Mike and Master Gee on his 2009 release "Lala Song".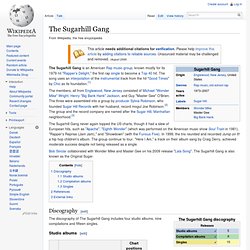 The Sugarhill Gang is also known as the Original Sugar. Discography[edit] The discography of The Sugarhill Gang includes four studio albums, nine compilations and fifteen singles. The Official Average White Band Web Site. ::: History of Funk ::: Through the 20th century, other cultures began to accept these forms of music, and began playing this kind of music as well.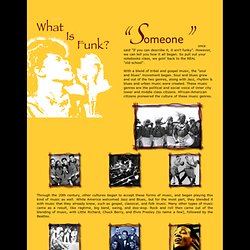 White America welcomed Jazz and Blues, but for the most part, they blended it with music that they already knew, such as gospel, classical, and folk music. Many other types of music came as a result, like ragtime, big band, swing, and doo-wop. Grandmaster Flash. Welcome. GEORGE CLINTON & PARLIAMENT FUNKADELIC.
---