Soul and Funk Music
Ohio Players "Love Rollercoaster"
The Ohio Players - Fire
Ohio Players, Leroy Sugarfoot Bonner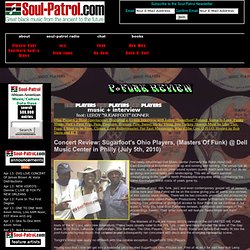 Ohio Players 2 Hour Spectacular: Featuring a 45 min Interview with Leroy "Sugarfoot" Bonner, Varee Is Love, Funky Worm, Walt's First Trip, Pain, Pleasure, Ecstasy, Fire, Sweet Sticky Thing, Jive Turkey, Heaven Must be Like This, Fopp, I Want to be Free, Climax, Love Rollercoaster, Far East Mississippi, Who'd She Coo, O-H-I-O. Hosted by Bob Davis and ELP. Concert Review: Sugarfoot's Ohio Players, (Masters Of Funk) @ Dell Music Center in Philly (July 5th, 2010) The newly refurbished Dell Music Center (formerly the Robin Hood Dell East-Essence of Entertainment) is up and running and running. The venue has all new seats, a good but not great sound system (surely that'll work itself out as we go along) and some really nice landscaping. This will all make summer concert-going in the heart of North Philadelphia enjoyable while maintaining the same low-budget ticket costs of years gone by.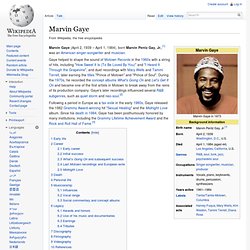 Marvin Gaye (April 2, 1939 – April 1, 1984), born Marvin Pentz Gay, Jr., was an American singer-songwriter and musician. Following a period in Europe as a tax exile in the early 1980s, Gaye released the 1982 Grammy Award-winning hit "Sexual Healing" and the Midnight Love album. Since his death in 1984, Gaye has been posthumously honored by many institutions, including the Grammy Lifetime Achievement Award and the Rock and Roll Hall of Fame.[3]
Marvin Gaye
The Marvin Gaye Page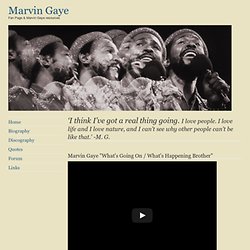 Marvin Gaye "What's Going On / What's Happening Brother" An excerpt from the recently released DVD of some of Marvin's greatest live performances on TV and film, "Real Thing: In Performance 1964-1981," This live performance comes from the long out-of-circulation 1973 film, "Save The Children" with James Jamerson on bass. What's Going On is a song written by Marvin Gaye, Renaldo "Obie" Benson and Al Cleveland. Written in 1971 and a song from the first album Marvin Gaye produced, Rolling Stone Magazine listed it as the fourth greatest song of all time in 2004. The inspiration for the song came from Gaye's brother Frankie, who told him stories of his service during the Vietnam War.
Isaac Hayes Discography at Discogs
In Stores now! War "Icon" 2CD Set ICON is a new line of CDs from Universal Music Group's top artists offered at an incredibly low price. Click Here to purchase. WAR is coming... celebrating their 40th anniversary in 2011 * This 2-CD ICON collection expands on the single disc "hits" set issued last fall, with 12 more tracks from their incredible catalog, personally selected by WAR's longtime manager Jerry Goldstein * Highlights include the WAR classics "Why Can't We Be Friends?
War The Band Official Web Site - Home Page
Rick James
The Isley Brothers | LegacyRecordings.com
March 25th, 2014 Don't miss Kool & the Gang at the Austin Urban Music Festival this Friday and Saturday (March 28 & 29) with Morris Day and the Time and SWV! Jazz up your weekend by purchasing tickets here: http://austinurbanmusicfestival.com/ Share March 10th, 2014 Watch the band's tribute montage, award acceptance and performance at this year's Goldene Kamera Awards, where they received the prestigious Music Lifetime Achievement Award.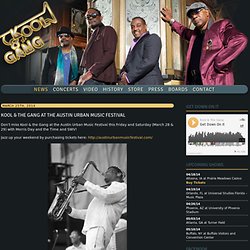 Kool and the Gang
James Brown Website & Links
'LIVE AT LAST' Fan Poster! As a small token of appreciation for all of Stevie's fans around the world, here's a very special poster with just some of your fantastic online reviews of 'Live At Last'! "Extreme Makeover: Home Edition" Fulfills The Dying Wish Of A Father Who Wanted To Provide A Happy And Safe Home For His Wife And Their Special-Needs Children Adopted From China, In A Special Two Hour Episode Legendary Singer Stevie Wonder Performs a Private Concert for the Family at their New Home Loving father and husband George Kadzis, from Tallahassee, Florida, had been battling brain cancer.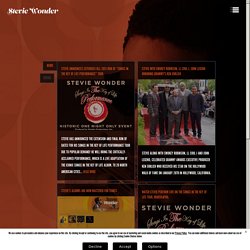 Earth Wind & Fire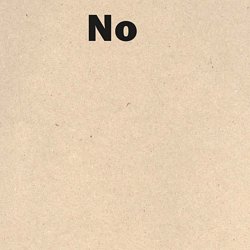 In 2005, having decided to approach Gil Scott-Heron to suggest that we made a record, I stopped listening to any of his previous output. This was to avoid feeling intimidated by the weight of Gil's musical history, and by the sheer quality of the 14 studio albums he'd released since 1970. Part of my initial suggestion to Gil was that we recorded sparse, stripped down versions of his old songs. We both thought that might make an intriguing album. So we started off recording versions of some of Gil's repertoire, just voice and piano. But our album gradually evolved into something different - "I'm New Here", which as the title suggested, didn't touch on any of Gil's previous recordings (except for "Your Soul And Mine", which is a re-imagining of "The Vulture" from Gil's 1970 debut LP "Small Talk at 125th and Lennox").
Official Curtis Mayfield Site
The Official Sly Stone Site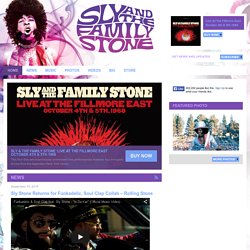 28 October 2013 Biker drama Sons of Anarchy has covered Sly & The Family Stone's "Everyday People." The FX show's music supervisor and composer, Bob Thiele, was mindful of Sly Stone's legacy while managing the thrill of playing one of his songs. "Recording 'Everyday People' has easily been the biggest challenge I've had over the course of working on this show," Thiele told Rolling Stone. "First of all, Sly.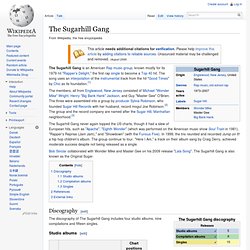 The Sugarhill Gang
Bob Sinclar collaborated with Wonder Mike and Master Gee on his 2009 release "Lala Song". The Sugarhill Gang is also known as the Original Sugar. Discography[edit] The discography of The Sugarhill Gang includes four studio albums, nine compilations and fifteen singles.
The Official Average White Band Web Site
::: History of Funk :::
Through the 20th century, other cultures began to accept these forms of music, and began playing this kind of music as well. White America welcomed Jazz and Blues, but for the most part, they blended it with music that they already knew, such as gospel, classical, and folk music. Many other types of music came as a result, like ragtime, big band, swing, and doo-wop.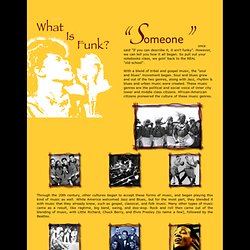 Grandmaster Flash
Welcome
GEORGE CLINTON & PARLIAMENT FUNKADELIC