Soul and Funk Music
Ohio Players "Love Rollercoaster"
The Ohio Players - Fire
Ohio Players, Leroy Sugarfoot Bonner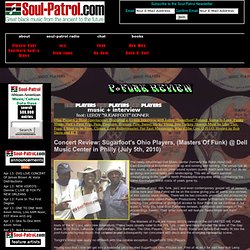 Ohio Players 2 Hour Spectacular: Featuring a 45 min Interview with Leroy "Sugarfoot" Bonner, Varee Is Love, Funky Worm, Walt's First Trip, Pain, Pleasure, Ecstasy, Fire, Sweet Sticky Thing, Jive Turkey, Heaven Must be Like This, Fopp, I Want to be Free, Climax, Love Rollercoaster, Far East Mississippi, Who'd She Coo, O-H-I-O. Hosted by Bob Davis and ELP.
Temptations - Classic Motown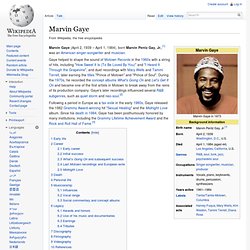 Marvin Gaye (April 2, 1939 – April 1, 1984), born Marvin Pentz Gay, Jr. , was an American singer-songwriter and musician . Gaye helped to shape the sound of Motown Records in the 1960s with a string of hits including " How Sweet It Is (To Be Loved By You) " and " I Heard It Through the Grapevine " and duet recordings with Mary Wells and Tammi Terrell , later earning the titles , "Prince of Motown" and "Prince of Soul". During the 1970s , Gaye recorded the concept albums What's Going On and Let's Get It On and became among the first artists in Motown to break away from the reins of its production company.
Marvin Gaye
The Marvin Gaye Page
Isaac Hayes Discography at Discogs
War The Band Official Web Site - Home Page
Rick James
The Isley Brothers | LegacyRecordings.com
Kool and the Gang
James Brown Website & Links
Stevie Wonder Official Site
Earth Wind & Fire
Official Curtis Mayfield Site
The Official Sly Stone Site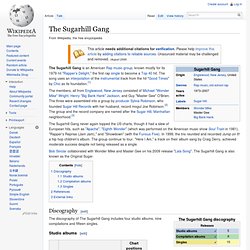 The Sugarhill Gang
The Sugarhill Gang is an American hip hop group , known mostly for its 1979 hit " Rapper's Delight ," the first hip hop single to become a Top 40 hit.
The Official Average White Band Web Site
::: History of Funk :::
Through the 20th century, other cultures began to accept these forms of music, and began playing this kind of music as well. White America welcomed Jazz and Blues, but for the most part, they blended it with music that they already knew, such as gospel, classical, and folk music. Many other types of music came as a result, like ragtime, big band, swing, and doo-wop.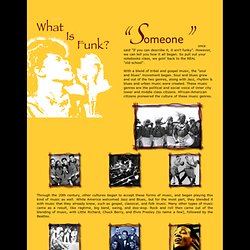 Grandmaster Flash
Welcome
GEORGE CLINTON & PARLIAMENT FUNKADELIC