Smm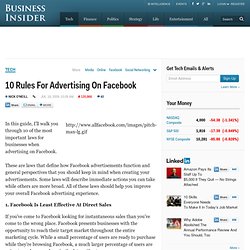 In this guide, I'll walk you through 10 of the most important laws for businesses when advertising on Facebook. These are laws that define how Facebook advertisements function and general perspectives that you should keep in mind when creating your advertisements. Some laws will describe immediate actions you can take while others are more broad. All of these laws should help you improve your overall Facebook advertising experience. 1.
10 Rules For Advertising On Facebook
The Top 10 Social Media Questions Ad Agency Clients are Asking FUEL LINES Fueling Ad Agency New Business Through Social Media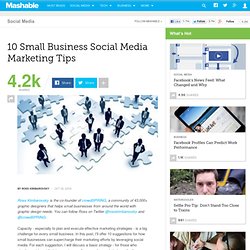 Ross Kimbarovsky is the co-founder of crowdSPRING, a community of 43,000+ graphic designers that helps small businesses from around the world with graphic design needs. You can follow Ross on Twitter @rosskimbarovsky and @crowdSPRING. Capacity - especially to plan and execute effective marketing strategies - is a big challenge for every small business. In this post, I'll offer 10 suggestions for how small businesses can supercharge their marketing efforts by leveraging social media.
Olivier Blanchard Basics Of Social Media Roi Defining Clear Goals As a standard formula, ROI is pretty basic, ROI = (X - Y) / Y, where X is your final value and Y is your starting value.