Social Network Ads
Promoted Tweets Are Super Effective, Advertiser Says (Build 20100722155716) Online brokerage firm Zecco is one of the participants in Twitter's Promoted Tweets program – currently in beta – and this morning announced that the ad platform has proven to be very effective for the company to date.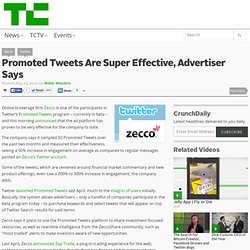 The company says it sampled 50 Promoted Tweets over the past two months and measured their effectiveness, seeing a 50% increase in engagement on average as compared to regular messages posted on Zecco's Twitter account. Some of the tweets, which are centered around financial market commentary and new product offerings, even saw a 200% to 300% increase in engagement, the company adds. Twitter launched Promoted Tweets last April, much to the chagrin of users initially. Basically, the system allows advertisers – only a handful of companies participate in the beta program today – to purchase keywords and select tweets that will appear on top of Twitter Search results for said terms. First Take Analysis: What Twitter's "Promoted Tweets" Means To The Ecosystem. The Altimeter Group was pre-briefed by Twitter COO Dick Costolo last week about this upcoming launch, we've had some time to think over what it means to the industry.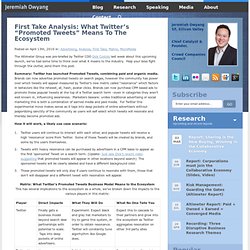 Help your boss fight through the clutter, send them this post. Summary: Twitter has launched Promoted Tweets, combining paid and organic media. Brands can now advertise promoted tweets on search pages, however the community has power over which tweets will appear measured by Twitter's new metric called "resonance" which factors in behaviors like the retweet, at, hash, avatar clicks. Brands can now purchase CPM based ads to promote these popular tweets at the top of a Twitter search term –even in categories they aren't well known in, influencing awareness. Marketers Buy In to Promoted Tweets. Twitter advertising is attracting more interest from marketers.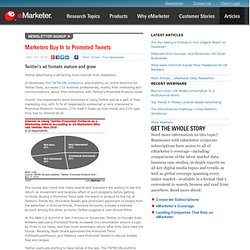 In November, the TWTRCON conference and oneforty, an online directory for Twitter tools, surveyed 110 business professionals, mostly from marketing and communications, about their interaction with Twitter's Promoted Products suite. Overall, the respondents were interested in using Twitter ads as a part of their marketing mix, with 51% of respondents somewhat or very interested in Promoted Products. However, 27% hadn't made up their minds and 22% said they had no interest at all. The survey also noted that many brands and marketers are waiting to see the return on investment and business effect of such programs before getting involved. Hello World. Although our services extend beyond the Web, Twitter ranks as one of the most popular sites on the Internet.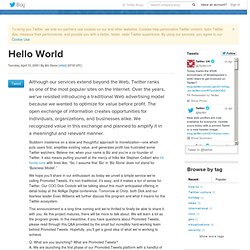 Over the years, we've resisted introducing a traditional Web advertising model because we wanted to optimize for value before profit. The open exchange of information creates opportunities for individuals, organizations, and businesses alike. We recognized value in this exchange and planned to amplify it in a meaningful and relevant manner. Stubborn insistence on a slow and thoughtful approach to monetization—one which puts users first, amplifies existing value, and generates profit has frustrated some Twitter watchers. Believe me, when your name is Biz and you're a co-founder of Twitter, it also means putting yourself at the mercy of folks like Stephen Colbert who hit home runs with lines like, "So, I assume that 'Biz' in 'Biz Stone' does not stand for 'Business Model'."
How to Drive Traffic from Twitter using @Anywhere. How to Drive Traffic from Twitter using @Anywhere How to Drive Traffic from Twitter using @Anywhere @Anywhere is a new set of widgets (or plugins) from Twitter that allows you to add Twitter Features to your Blog or Website.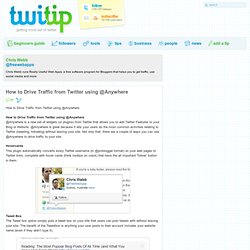 @Anywhere is great because it lets your users do the most common activities relating to Twitter (tweeting, following) without leaving your site. Not only that, there are a couple of ways you can use @Anywhere to drive traffic to your site. Hovercards This plugin automatically converts every Twitter username (in @problogger format) on your web pages to Twitter links, complete with hover cards (think tooltips on crack) that have the all important "follow" button in them. Tweet Box The Tweet box option simply puts a tweet box on your site that users can post tweets with without leaving your site. CPM vs CPC: Which Is Better For Facebook Ads? Round 2. A couple weeks ago we posted our thoughts on the discussion of whether to use CPM or CPC when bidding on Facebook ads.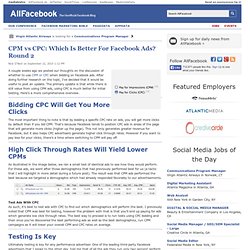 After doing further research on the topic, I've decided that it would be useful to post an update. The primary update is that while there is still value from using CPM ads, using CPC is much better for initial testing. Here's a more comprehensive overview. CPM vs CPC: Which Should You Use For Facebook Ads? When getting started with online advertising, one of the first questions people will ask is, "Should I bid on a CPM or CPC basis?"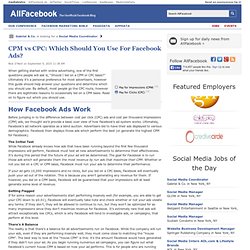 Ultimately it's a personal preference for most advertisers, however this guide should help answer your questions and determine which you should use. By default, most people go the CPC route, however there are legitimate reasons to occasionally bid on a CPM basis. Read on to figure out which you should use. How Facebook Ads Work Before jumping in to the difference between cost per click (CPC) ads and cost per thousand impressions (CPM) ads, we thought we'd provide a basic over view of how Facebook's ad system works. Facebook Sponsored Stories Are 46% More Effective Than Standard Facebook Ads. Earlier this year, Facebook introduced a new type of advertising that highlights the activity of a user's friends who have interacted with a given brand on the site.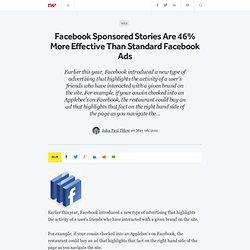 For example, if your cousin checked into an Applebee's on Facebook, the restaurant could buy an ad that highlights that fact on the right hand side of the page as you navigate the site. Not unlike Twitter's Promoted Tweets, this new ad format takes social content and turns it into a marketing message, blurring the lines between content and advertising, but doing so in a way that's still transparent to users. So how effective is it? Targeting Your Facebook Messaging For the Greatest Impact - Search Engine Watch (SEW) Has the ever-growing, ever-knowing, social networking site Facebook reached its peak?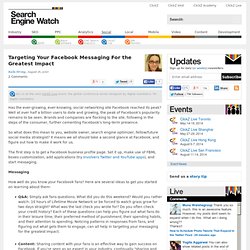 Well at over half a billion users to date and growing, the peak of Facebook's popularity remains to be seen. Brands and companies are flocking to the site, following in the steps of the consumer, further cementing Facebook's long-term presence. So what does this mean to you, website owner, search engine optimizer, fellow/future social media strategist? Tips on Facebook ad campaigns. A few of weeks ago Webtrends analyzed 11,529 Facebook ad campaigns representing 4.5bn impressions to see what conclusions they could draw.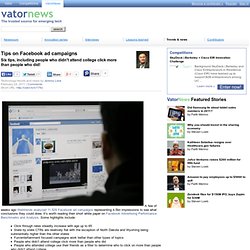 It's worth reading their short white paper on Facebook Advertising Performance Benchmarks and Analysis. Some highlights include: Click through rates steadily increase with age up to 65State by state CTRs are relatively flat with the exception of North Dakota and Wyoming being substantially higher than the other statesFun/entertainment focused campaigns work better than other types of topicsPeople who didn't attend college click more than people who didPeople who attended college use their friends as a filter to determine who to click on more than people who didn't attend collegeFB ads need new creative after three to five days I'd urge you to read the whole thing. Examples of Psychographic Targeting on Facebook Ads « insight.io blog. 7 Tips to Mastering Facebook Advertising. Advertising on Facebook can be a cost-effective means of bringing new people to your fan page.
To truly harness the value of Facebook advertising, you'll need to dedicate time and resources to test, analyze, monitor and tweak your ads. Do this and you may just find a sea of opportunity waiting for your brand, company or event. Tips on Facebook ad campaigns. The Ultimate Guide to Facebook Ads Bidding. Facebook Bidding: How to Rapidly Optimize Campaigns « insight.io blog. Create a Winning Facebook Ad Campaign. How to Target Affluent Facebook Users - Search Engine Watch (SEW) Facebook as an advertising platform can be difficult for some marketers to wrap their heads around. If there is no literal "interest" in Facebook's targeting interface some marketers will wipe their hands of the platform and declare, "My customers aren't on Facebook" and go back to AdWords and AdCenter.
#facepalm. One group of people marketers would love to get their ads in front of are the affluent. There is no way to target strictly job titles, incomes, or property values on Facebook unless you think outside the box. First, think about what Facebook asks the users to disclose: How much does it cost to reach a Facebook user? Facebook's annual revenues neared $800 million last year, driven largely by self-serve ads, according to a recent report. And its active users likely number around 500 million, although the company hasn't released official figures in four months. So how much does it cost advertisers to reach one of those users?
Naturally, not all Facebook users are created equal in the eyes of advertisers.
---