Gimp Tutorial
Recoloring Eyes for Gimp by ~droz928 on deviantART
The open palette: Creating grungy Gimp brushes using Inkscape
Welcome to the second installation of The open palette. Last time, we focused on creating orbs and 3D text using Inkscape's new blur filter. This month, we'll be focusing on creating brushes for the Gimp using Inkscape. Gimp brushes can be used as 'stamps' to rapidly create multiple copies of the brush shape; they can be smeared across the canvas; they can be tiled across the entire canvas to create unique textures.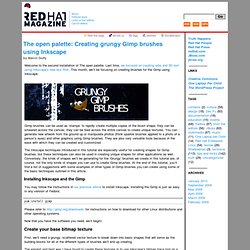 GIMP Tutorial Directory - Overview Page 1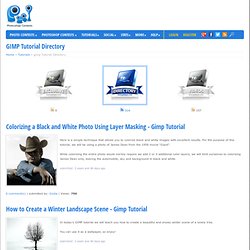 Here is a simple technique that allows you to colorize black and white images with excellent results. For the purpose of this tutorial, we will be using a photo of James Dean from the 1956 movie "Giant". While colorizing the entire photo would merely require we add 2 or 3 additional color layers, we will limit ourselves to colorizing James Dean only, leaving the automobile, sky and background in black and white. submitted: 2 years and 318 days ago
GNU Image Manipulation Program Skip to page contents [ News | Screenshots | Features | Downloads | Documentation | Get Involved ][ Plug-in Registry | GIMP Development ] [ Donations ] [ Tutorials [Beginner | Intermediate | Expert | Photo Editing | Web | Script Authoring]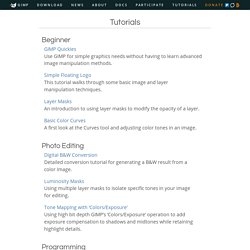 The following tutorial shows you how to create a push button with brushed-metal effect that can be used in both web-page and application interface design. The button. 1) Start the Gimp and open a new document with 377 x 233 pixels dimensions. Fill the background with medium gray.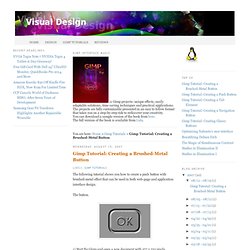 Gimp Tutorial: Creating a Brushed-Metal Button
GUG • Index page
GIMP Plus - High Quality GIMP Tutorials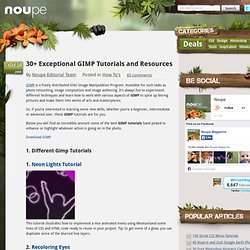 Oct 20 2008 GIMP is a freely distributed GNU Image Manipulation Program. Available for such tasks as photo retouching, image composition and image authoring. It's always fun to experiment different techniques and learn how to work with various aspects of GIMP to spice up boring pictures and make them into works of arts and masterpieces. So, if you're interested in learning some new skills, whether you're a beginner, intermediate or advanced user, these GIMP tutorials are for you.
Gimphelp homepage
GUG • Index page
mygimptutorial.com - Gimp tutorials and resources
1 Make a new file: 600×400 px. White background. Write one or two words with a sans-serif-font (i.e. "bloody GIMP" ;)).Size: 140px. Line height: ca. -15 Color of text: #870000 (a dark red)Layer / Layer to Image size.
Smelting text / Creating blood text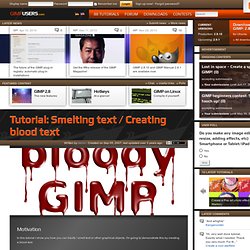 Gimp-Savvy.com - Learn the GIMP - Tutorials and Resources