Blog Creation and Design
How To Create Your Own Custom WordPress Theme
Follow this overview of the build process to create your own custom WordPress theme. We'll be taking my latest theme design from its basic HTML and CSS mockup and inserting the various WordPress template tags to build a fully working theme ready to install on your blog. Long time readers may remember the build process of the LoveGrid concept where we designed and finished off the mockup as a static HTML and CSS page.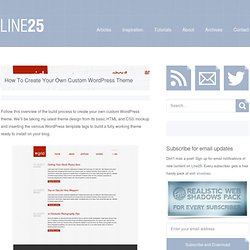 Instablogs Community - Everyone has a viewpoint
WriteToMyBlog - Free Web Word Processor for your Blog
Performancing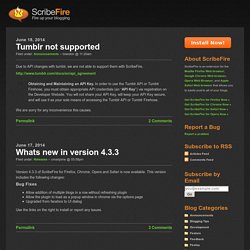 Version 4 of ScribeFire for Firefox, Chrome, Opera, and Safari is now available. This version includes the following changes: New Features Using OAuth authorization for WordPress.com blogsUsing OAuth authorization for Blogger blogsAdded support for "Read more" in LiveJournal blog postsPrivate posts in PosterousUpload images by copy and paste (Chrome only) Google Chrome users, download ScribeFire 4 for Google Chrome here.
Scribefire: Fire up your blogging
WordPress Widgets « Automattic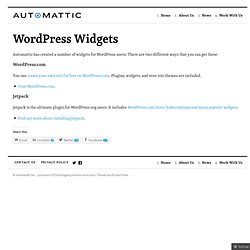 Automattic has created a number of widgets for WordPress users. There are two different ways that you can get these: WordPress.com You can create your own site for free on WordPress.com. Plugins, widgets, and over 200 themes are included.
Apture is Joining Google! Since 2007, all of us here at Apture have worked hard to add new dimensions to the web. We've always believed that by transforming flat web pages into interactive multimedia experiences, we could enable readers to see, hear and truly experience the ideas on the page. After enhancing more than a billion pages with our products, we think now is the best time to expand our efforts with another team just down the road that shares our vision of making the web better. :) That's right -- we've been acquired by Google and will be joining the Chrome team to continue driving innovation and creating a better user experience on the web. The modern web is an amazing platform, so stay tuned for even more enhancements to your Chrome browsing experience.
Search. Explore. Experience – Apture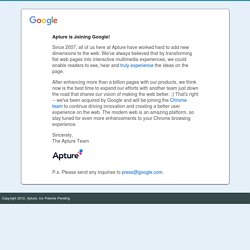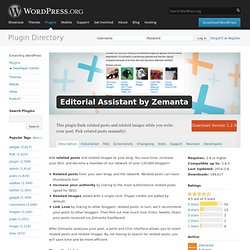 Zemanta
Add related posts and related images to your blog. You save time, increase your SEO, and become a member of our network of over 120,000 bloggers! Related posts from your own blogs and the network. Related posts can have thumbnails too!
MyBlogLog
AddThis - The #1 Bookmarking & Sharing Service
Discover your community - DISQUS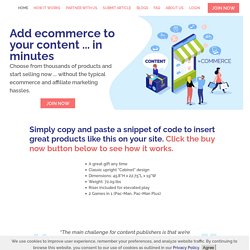 Blog Catalog Search Sponsored by VIB Members Where Bloggers Unite!
Blog Catalog / The best blogs of all time
The landscape of news has changed so much over the last few years that news about a particular topic or platform is readily available to anyone within an instant. With WordPress, I imagine that could be one of the perks of powering over 16% of the web, but it's true that news is becoming incredibly accessible. In short, news is everywhere. Speaking of WordPress in general, you can of course acquire official direct news from WordPress News, but you can also take a peak behind the curtain and follow news in the making at Make WordPress.org. Though it's only specific to the WordPress.com blogging platform, WordPress.com News is also worth watching for WordPress development news, as WordPress.com users often get access to new WordPress features before they're released, so you'll be able to try new features rather than just read about them. There's more news than just direct official news, like I […]
Weblog Tools Collection Bloglines is the fastest way to find and track your favorite websites and blogs in real-time. Easily customize your dashboard with multiple view options, drag and drop organization, and exclusive widgets. Get the latest news on all your interests and trending topics exactly the way you want it, with the new Bloglines Reader! Create an Account Bringing you hyper-local content from top blogs and websites in all of your favorite cities including voting for your favorite blogs. Choose your city, submit and vote for your favorite local blogs
Bloglines
FeedBurner
WPCandy | A blog all about WordPress. Yes, we're a bit meta.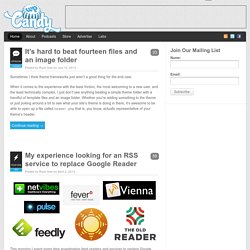 Sometimes I think theme frameworks just aren't a good thing for the end user. When it comes to the experience with the least friction, the most welcoming to a new user, and the least technically complex, I just don't see anything beating a simple theme folder with a handful of template files and an image folder. Whether you're adding something to the theme or just poking around a bit to see what your site's theme is doing in there, it's awesome to be able to open up a file called header.php that is, you know, actually representative of your theme's header.
All widgets for Netvibes, Mac OS X, Google, Windows Vista
Online Copywriting and Content Marketing Strategies
Blog Smarter