Photoshop
Compositing in Adobe Photoshop: Time-Saving Tips - Smashing Magazine. Advertisement Compositing is a skill and process that spans the entire spectrum of creative industries.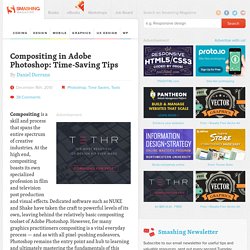 At the high end, compositing boasts its own specialized profession in film and television post production and visual effects. Dedicated software such as NUKE and Shake have taken the craft to powerful levels of its own, leaving behind the relatively basic compositing toolset of Adobe Photoshop. However, for many graphics practitioners compositing is a vital everyday process — and as with all pixel-pushing endeavors, Photoshop remains the entry point and hub to learning and ultimately mastering the fundamentals of this important skill. How to Create Eroded Metal Text with Photoshop. In this tutorial I'll show you how to create an eroded metal text effect.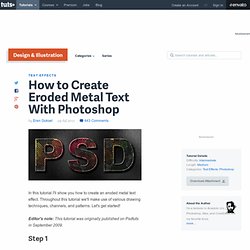 Throughout this tutorial we'll make use of various drawing techniques, channels, and patterns. Let's get started! Editor's note: This tutorial was originally published on Psdtuts in September 2009. Mastering Photoshop: Noise, Textures, Gradients and Rounded Rectangles - Smashing Magazine. Advertisement Often, it's the little details that turn a good layout into a great design; details such as subtle textures, shading and smooth shapes.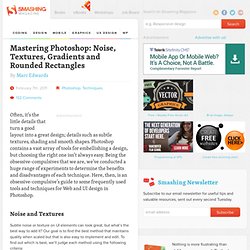 Photoshop contains a vast array of tools for embellishing a design, but choosing the right one isn't always easy. Being the obsessive-compulsives that we are, we've conducted a huge range of experiments to determine the benefits and disadvantages of each technique. Useful Photoshop Tips And Tricks For Photo Retouching - Smashing Magazine. Advertisement When it comes to designing in Photoshop, there is a myriad of ways one could use to achieve a certain result, especially when it comes to photo retouching.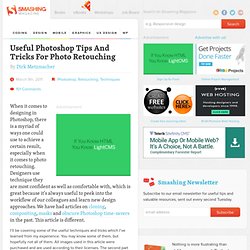 Designers use technique they are most confident as well as comfortable with, which is great because it's always useful to peek into the workflow of our colleagues and learn new design approaches. We have had articles on cloning1, compositing2, masks3 and obscure Photoshop time-savers4 in the past. This article is different. Pixel Perfection When Rotating, Pasting And Nudging In Photoshop - Smashing Magazine. Advertisement When creating Web and app interfaces, most designers slave over every single pixel, making sure it's got exactly the right color, texture and position.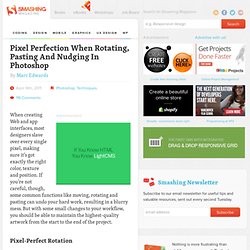 If you're not careful, though, some common functions like moving, rotating and pasting can undo your hard work, resulting in a blurry mess. But with some small changes to your workflow, you should be able to maintain the highest-quality artwork from the start to the end of the project. Edit Multiple Pictures with Photoshop Actions, Batch Jobs, and Droplets | GeekInspired.com. Posted on May 8, 2009 by Jared One of the best things about digital photography is how easily you can take dozens of pictures and quickly share them with your friends and family.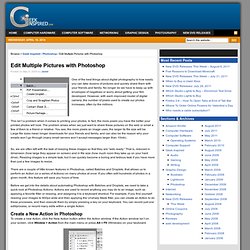 No longer do we have to keep up with envelopes of negatives or worry about getting your film developed. However, with each improved model of digital camera, the number of pixels used to create our photos increases, often by the millions. Photoshop | Cgtuts+ Photoshop.
---