Food/Cooking
Simple Cooking Terms"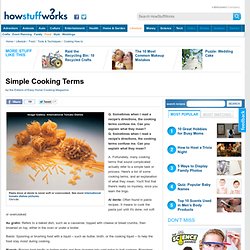 Q. Sometimes when I read a recipe's directions, the cooking terms confuse me. Can you explain what they mean? Q.
Gluten Free Mommy | Gluten Free Recipes for the Whole Family
We are back from our Colorado vacation! Colorado really is a boys' paradise- no matter how little they are! We are slowly settling back into our routine. I hope to get back to regular weekly menus and recipe postings very soon! I also hope to tackle my emails and comments in short order. To get us started, I wanted to post a recipe for a simple flank steak marinade.