Art & Design
tumblrkwqd.jpg (JPEG Image, 500x356 pixels)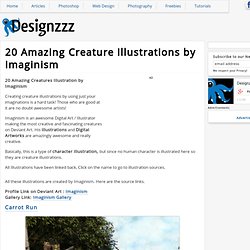 20 Amazing Creatures Illustration by Imaginism Creating creature illustrations by using just your imaginations is a hard task! Those who are good at it are no doubt awesome artists!
20 Amazing Creature Illustrations by Imaginism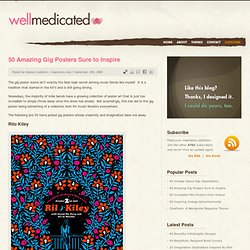 The gig poster scene isn't exactly the best kept secret among music fiends like myself. It is a tradition that started in the 60′s and is still going strong. Nowadays, the majority of indie bands have a growing collection of poster art that is just too incredible to simply throw away once the show has ended. Not surprisingly, this has led to the gig poster being something of a collectors item for music fanatics everywhere.
You can't design without type. However, yon can use only type (or mostly only type) to create breath-taking designs. In fact, many graphic designers and artists take exactly this route to communicate their ideas through their works. The results are sometimes crazy, sometimes artsy, sometimes beautiful, but often just different from things we're used to. Thus designers explore new horizons and we explore new viewing perspectives which is what inspiration is all about.
Breathtaking Typographic Posters - Smashing Magazine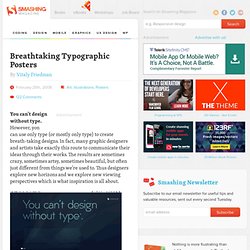 UPDATE: The Return of Bent Objects Wires transform these objects from inanimate to hilarious works of art. Little polish girl McDonalds as Sculpture Materials