Thèmes
Des sites qui proposent des thèmes graphiques, qu'ils soient pour WordPress, Joomla, Drupal…, on en compte une quantité phénoménale, ce n'est vraiment pas le choix qui manque quand on en recherche un pour habiller son blog ou son site Web.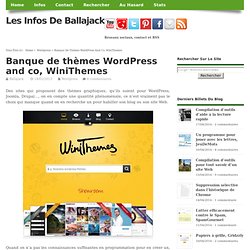 Banque de thèmes WordPress and co, WiniThemes
Many WordPress these days now use simple background patterns to add to the effect of the design of the WordPress theme.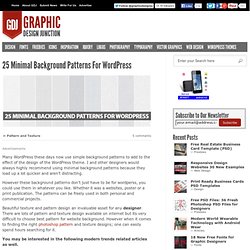 25 Minimal Background Patterns For Wordpress | Pattern and Texture
Comment connaître le nom d'un thème WordPress d'un autre blog que le sien
WordPress est un fantastique moteur de blog, c'est vrai, mais il peut parfaitement convenir à d'autres usages. En s'appuyant sur des thèmes et des extensions adaptées, on peut parfaitement l'utiliser pour monter un site d'actualités, un site statique, un portfolio et même un « vrai » service web. Automattic a justement décidé de mettre en avant la flexibilité de son outil en lançant une toute nouvelle fonction qui vise à permettre à n'importe quel internaute de se créer facilement un portfolio en passant par WordPress.com.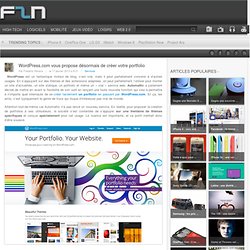 Wordpress.com : arrivée des portfolio !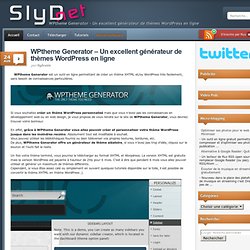 WPtheme Generator – Un excellent générateur de thèmes Wordpress en ligne
par Sylvain
WordPress est une plate-forme de blogging dynamique qui a beaucoup d'avantages par rapport aux autres plates-formes aussi bien gratuites que payantes.
Télécharger 300 thèmes Wordpress gratuits « Photos « Geekaison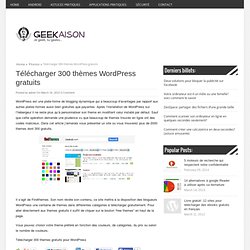 Comment ajouter une image d'en-tête sur un blog WordPress
5 thèmes WordPress basés sur Pinterest | Freewares
Créez votre thème Wordpress de A à Z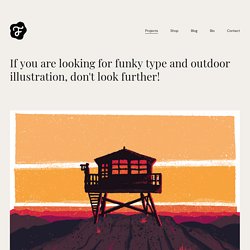 Update du 5 Octobre 2011: les tutoriels ont beau datés de 2007, ils sont en cours de modifications pour y ajouter les fonctionnalités des dernières versions de WordPress.
35 thèmes WordPress professionnels gratuits
Believe it or not we've managed to sum up for you guys 300 Free Word Press Themes (2012 edition)…Yeah that's right while others have settle with giving you a merely decent listing of 50, 100, or even 20 Free WordPress Themes, here at themeshock.com knowing how for really consumed Web designers/developers probably 150 or even 200 WP themes just won't be enough, so we thought that 300 would be just right!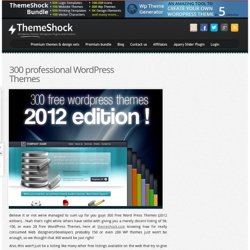 250 Free Word Press Themes! 2012 edition
A theme is the backbone of any website and no blogger wants a poorly designed website.
35 Free and Professional-looking WordPress Themes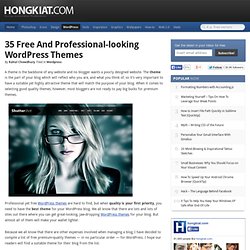 250 thèmes gratuits pour WordPress (Edition 2012) | Freewares
Vous recherchez un thème WordPress avec les mêmes fonctionnalités que Tumblr ?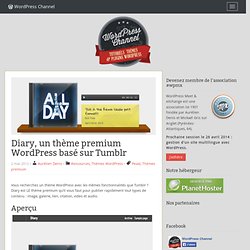 Diary, un thème premium WordPress basé sur Tumblr
70+ FREE Professional High-Quality WordPress Themes of 2012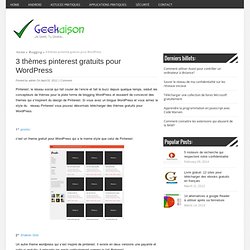 3 thèmes pinterest gratuits pour Wordpress
Pinterest, le réseau social qui fait couler de l'encre et fait le buzz depuis quelque temps, séduit les concepteurs de thèmes pour la plate forme de blogging WordPress et essaient de concevoir des themes qui s'inspirent du design de Pinterest.