Sites similaires
» Trouver les sites web hébergés sur un même serveur
Trouver les sites web hébergés sur un même serveur Trouvé le 30 avril 2012 à 18:43 par aymeric - 1&809 vues Dans une stratégie de netlinking, il est recommandé d'obtenir des liens entrants vers votre site en provenance d' adresses IP différentes. Afin d'optimiser au mieux votre stratégie d'acquisition de liens, des services comme SpyOnWeb.com vous permettent de connaître les sites Web hébergés sur une même adresse IP. Les mises à jour étant parfois trop espacées dans le temps, voici un script PHP qui vous permettra d'effectuer la même vérification grâce à la commande « ip: » de Bing. Lire l'article et télécharger le script: Lister les sites Web hébergés sur une même IP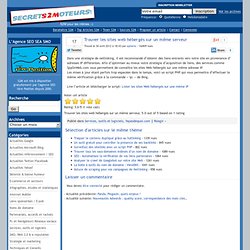 2 astuces pour trouver des sites similaires aux sites que vous aimez
Il existe de très nombreux sites sur Internet. Parmi ceux-ci un certain nombre de sites correspondent plus à nos aspirations. On peut ensuite vouloir trouver d'autres sites qui sont similaires aux sites qui remportent notre adhésion.
SimilarSites.com - Pour trouver facilement des sites similaires | formation 2.0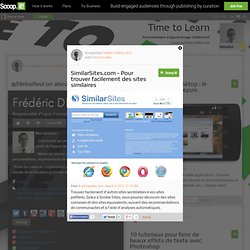 Pickaface.net is a free web application to create a custom online avatar. It`s fun for games and useful for people who want to have profile picture for themselves. Using the Pickaface.net free cartoon avatar creator, you can easily create a custom cartoon avatar in just a few minutes. Just click "Create Avatar," and follow the steps to create your own avatar and save it to your gallery.
Trouver des sites similaires à un site web qu'on vient de découvrir par hasard est une activité à laquelle nous sommes tous confrontés couramment. Ca peut être parce que nous avons besoin d'informations supplémentaires sur le même sujet. Ca peut être aussi afin de réaliser une étude de marché afin de dégager les sites qui ciblent la même niche. Autant dire qu'il s'agit d'une compétence hautement stratégique.