Raccourcis clavier, clavier et souris
Free On Screen Keyboard Software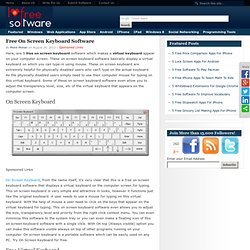 Here, are 5 free on screen keyboard software which makes a virtual keyboard appear on your computer screen. These on screen keyboard software basically display a virtual keyboard on which you can type-in using mouse. These on screen keyboard are extremely helpful for physically disabled users who can't type on the actual keyboard. As the physically disabled users simply need to use their computer mouse for typing on this virtual keyboard. Some of these on screen keyboard software even allow you to adjust the transparency level, size, etc of the virtual keyboard that appears on the computer screen.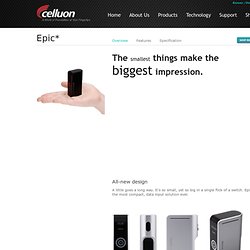 The Magic Cube is an ultra-portable, full-sized projection keyboard; it is essentially a magic in a box The Magic Cube is a compact and versatile product; it is a projection keyboard and multi-touch mouse, all in one easy-to-use product. It connects easily to any Bluetooth HID devices, including the latest iPhone, iPad and Android devices. You can also plug-n-play with Windows and Mac OS devices via USB connection. With just a single flick of a switch, the Magic Cube is ready to pair wirelessly with your mobile device. It fits easily in your pocket and it is perfect for on the go.
Celluon
The Best Shortcut Keys in Microsoft Excel
Raccourcis de touche youtube | Freewares
shortcutworld: Un site qui assemble tous les raccourcis clavier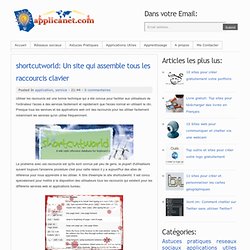 Le probleme avec ces raccourcis est qu'ils sont connus par peu de gens, la plupart d'utilisateurs suivent toujours l'ancienne procédure c'est pour cette raison il y a aujourd'hui des sites de référence pour nous apprendre à les utiliser. A titre d'exemple le site shortcutworld. Il est concu spécialement pour mettre à la disposition des utilisateurs tous les raccourcis qui existent pour les différents services web et applications bureau. Les raccourcis y sont organisés selon le systeme d'exploitation, vous y trouverez des raccourcis pour le systeme Mac, Windows, Applications web, Calendrier google etc, une fois dedans vous serez invité encore à choisir un service particulier comme Excel, Gmail et plein d'autres.
Keyboard Shortcut List | Shortcuts and Hot Keys Reference for Windows, Mac OS, Linux.
Adepte des raccourcis claviers sous Windows ou autres applications comme Photoshop ? Alors pourquoi ne pas créer vos propres raccourcis pour lancez vos applications favorites ? Suivez le guide !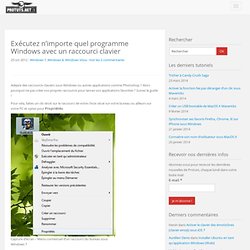 Exécutez n'importe quel programme Windows avec un raccourci clavier
Alt Key Symbols for PC
Les raccourcis claviers indispensables
S'il y a bien une chose que j'enseigne rapidement à mes élèves concernant l'ergonomie de l'ordinateur, ce sont les raccourcis clavier . Vous savez, ces combinaisons de touches qui permettent d'effectuer des opérations directement depuis le clavier. Cet article semblera peut-être un peu dérisoire aux plus experts d'entre vous mais je rencontre de nombreuses personnes qui ne travaillent qu'avec la souris et ne se servent du clavier que pour écrire. Un comble quand on sait tout ce qu'il est possible de réaliser avec quelques touches.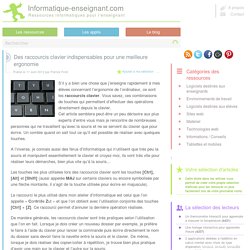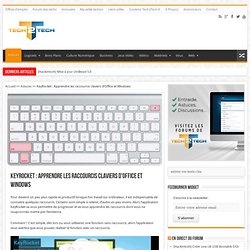 KeyRocket : Apprendre les raccourcis claviers d'Office et Windows | Tech2Tech.fr : Blog d'un technicien informatique avec de l'info, du high tech et un peu de geekerie dedans !
Pour devenir un peu plus rapide et productif lorsque l'on travail sur ordinateur, il est indispensable de connaitre quelques raccourcis. Certains sont simple à retenir, d'autre un peu moins. Alors l'application KeyRocket va vous permettre de progresser et va vous apprendre les raccourcis dont vous ne soupconniez meme pas l'existence. Comment ? C'est simple, dès lors ou vous utiliserez une fonction sans raccourcis, alors l'application vous avertira que vous pouvez réaliser la fonction avec un raccourcis.