Powerpoint
How To Create Infographics Using PowerPoint. Creating Infographics is a concise yet highly informative way of conveying your message to your audience.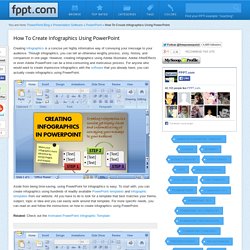 Through infographics, you can tell an otherwise lengthy process, story, history, and comparison in one page. However, creating infographics using Adobe Illustrator, Adobe AfterEffects or even Adobe PowerPoint can be a time-consuming and meticulous process. How to Get the Most Out of Your Slide Notes. PowerPoint's notes section can be used as a way to capture knowledge, hold a transcript, or even as a glossary.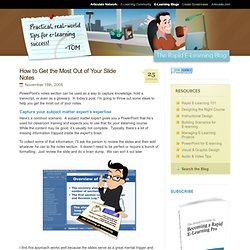 In today's post, I'm going to throw out some ideas to help you get the most out of your notes. Capture your subject matter expert's expertise Here's a common scenario. A subject matter expert gives you a PowerPoint that he's used for classroom training and expects you to use that for your elearning course. While the content may be good, it's usually not complete. Speaker Notes in PowerPoint and How to Use Them. Speaker Notes in PowerPoint and How to Use Them digg digg Speaker notes is a concept used in presentations and Microsoft PowerPoint has a special section in the slide that you can use for speaker notes.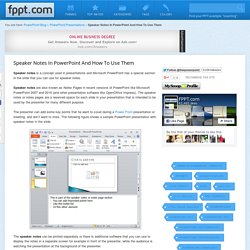 Articulate vs Joomla
Send your PowerPoint templates and presentations to the cloud SkyDrive using Cloud Save. Cloud Save is a free extension for Chrome that lets us save any content to the cloud so you can keep everything under control in your Dropbox account, Box.net, Amazon or even SkyDrive from Windows Live.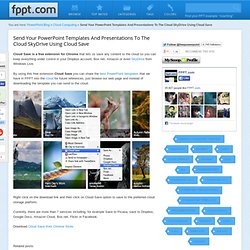 By using this free extension Cloud Save you can share the best PowerPoint templates that we have in FPPT into the cloud for future references, just browse our web page and instead of downloading the template you can send to the cloud. Right click on the download link and then click on Cloud Save option to save to the preferred cloud storage platform. Currently, there are more than 7 services including, for example Save to Picasa, save to Dropbox, Google Docs, Amazon Cloud, Box.net, Flickr or Facebook.
Download Cloud Save from Chrome Store. Create a checklist PowerPoint Template. Flight checklists are used worldwide in many different fields of study.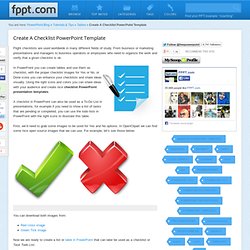 From business or marketing presentations and managers to business operators or employees who need to organize the work and verify that a given checklist is ok. In PowerPoint you can create tables and use them as checklist, with the proper checklist images for Yes or No, or Done icons you can enhance your checklists and share ideas visually. Using the right icons and colors you can share ideas with your audience and create nice checklist PowerPoint presentation templates.
A checklist in PowerPoint can also be used as a To-Do List in presentations, for example if you need to show a list of tasks that are pending or completed, you can use the todo lists in PowerPoint with the right icons to illustrate this table. Free PowerPoint Addin to Convert PowerPoint Slides into JPG Images. Converting PowerPoint presentations to JPG images is very easy in PowerPoint, you just need to save the presentation file as JPG.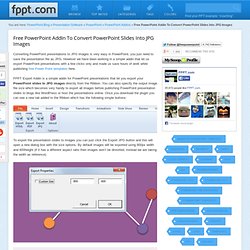 However we have been working in a simple addin that let us export PowerPoint presentations with a few clicks only and made us save hours of work while publishing free Power Point templates here. FPPT Export Addin is a simple addin for PowerPoint presentations that let you export your PowerPoint slides to JPG images directly from the Ribbon. You can also specify the output image file size which becomes very handy to export all images before publishing PowerPoint presentation slides to blogs like WordPress or host the presentations online.
PowerPoint - Raccourcis clavier utilisables. Avril 2014 Raccourcis clavier utilisables lors d'une présentation Lecture d'un diaporama Lecture de clips multimédias Navigation entre des présentations Web.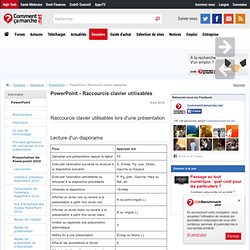 Add a Modern Pattern Background Fill to PowerPoint Presentations. The traditional pattern fill that you can use as a background in PowerPoint may not be fully compliant with modern presentations.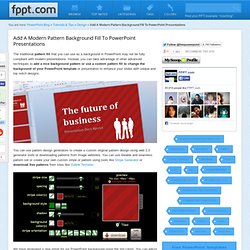 Instead, you can take advantage of other advanced techniques to add a nice background pattern or use a custom pattern fill to change the background of your PowerPoint template or presentation to enhance your slides with unique and top notch designs. You can use pattern design generators to create a custom original pattern design using web 2.0 generator tools or downloading patterns from image websites. You can use tileable and seamless pattern set or create your own custom stripe or pattern using tools like Stripe Generator or download free patterns from sites like Subtle Textures. VBA Macro: Save a PowerPoint Presentation To PDF Programmatically. If you need to save a PowerPoint presentation to PDF format programmatically using VBA code, here is a simple macro to do the job.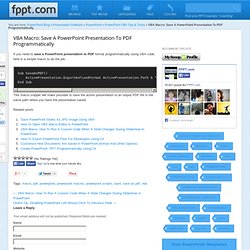 Sub SaveAsPDF() ActivePresentation.ExportAsFixedFormat ActivePresentation.Path & "\" & ActivePresentation.Name & ".pdf", ppFixedFormatTypePDF, ppFixedFormatIntentPrint End Sub This macro snippet will make possible to save the active presentation to an output PDF file in the same path where you have the presentation saved. Loading ...
MS PowerPoint Join Multiple Presentations Software. What is this software?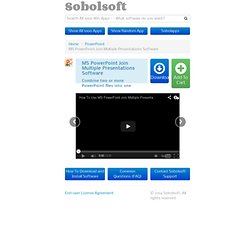 MS PowerPoint Join Multiple Presentations Software offers a solution to users who want to join many MS PowerPoint files together. This software will stack files up and down in any order that you specify. To protect your original files, the results of the join will be saved as a new PowerPoint file. Animated Highway Video For PowerPoint Presentations.
Most presentations are like a journey where the presenter displays different aspects of his point of view from the start to the very end. Information Highway Video Background for PowerPoint presentations is a customizable animation which shows different digital devices traveling across a highway. Customize And Download Video Background in Different Formats This video background comes in different file formats and can even be customized before it is downloaded in a desired format. It is available at Presenter Media in the form of a WMV, FLV, MOV video, as well as a PowerPoint PPTX template. Append two PowerPoint presentations into one single PPT. If you need to join PPT files into one single PowerPoint presentation then it is possible. In order to achieve this, you need to first open the master PowerPoint presentation where you want all other slide to appear.
You can separate the presentation by PowerPoint sections if you want to keep it organized and later know which slides belong to which PPT file. Then, open the PPT files that contains the slides you want to copy to the master PowerPoint file. In the slides gallery on the left you can see all the slides and you can click on the desired slides and then select the range of slides you want to copy. iPad presentation and PowerPoint. In a post published on Mashable we can learn about 11 useful applications for iPad that can be helpful to create presentations. Here we will summarize these applications in this article. Meetings and presentations are a way of life in the business world and millions of presentations are held every day.
Keynote Keynote is part of the Apple iWork suite and the official presentation software in iPad. Become A PowerPoint Pro With The PowerPoint 2010 Essential Training Course. Digg digg People seldom have the time to take regular training classes to learn a new skill. However, computer based training videos provide people with the flexibility to learn new skills at a time of their convenience. When it comes to IT based training videos, lynda.com is a well known-name. In the PowerPoint 2010 Essential Training course by lynda.com, MS Office specialist David Diskin demonstrates how to use all the basic and advanced features of Microsoft PowerPoint 2010 . Build Animated Text Slides In PowerPoint With Build Your Text Toolkit. Digg digg Using animations can always help in creating good PowerPoint presentations that are both elaborate and eye-catching. This is because animated content is more attention grabbing and provides the flexibility to present ideas more efficiently.
How to view your speaker notes while delivering a PowerPoint presentation on multiple monitors. How to Open PowerPoint Templates in a .Zip using Google Docs. How to Apply Instagram Effects to PowerPoint Pictures. Free Billiard PowerPoint Template with Editable Ball Shapes. Restore Accidentally Deleted PowerPoint Files With Windows 8 File History. Free Merry Christmas PowerPoint Templates. How to create a Photo collage for PowerPoint presentations. Photo Collage Maker. How to Make Text Curved in PowerPoint 2010. Awesome Timeline Toolkit For PowerPoint Presentations. The Seven S Model in PowerPoint 2010. Annotate Presentations By Drawing On Screen With Epic Pen. How to apply FPPT.com design templates to your presentation. Free Triangle Diagram Template for PowerPoint Presentations. How to Create a Panning Effect Using Slide Transitions.
2010+ Free Powerpoint Templates PPT and Free PowerPoint Backgrounds. How to make a PowerPoint Template in MS PowerPoint 2010 (DIY) Adding The Ripple Effect In PowerPoint Presentations. Elearningheroes : Essential PowerPoint Features... Essential PowerPoint Features. Elearning : Removing Image Backgrounds... Halloween PowerPoint Template. How to revert to a Blank Template in PowerPoint. PowerPoint Twitter Tools.
Enrich Your Presentation: Free PowerPoint Twitter Tools. Removing Backgrounds in PowerPoint. Removing Backgrounds Using Masking Techniques. Réaliser une frise chronologique avec PowerPoint. Elearning: How to create a Polaroid, page curl drop shadow effect in PowerPoint. Mlearning: How to create a ring hole notebook paper graphic in PowerPoint. Download source file from Articulate community: How to fill a shape in PowerPoint with a photo or image.
How To Create A Screensaver From A PowerPoint Presentation. Unleash Your E-Learning Graphics from PowerPoint 2007. Here's Why PowerPoint 2007 Helps You Build Better E-Learning. Review in PowerPoint 2010. Speed Up Your Interactive E-Learning with These Free PowerPoint Templates. CloudOn brings your PowerPoint presentation on the iPad and iPhone. How to make Call To Action buttons in PowerPoint with nice effects and styles. Free 3-Step Chevron PowerPoint Template. The Secret to Creating Your Own PowerPoint Templates for E-Learning. These PowerPoint Experts Can Make You a Star.
How to Change Default Font in PowerPoint Template. Customize the ribbon in PowerPoint. Using Sections in PowerPoint to Change your Presentation Flow. How to Convert Your PowerPoint Presentation into an Elearning Course. 5 Easy Tips to Whip Your Slides Into Shape. Using Cliplets in your PowerPoint Presentations. Microsoft Producer Addin for PowerPoint. Using PowerPoint Scripts & Macros. Getting Started with VBA in PowerPoint 2010. Another Way to Play a PowerPoint Slide Show in a Window. How to add a Gif animation into PowerPoint.
Comment créer des objets cliquables sous PowerPoint ?
Hyperliens. Images, effets, montage. Logiciels images. Images diverses et freebies. Modèles, arrières plans, couleurs. Narration. Objets, formes, journal. Outils. PowerPoint Tutoriels complets.
Puces (réduire, améliorer) Santé. Silhouettes et personnages. Texte. Fonts. Videos et web objets. VBA. Visionner. Articulate Studio. Guides Rapid elearning, cours, présentations.
---