Photos
Twitter intègre désormais les images interactives dans vos tweets ! Par Jean-Sébastien (Scotceltic) Twitter évolue et confirme sa position de réseau social innovant.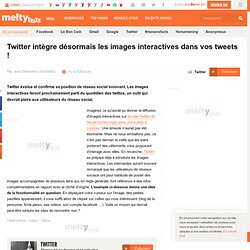 Les images interactives feront prochainement parti du quotidien des twittos, un outil qui devrait plaire aux utilisateurs du réseau social. Imaginez ce qu'aurait pu donner la diffusion d'images interactives sur la robe Twitter de Nicole Scherzinger dans une soirée à Londres. Photo PowerPoint Template. Photo PowerPoint Template is a free photo frame PowerPoint template slide for presentations in Microsoft PowerPoint.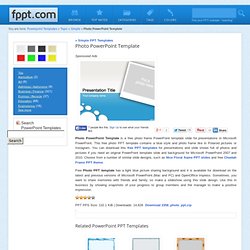 This free photo PPT template contains a blue style and photo frame like in Polaroid pictures or Instagram. You can download this free PPT templates for presentations and slide shows full of photos and pictures if you need an original PowerPoint template slide and background for Microsoft PowerPoint 2007 and 2010. Choose from a number of similar slide designs, such as Nice Floral frame PPT slides and free Cheetah Frame PPT theme.
Free Photo PPT template has a light blue picture sharing background and it is available for download on the latest and previous versions of Microsoft PowerPoint (Mac and PC) and OpenOffice Impress. Sometimes, you want to share memories with friends and family, so make a slideshow using this slide design. Quick Pictures Tools. La boîte à outils de vos photos numériques. Quick Pictures Tools regroupe douze outils en ligne pour travailler facilement vos photos numériques.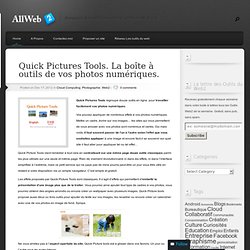 Vos pouvez appliquer de nombreux effets à vos photos numériques. Mettre un cadre, écrire sur vos images… les sites qui vous permettent de vous amuser avec vos photos sont nombreux et variés. Oui mais voilà, il faut souvent passer de l'un à l'autre selon l'effet que vous souhaitez appliquer à une image et encore faut-il se souvenir sur quel site il faut aller pour appliquer tel ou tel effet… Quick Picture Tools vient remédier à tout cela en centralisant sur une même page douze outils classiques parmi les plus utilisés sur une seule et même page. Rien de vraiment révolutionnaire ni dans les effets, ni dans l'interface simplifiée à l'extrème, mais ce petit service qui ne paye pas de mine pourra peut-être un jour vous être utile en restant à votre disposition via un simple navigateur. Voir les photos Twitter à la maniere de Pinterest. Twitpic Releases its Own iPhone App. Twitpic announced the release of its own iPhone app today, complete with a photo editor and filters.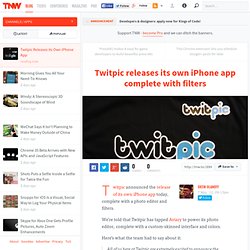 We're told that Twitpic has tapped Aviary to power its photo editor, complete with a custom-skinned interface and colors. Here's what the team had to say about it: All of us here at Twitpic are extremely excited to announce the official Twitpic app for the iPhone! Twitter : suivre les nouvelles photos avec Twimfeed | formation 2.0. Twimfeed - Afficher les photos postées de vos amis sur Twitter | Freewares.
Twicsy. Top Twitter Pic Trends and Users. Search Twitter Pictures | Thudit | Filter Twitter Pictures on Twitter | Real Time Twitter Image Search.
---