Organisations
QI Project | A Press Ganey Company
Institute For Safe Medication Practices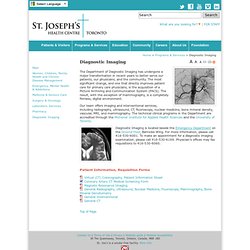 Diagnostic Imaging | St. Joseph's Health Centre Toronto
The Department of Diagnostic Imaging has undergone a major transformation in recent years to better serve our patients, our physicians, and the community. The most significant change, and one that directly improves patient care for primary care physicians, is the acquisition of a Picture Archiving and Communication System (PACS). The result, with the exception of mammography, is a completely filmless, digital environment. Our team offers imaging and interventional services, including radiography, ultrasound, CT, fluoroscopy, nuclear medicine, bone mineral density, vascular, MRI, and mammography. The technical clinical programs in the Department are accredited through the Michener Institute for Applied Health Sciences and the University of Toronto.
AQESSS - Association québecoise d'établissements de santé et de services sociaux > Méthodes de soins informatisées
Les Méthodes de soins informatisées (MSI) indiquent étape par étape, la démarche clinique à suivre pour donner les soins requis aux usagers. Les MSI sont une référence incontournable pour la grande majorité des établissements de santé et de services sociaux publics du Québec. Objectifs visés par les MSI Diffuser les meilleures pratiquesAméliorer la qualité des soinsFavoriser une pratique harmonisée dans les différents types de missionsPermettre la continuité et la fluidité des soins intra et interétablissements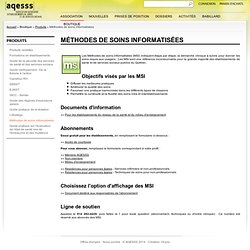 « Business Case » : pour y voir clair dans la sélection de vos projets (MPA) Vous désirez investir dans des projets qui vous assureront succès et rentabilité? La mise en... Ceinture verte Lean Six sigma (Green Belt)
Accueil - Mouvement québécois de la qualité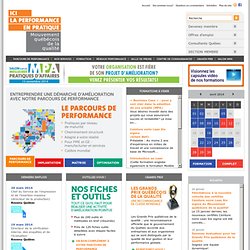 NQI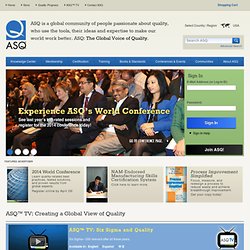 Featured ASQ recently released our latest manufacturing outlook survey. As you may know, we conduct this survey every year. Results from 2013: Sixty-five percent of manufacturers experienced revenue growth in 2013, but–you knew there was a... The nature of big data presents positive and negative impacts to our society, and quality professionals must learn how to survive and succeed in the big data world.