Édition de textes
Quark DesignPad : une apps de conception de documents graphiques gratuite sur iPad - iPad, iPad Mini, iPad 2 en France avec VIPad.fr, le blog iPad
Quand on pense qu'à une époque certains doutaient de la capacité de l'iPad à être utilisé pour de la production, le cantonnant à de la consommation de média ... Régulièrement, des applis sont proposées pour nous prouver le contraire. L'éditeur du célèbre QuarkXPress, a sorti tout récemment "Quark DesignPad", une application de conception graphique permettant de créer petite annonce, brochure, carte postale, affiche ou autre. Elle est gratuite ici sur l'App Store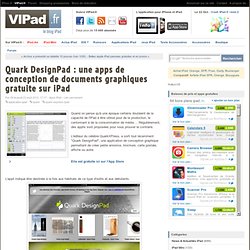 Dragon Naturally Speaking 12 - Creating Text (Windows 8)
ZenPen est un éditeur de texte libre et simplifié en ligne. Cet outil hybride et innovant est minimaliste. À partir d'un simple navigateur, sans inscription, on peut pointer et écrire dans n'importe quelle zone de la page d'accueil de ZenPen. Comment fonctionne ZenPen ?
ZenPen, éditeur de texte libre en ligne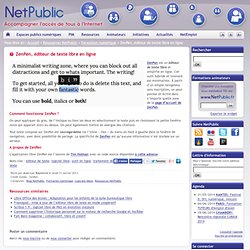 Free Editor - A Free Full Featured File Editor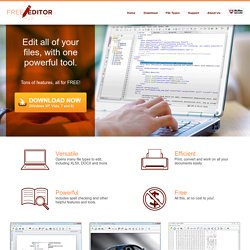 Versatile Opens many file types to edit, including XLSX, DOCX and more. Efficient Print, convert and work on all your documents easily. Powerful Includes spell checking and other helpful features and tools.
Free Editor
Text Tools: Add/Remove Line Breaks - Add new line breaks and/or remove exisiting line breaks within your text's formatting. Merge Text (Line by Line) - Merge two sets of text line by line with the option of writing a prefix, divider or suffix into each merged line. Sort Text Lines - Sort your text's lines in alphabetical, length, random or reverse order.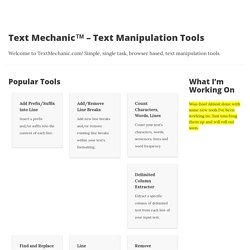 Sometimes it happens that we would come across a chunk of text somewhere online that we want to copy only to realize that it is part of an image and has to be typed down instead. Well typing the whole text can be time consuming especially when you are busy but thankfully there is now a nifty little tool that can do the job. GT Text is a great freeware app for windows that allows users to easily and instantly extract text from any image online and then copy it to a clipboard for use somewhere else. The process is very easy and simple to use just follow the instructions mentioned in the video tutorial and you will be good to go. Enjoy.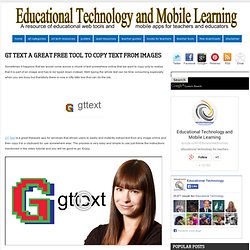 GT Text A Great Free Tool to Copy Text from Images
In the research of algorithms that extract text from color images a set of files with the exact location of the text is needed to avoid inefficient and tedious visual checks of the results. This Ground Truth information saves enormous time and gives accuracy. For this the gttext project helps to create fast and quality Ground Truthed data-sets from color text images. It performs fast OCR text recognition and copies image text to clipboard. Loads from screen snapshots, image files and scans documents. The basic level of work is at a pixel detection, making possible to group regions to form the glyph or even use a direct editing to get the choice.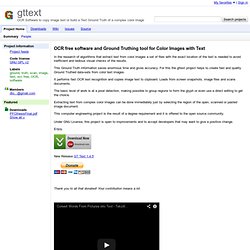 Bienvenue sur notre page LaTeX. Celle-ci est conçue pour vous apprendre à vous servir de LaTeX, un système très puissant pour composer du texte (mettre en forme et mettre en page), utile dans de nombreux domaines (littérature, langues anciennes ou ésotériques, textes scientifiques, etc.). Le contenu de cette introduction à LaTeX est organisé comme suit: Les bases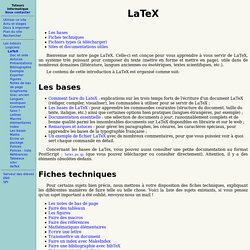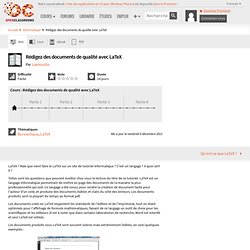 LaTeX ? Mais que vient faire le LaTeX sur un site de tutoriel informatique ? C'est un langage ?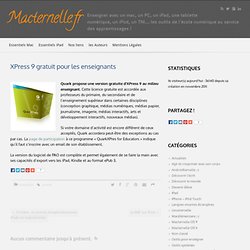 XPress 9 gratuit pour les enseignants
Quark propose une version gratuite d'XPress 9 au milieu enseignant. Cette licence gratuite est accordée aux professeurs du primaire, du secondaire et de l'enseignement supérieur dans certaines disciplines (conception graphique, médias numériques, médias papier, journalisme, imagerie, médias interactifs, arts et développement interactifs, nouveaux médias). Si votre domaine d'activité est encore différent de ceux acceptés, Quark accordera peut-être des exceptions au cas par cas. La page de participation à ce programme « QuarkXPres for Educators » indique qu'il faut s'inscrire avec un email de son établissement.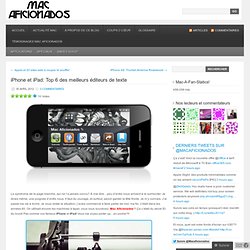 Le syndrome de la page blanche, qui ne l'a jamais connu? À vrai dire…peu d'entre nous arrivent à le surmonter. Je dirais même, une poignée d'entre nous. Il faut du courage, et surtout, savoir garder la tête froide. Je m'y connais. J'ai passé ma vie à écrire.
iPhone et iPad: Top 6 des meilleurs éditeurs de texte « Mac Aficionados
Recommander cette page à un(e) ami(e) Celui qui écrit, qu'il soit amateur ou professionnel, rédacteur, journaliste ou écrivain, accorde généralement une importance capitale à son environnement, comme le montrent ces photos. Le bureau est aujourd'hui autant "autour" que "dans" la machine et même sur le coin d'une table de cuisine, on peut être entouré de dictionnaires, grammaires, images inspirantes et musique douce, qui attendent sagement dans l'ordinateur portable d'être utilisés. Un récent article publié sur un blog américain dresse la liste de 31 ressources en ligne qui aident à écrire. En voici une libre interprétation, adaptée aux écrivants francophones, qui ne présente que des outils gratuits.
Quels outils pour écrire ?
'PlainText' App – Technology Enhanced Learning Blog
PlainText (iPhone, iPad): I've only just downloaded this app but I can already see the benefits of being able to makes notes and work on documents and store/transfer them through Dropbox. "PlainText is a simple text editor with an uncomplicated, paper-like user interface. Unlike the default Notes app, PlainText allows you to create and organize your documents in folders and sync everything with Dropbox"PlainText (Free): https://itunes.apple.com/gb/app/plaintext-dropbox-text-editing/id391254385
Médialexie: la clef USB du succès | Yves Therrien | Techno
Avec Médialexie, c'est un tout autre monde. La clef du succès est en fait une clef USB qui contient tout ce qu'il faut pour qu'une personne souffrant de dyslexie, de dysorthographie ou d'un autre trouble du langage puisse se prendre en main pour écrire correctement. Depuis cinq ans qu'il dirige la branche canadienne de Médialexie, Éric Massicotte fait des pieds et des mains pour proposer sa suite de logiciels aux écoles secondaires et dans les cégeps où des élèves ont des problèmes d'apprentissage de la langue française.
I Love Free SoftwareCopy Webpage Content Without Formatting With PureText
PureText is a free application to copy and paste the content from any web page as simple text into some other application without formatting. This kind of copy and paste is like copying and pasting only the pure text without all the formatting applied to it, and that's why the name given to the application as PureText. Many a times when we copy content/text from a webpage and paste it into a new application we find it very difficult to remove the formats applied to the fonts and make the text unique like a simple normal text, in such cases PureText is very helpful and you just need a single key stroke to use it. How You Can Use PureText? Just download the application which will be downloaded as a ZIP file which you can store anywhere in your system. Just extract the file and click on the application to start using.
Logiciel gratuit Calligra Suite 2013 Licence gratuite - Multi OS - Suite Office + Suite Artistique
PrincipesTdt