Création applications
Factory
[iPad] App Cooker : l'app de référence pour tous les développeurs iPhone et iPad
Par Sebastien Publié le 11 avr Voir dans iTunes L'App Store n'est pas que jeux et autres applications de divertissement, non, on y trouve aussi un certain nombre (certes moindre en comparaison) d' utilitaires plus sérieux souvent très utiles aux travailleurs acharnés. Et quand on regarde de plus près combien le magasin en ligne d'Apple est fourni, on comprend vite qu'ils sont eux aussi nombreux, ces travailleurs acharnés.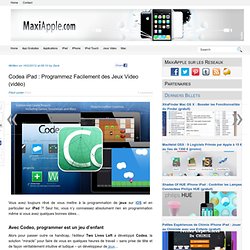 Written on 16/2/2012 at 06:10 by Zack Vous avez toujours rêvé de vous mettre à la programmation de jeux sur iOS et en particulier sur iPad ?! Seul hic, vous n'y connaissez absolument rien en programmation même si vous avez quelques bonnes idées… Alors pour passer outre ce handicap, l'éditeur Two Lives Left a développé Codea, la solution "miracle" pour faire de vous en quelques heures de travail – sans prise de tête et de façon véritablement intuitive et ludique – un développeur de jeux…
Codea iPad : Programmez Facilement des Jeux Video (vidéo)
12 questions to ask before you build an app – Conversation Marketing
Rick Santorum did not approve this blog post Rick Santorum throws up at JFK speeches. I throw up when someone says "We want to build an i[whatever] app!" I have one question.
Créez votre jeu iOS sans une ligne de code depuis votre iPhone ou votre iPad (video)
Vous avez probablement déjà pensé à créer une application iPhone. Toutefois, vos connaissances en codage étant plus que limitées vous avez arrêté net. Si je vous disais qu'une application gratuite permet de créer un jeu iPhone depuis votre iPhone ou votre iPad sans avoir besoin d'aucune connaissance, je suis certain que vous resteriez dubitatifs. Pourtant cette application existe bel et bien et elle s'appelle Sketch Nation Studio : Sketch Nation Studio va réveiller le développeur qui sommeille en vous.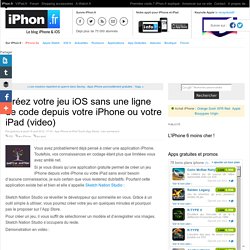 Resources for Beginning Programmers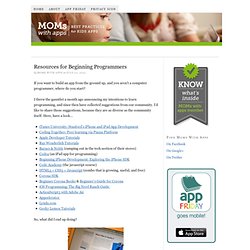 If you want to build an app from the ground up, and you aren't a computer programmer, where do you start? I threw the gauntlet a month ago announcing my intentions to learn programming, and since then have collected suggestions from our community. I'd like to share those suggestions, because they are as diverse as the community itself.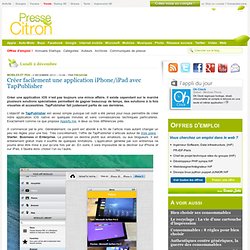 Créer facilement une application iPhone/iPad avec TapPublisher
Créer une application iOS n'est pas toujours une mince affaire.
Créer ses propres applications pour iPhone, iPad ou iPod Touch : un rêve pour beaucoup d'entre nous !