Anatomie, 3D, schémas
Applications et logiciels
Overview The Visible Human Project® is an outgrowth of the NLM's 1986 Long-Range Plan. It is the creation of complete, anatomically detailed, three-dimensional representations of the normal male and female human bodies. Acquisition of transverse CT, MR and cryosection images of representative male and female cadavers has been completed. The male was sectioned at one millimeter intervals, the female at one-third of a millimeter intervals. The long-term goal of the Visible Human Project® is to produce a system of knowledge structures that will transparently link visual knowledge forms to symbolic knowledge formats such as the names of body parts.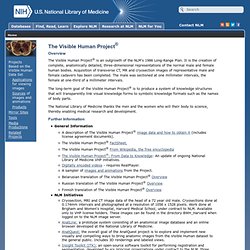 Description by Educational Technologies and Learning (http://www.educatorstechnology.com/2012/04/11-free-tools-to-teach-human-anatomy-in.html?m=1)
This is a great website that allows students to build the human body using interactive elements system by system. Each systen has descriptions and provides some facts about diseases. Students will only drag and drop the parts of body such as bones, organs,..etc by jocegermain Apr 13
Finding free interactive resources to teach about the human body is not an easy task. I have received several emails from some teachers asking for websites they can use to teach about the human body parts and its anatomy. I am sorry that I am late a little bit but I have been really really busy . The following links below are what you will need to share with your students and let them enjoy the huamn body through interactive imaging, games, exercises and more.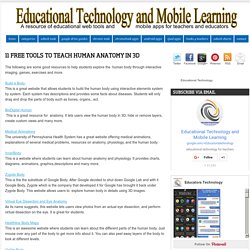 Disney Anatomy Drawings