Accessoires
Batterie, adaptateur, etc.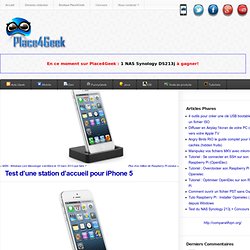 Test d'une station d'accueil pour iPhone 5
Bonjour à tous, notre partenaire Mobilefun nous a fourni un dock de recharge et synchronisation pour Iphone 5. Il s'agit d'une station d'accueil pour Iphone 5, noir laqué avec un coussinet antidérapant sur le dessous afin de "stabiliser" le tout. Il faudra brancher son câble lightning à l'arrière du dock, vu qu'aucun câble n'est fourni avec le dock et c'est bien dommage.
There is a side of me that would love to just leave the cell phone at home, turned off, never to be used until I return from traveling. That would be the dumb side of me. The smart side says to bring along a phone if for no other reason than for personal safety in a foreign land. Beyond that, a variety of travel apps could help navigate the worlds I might visit, provide all the information of a guide book and help me make friends in my new surroundings. But having those capabilities and doing something useful with them are often two very different animals. One no-brainer use for just about any brand of smart phone is taking pictures.
10 smart phone travel tips