Futurologia
Future of Internet Search: Mobile version on the Behance Network
Copenhagen Institute for Futures Studies
Future Technology Members' Report Technological progress is one of the most important drivers of change and growth in our society. This report takes a closer look at technological advances coming in the next 25 years in information and communication technology, robots, advanced materials, and biotechnology, and the reports examines how these advances will influence the following selected sectors in our society: production and trade, consumption and service, energy and climate, infrastructure, and security.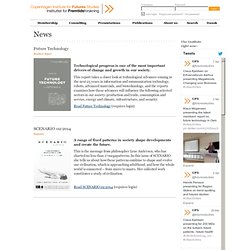 ::MOLLER::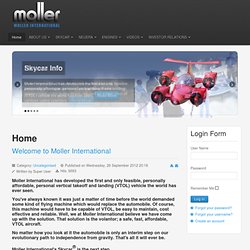 Skycar Info Moller International has developed the first and only feasible, personally affordable, personal vertical takeoff and landing (VTOL) vehicle the world has ever seen. Read More Neuera Info Over the past 30+ years Moller International and its predecessor companies have been working on the development of the technologies required for a new class of vehicles called volantors. Read More Maximum power Uses our proprietary porting design and advanced component development to generate twice as much power for its weight as most four-stroke competitors.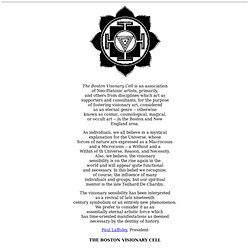 The Boston Visonary Cell is an association of Neo-Platonic artists, primarily, and others from disciplines which act as supporters and consultants, for the purpose of fostering visionary art, considered as an eternal genre -- otherwise known as cosmic, cosmological, magical, or occult art -- in the Boston and New England area. As individuals, we all believe in a mystical explanation for the Universe, whose forces of nature are expressed as a Macrocosm and a Microcosm -- a Without and a Within of th Universe, Reason, and Necessity. Also, we believe, the visionary sensibility is on the rise again in the world and will appear quite functional and necessary. In this belief we recognize, of course, the influence of many individuals and groups, but our spiritual mentor is the late Teilhard De Chardin. The visionary sensibility has been interpreted as a revival of late nineteenth century symbolism or an entirely new phenomenon.
The Boston Visionary Cell
Real Time Rome
Real Time is the In today's world, wireless mobile communications devices are creating new dimensions of interconnectedness between people, places, and urban infrastructure. This ubiquitous connectivity within the urban population can be observed and interpreted in real-time, through aggregate records collected from communication networks.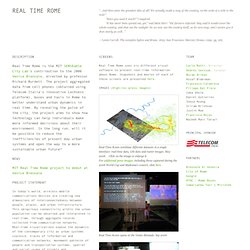 Galerias - Real Time Roma
In cooperation with the City of Hamburg the World Future Council brought together 150 mayors, urban planners, practitioners and experts from 35 countries for the Future of Cities Forum. This report summarises the key issues debated during the Forum, drawing on the rich discussions surrounding the vision of regenerative cities. It looks at a selection of the case studies presented at the Forum to outline the value creation resulting from regenerative urban development, the obstacles in the way of progress, and tools to help overcome those challenges. The report aims to engage and empower a wider range of stakeholders in ensuring that our cities continue to offer opportunities for current and future generations to realise their full human potential. Download the report as a PDF here.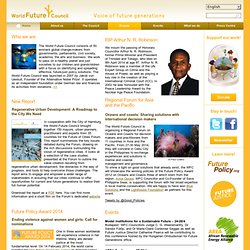 World Futures Studies Federation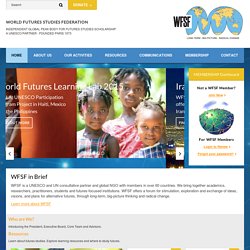 The World Futures Studies Federation (WFSF) is a global NGO that was founded in the 1960s to encourage and promote the development of futures studies as a transdisciplinary academic and professional field in all parts of the world. WFSF operates as a global network of practicing futurists - researchers, teachers, scholars, policy analysts, activists and others from approximately 60 countries. [Read more…> history] WFSF provides a forum where the stimulation, exchange, and examination of ideas, visions, and plans for alternative, long-term thinking can take place, both face-to-face and virtually. Using foresight the founders chose a name with long-term currency:
Yul Anderson is founder and president of Yul Anderson Consulting, he is also working with African leaders, historians, and the U.S. Census Department to develop economic indicators for African American and African Future economic and social development. Miami, Florida, USA.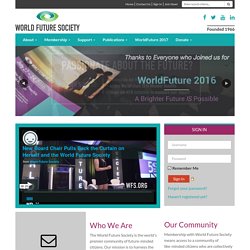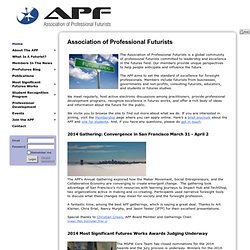 The Association of Professional Futurists is a global community of professional futurists committed to leadership and excellence in the futures field. Our members provide unique perspectives to help people anticipate and influence the future. The APF aims to set the standard of excellence for foresight professionals. Members include futurists from businesses, governments and non-profits, consulting futurists, educators, and students in futures studies. We meet regularly, host active electronic discussions among practitioners, provide professional development programs, recognize excellence in futures works, and offer a rich body of ideas and information about the future for the public. We invite you to browse the site to find out more about what we do.
Association of Professional Futurists