Futurologia
Future of Internet Search: Mobile version on the Behance Network. Copenhagen Institute for Futures Studies. Arup | Consulting engineers, designers, planners and project man. ::MOLLER:: Skycar Info Moller International has developed the first and only feasible, personally affordable, personal vertical takeoff and landing (VTOL) vehicle the world has ever seen.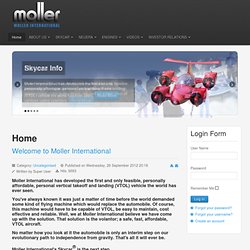 Read More Neuera Info Over the past 30+ years Moller International and its predecessor companies have been working on the development of the technologies required for a new class of vehicles called volantors. Read More Maximum power Uses our proprietary porting design and advanced component development to generate twice as much power for its weight as most four-stroke competitors. Futurist.com.
The Boston Visionary Cell. The Boston Visonary Cell is an association of Neo-Platonic artists, primarily, and others from disciplines which act as supporters and consultants, for the purpose of fostering visionary art, considered as an eternal genre -- otherwise known as cosmic, cosmological, magical, or occult art -- in the Boston and New England area.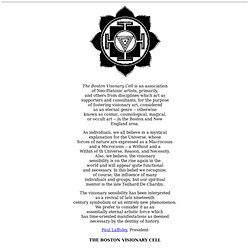 As individuals, we all believe in a mystical explanation for the Universe, whose forces of nature are expressed as a Macrocosm and a Microcosm -- a Without and a Within of th Universe, Reason, and Necessity. Also, we believe, the visionary sensibility is on the rise again in the world and will appear quite functional and necessary. In this belief we recognize, of course, the influence of many individuals and groups, but our spiritual mentor is the late Teilhard De Chardin. The visionary sensibility has been interpreted as a revival of late nineteenth century symbolism or an entirely new phenomenon. Real Time Rome. Real Time is the In today's world, wireless mobile communications devices are creating new dimensions of interconnectedness between people, places, and urban infrastructure.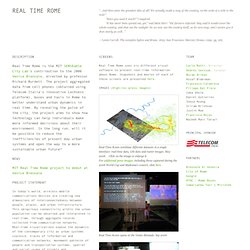 This ubiquitous connectivity within the urban population can be observed and interpreted in real-time, through aggregate records collected from communication networks. Galerias - Real Time Roma. WFCI: World Future Council Initiative. World Futures Studies Federation. Welcome to the World Future Society. Association of Professional Futurists.
---